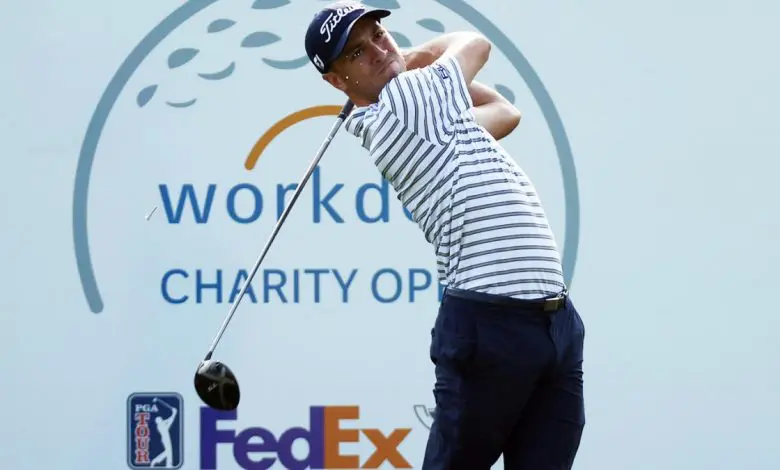 It's looking like Collin Morikawa has a great chance of going wire-to-wire heading into Saturday's Workday Charity Open 3rd Round betting. Morikawa followed up his -7 Thursday round with an equally impressive -6 in the second 18.
Morikawa has seen his live win odds drop from +400 before Friday's round to +175 prior to Workday Charity Open 3rd round betting. Justin Thomas (+300) is coming hot though after Friday's -6 to sit three strokes off the lead. Kevin Streelman (+600) is also at -10.
Hideki Matsuyama (+500) has a 12.5% chance to win entering Saturday at -9, but he's also hit 91.7% of the greens in regulation thus far. Play was suspended late Friday night and will spill into Saturday morning but here are some of the best matchups for when round three officially gets underway:
3rd Round Matchup Hideki Matsuyama (+115) vs. Justin Thomas (-150)
Justin Thomas won this matchup on Friday with a 66 compared to Hideki Matsuyama shooting 68. Thomas was -125 in round 2 but is up to -150 for Workday Charity Open 3rd round betting. Is it worth it to take a flier on Matsuyama as he is just a stroke back overall in the tournament?
Both golfers have been great this weekend from Muirfield Village GC coming into the weekend in the top 4. It's hard to ignore Matsuyama's 91.7% greens in regulation though. That's to go along with a 78.6% driving accuracy. With those numbers and underdog odds you take it.
Pick: Matsuyama +115
3rd Round Matchup Patrick Reed (+110) vs. Viktor Hovland (-140)
Viktor Hovland is the big favorite over Patrick Reed as he sits in 6th place at 8 under par. Reed is one of 7 players tied for 10th at -6. There are reasons to like Reed in this one, mainly because he's right behind Matsuyama in GIR at 83.3%. Reed had a meltdown on the back 9 on Friday with 3 bogeys on holes 10-15. Hovland's back 9 was saved by an Eagle on 14. Reed's big disadvantage is fareway % (50 to Hovland's 75) but he's still worth a play as the underdog.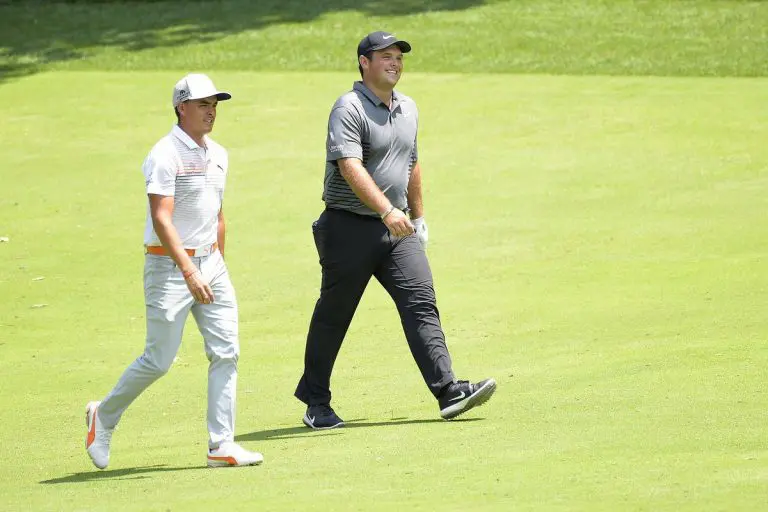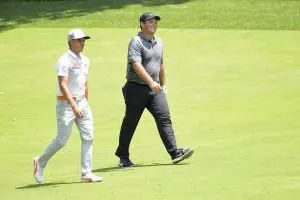 3-Ball Matchup
Ian Poulter +135, Rory Sabbatini +150,Chase Seiffert +260
Can Ian Poulter pull this one out as the favorite? Poulter is tied for 7th place sitting at -7 after a 68 and 69 in the first 36 holes. Rory Sabbatini and Chase Seiffert both have a 68 and 69 score through the first two rounds as well though. The trio will be the 3rd to last group to go out as the PGA switches to 3-ball due to yesterday's rain delays.
Poulter is an interesting favorite out of this group as he has hit just 58.3% of his GIR, the 5th worst of the tournament. Seiffert is the leader in that category (out of this group) at 72.2%. Sabbatini's score has been helped by two Eagles in three holes on Friday. Therefore it's Seiffert that is the most consistent out of this bunch.
Pick: Chase Seiffert +260
3-Ball Matchup
Justin Thomas EVEN, Collin Morikawa +185, Kevin Streelman +275
Oddsmakers seem to be suggesting this is Justin Thomas' tournament to win even though Collin Morkawa has been scorching through Muirfield Village the last two days. Thomas is one of two golfers (Matsuyama) who haven't shot a bogey yet this weekend. Morikawa amazingly has four holes over par and still has a 3 stroke lead.
Don't count out Kevin Streelman in this final group to tee off on Saturday. Streelman had the best second round score (64) which included -5 on the back 9. With Streelman having an 82.1% driving accuracy through 36 holes, he's worth a flier on Saturday, especially after a 2nd place finish at the Traveler's in his last tournament.
Pick: Streelman +275