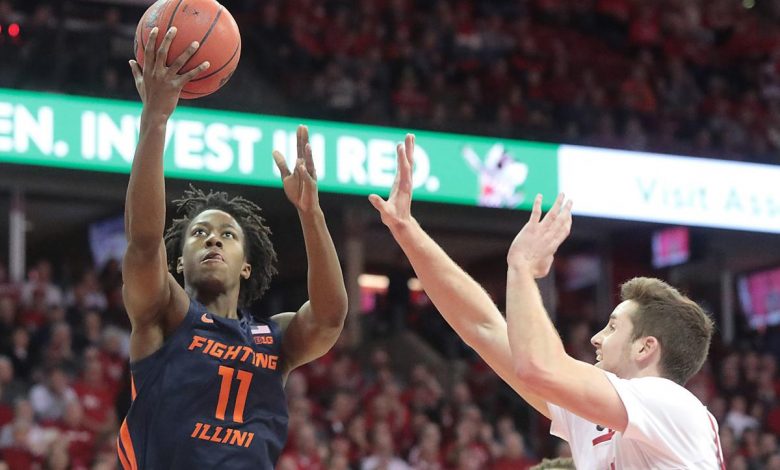 The Fighting Illini need to avoid having a letdown when they host Rutgers in the January 11th NCAAB free betting pick. Illinois beat Wisconsin on Wednesday, snapping a 10-game losing streak in Madison and winning against the Badgers for the 1st time in the last 15 games. Rutgers is clicking as well though, winners of six in a row. Illinois is a -5.5 favorite on  Saturday morning.
Rutgers Defense Has a Challenge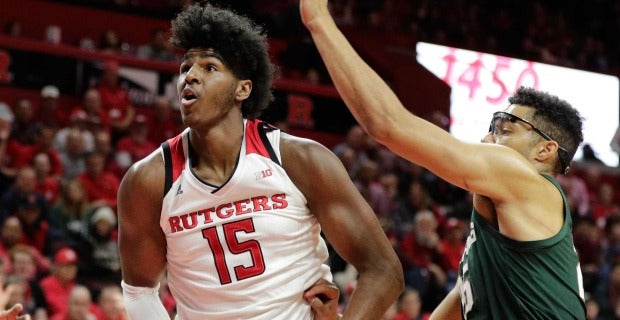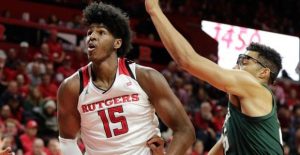 The Scarlet Knights will try to slow the pace and make the January 11th NCAAB free betting pick a low scoring defensive struggle. That's a complete contrast to last year's meeting however,a 99-94 Illinois OT win also in Champaign. The total for Saturday's tilt is 135.
Rutgers has started the season 12-3. Their current 6-game winning streak includes victories over Wisconsin (72-65) and #20 Penn State (72-61). Steve Pikiell's team also has a 68-48 win over Seton Hall over that span. Interestingly enough Rutgers was less than a +2 point underdog in each of those games and they were all held in New Jersey. Those are three great defensive performances for a Scarlet Knights team allowing only 59.7 ppg on the year, 14th best in the country.
Rutgers' defense will be presented with a tough task on Saturday against an Illini team that is the 40th best shooting squad in the country. Illinois has a post game to go with their outside shooting and fast break capabilities this season. The Scarlet Knights feel they have a good counter on the inside with 6-11″ Myles Johnson, who has scored 18+ in 2 of the last 4 and has double digit rebounds in 4 of the last 5.
Can Illinois Bounce Back After Emotional Win?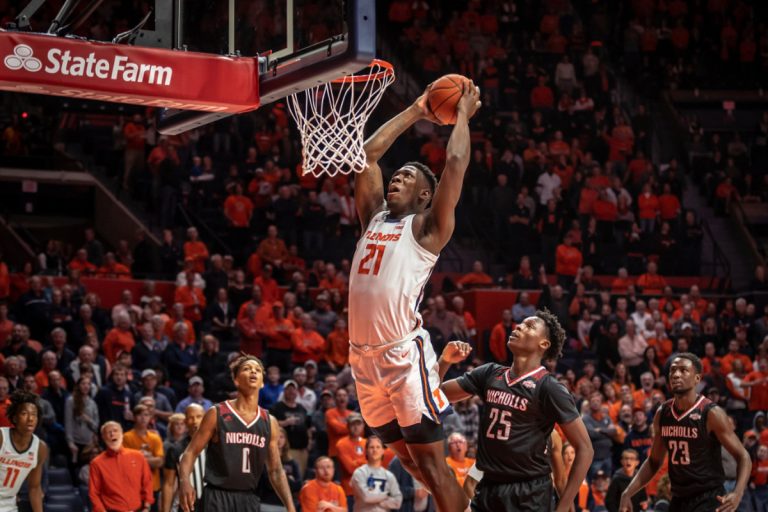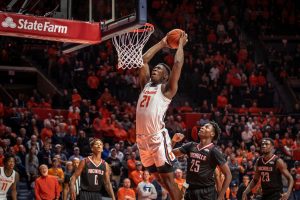 It was a long time coming for an Illinois win over Wisconsin, especially at the Kohl Center. Now IU has the tough task of bouncing back against a tenacious Rutgers defense. The good news is that the game is in Champaign and the Illini faithful are rejuvenated as the team is above .500 in Big Ten play for the first time since 2015.
Illinois had one of the biggest home court advantages in the conference back in their heyday with the 'Orange Krush' making it hard on visitors to come to Champaign and get a victory. That may put Rutgers at a huge disadvantage on Saturday as the Scarlet Knights have played only 3 true road games this season. Rutgers lost at Pittsburgh and at Michigan State by double digits before getting a 79-62 win over a bad Nebraska team in Lincoln on January 3rd.
One of Rutgers' biggest strengths besides defense is their rebounding rate, which is 5th best in the country. That could be a problem vs. Illinois though as they rank 3rd in the nation at 57.1% and grabbed over 60% of available boards at home. Obviously 7-footer Kofi Cockburn is a big part of that. Illinois does have a solid outside presence too though as Ayo Dosunmu has scored 18+ points in 4 of the last 5.
January 11th NCAAB Free Betting Pick
It looks like the Illini just match up well Rutgers. Illinois' point totals over the last six games against the Scarlet Knights have been 98, 75, 91, 59, 82, and 110. To go with that scoring, Brad Underwood's team also leads the Big Ten in scoring defense during conference play and opponents are shooting under 25% from three point range over that span. Rutgers only has two double-digit scoring average players – and one (Geo Baker) is hurt.
Pick: Illinois Fighting Illini -5.5