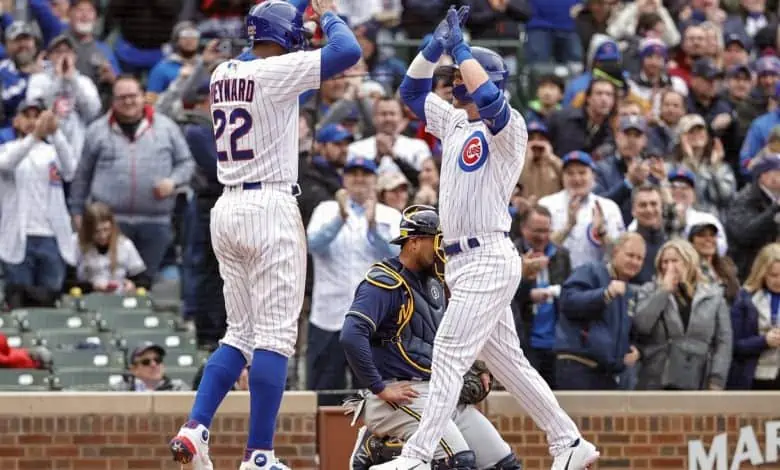 The opening series picks back up in the April 9th Brewers at Cubs betting matchup after Saturday's game was postponed due to inclement weather. Chicago pulled off the upset in game one on Thursday, getting the 5-4 win even though reigning Cy Young winner Corbin Burnes got the start for Milwaukee.
Unfortunately for the Cubs there's no reprieve in this Milwaukee rotation, as Brandon Woodruff goes on Saturday after finishing 5th in Cy Young voting last season. Chicago counters with Justin Steele as he heads into his second MLB season. The temps are still in the low 40s at Wrigley Field with the wind blowing in so this should be a solid pitcher's matchup.
Brewers Offense Didn't Look Bad
Pitching will likely be the strength for Milwaukee in 2022 yet again, but they are expecting bigger things from an offense that was 27th in batting average and 20th in OPS last season. The Brewers managed just one run over 5.1 IP vs Kyle Hendricks in the opener, but still ended up with multi-hit games from Willy Adames, Andrew McCutchen, and Rowdy Tellez while outhitting the Cubs 10-8.
Woodruff makes his season debut after posting a 2.56 ERA a season ago with 211 strikeouts. Woodruff was 2-0 with a miniscule 0.64 ERA in five starts vs. the Cubs last year, and he didn't allow a single run in three starts at Wrigley Field.
Cubs Try to Go 2-0
Chicago pulled off the win as +152 underdogs on Thursday thanks largely in part to a 2-run HR from Nico Hoerner and a 3-4, 2 RBI day out of Ian Happ. Jason Heyward also had 2-hits and offseason acquisition Seiya Suzuki went 1-2 with 2 BBs in his first MLB game after a stellar career in Japan. The Cubs offense is supposed to be pretty iffy this season, but so far so good through one game.
Chicago still has a big challenge in the April 9th Brewers at Cubs betting matchup not just because of the matchup against Woodruff but because Justin Steele is also largely an unproven starter. Steele did make 9 starts after 11 relief appearances a year ago, finishing 4-4 with a 4.28 ERA.
April 9th Brewers at Cubs Betting Info
Milwaukee took the loss as -166 favorites on Thursday and are listed up there once again at -160. Woodruff was dominant against the Cubs last season, and Saturday's weather calls for temps in the low 40s and the wind blowing in. If there's one saving grace for Chicago in this game it's that most starting pitcher's are on a limitation due to the shortened Spring Training – but the Brewers also have one of the best bullpens in the game.
Roughly 81% of the betting public are on Milwaukee in this matchup and it makes sense, the Brewers were 15-4 against the Cubs last season.
April 9th Brewers at Cubs Betting Pick
Woodruff should dominate in this matchup and even though the Brewers didn't get much going off of Hendricks in the opener, they still outhit the Cubs 10-8. Steele is not the experienced starter that Hendricks is and Milwaukee will take advantage of that.
Free Pick: Milwaukee Brewers -1.5 (Even)