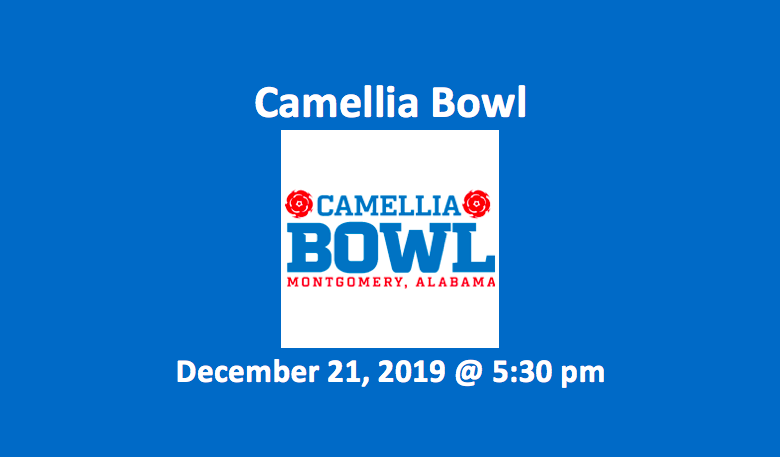 This 2019 Camellia Bowl pick the teams are even. In addition, our Camellia Bowl pick includes an over/under of 60.5. The game will be played on Saturday, December 21 with kickoff at 5:30 pm ET. The game will the Cramton Bowl in Montgomery, Alabama. This contest features Florida International vs Arkansas State.
The Florida International Panthers (6-6) ended their season with a fifth-place finish in the C-USA – East. They were 3-5 in the conference and finished tied with the Middle Tennessee Blue Raiders. The Panthers ended the season four games behind the first-place Florida Atlantic Owls. In the Sun Belt Conference – West, the Arkansas State Red Wolves (7-5) finished second. With an in-conference record of 5-2, the Red Wolves finished two games behind the first-place Louisiana Ragin' Cajuns.
2019 Camellia Bowl Pick – Regular Season
The Florida International Panthers had a rocky season, losing three of their first four games. After that, they won three in a row, taking down UMass, Charlotte, and UTEP. Over their last five games, the Panthers went 2-3. That string included a 30-24 win over Miami. In their final game, Marshall beat Florida International in OT 30-27.
Our 2019 Camellia Bowl pick notes that Arkansas State started the season at 1-2 with a 37-30 loss in their first game to SMU. They then beat UNLV 43-17. In their next contest, #3 George took down the Red Wolves 55-0. In the following four games, ASU went even. Then, over their final four games, the Red Wolves were 4-1. In their final game, South Alabama beat the Red Wolves 34-30.
Florida International Panthers vs. Arkansas State Red Wolves – Stats
Florida International scored on average 26.5 PPG. They averaged 371.5 offensive YPG, including 168.0 on the ground. The Red Wolves, who averaged 33.7 PPG, put up 432.2 YPG in total offense. ASU's passing yards averaged 305.3 per game.
The points allowed by both defenses are greater than the average generated by their defenses. FIU's defense is giving up 26.7 PPG and ASU's D has allowed 34.8 PPG. While the 379.8 YPG the Panthers are allowing opponents is a large number, the 480.6 being given up by the Red Wolves is huge. Both teams are responsible for more than 200 rushing YPG.
Florida International at Arkansas State – Players
Unlike the Red Wolves, the Panthers are not as deep on either side of the ball. FIU will use a mix of passing and rushing. Look for ASU to focus more on passing than rushing. Although they will carry the ball a bit. Both teams should put points on the scoreboard.
Florida International Panthers
QB James Morgan comes to the game with a 58.0% completion rate. Our 2019 Camellia Bowl pick observes that Morgan has tossed 13 TD passes and just three INTs. He's been sacked a dozen times. WRs Tony Gaiter IV, who's had 49 receptions, and Shemar Thornton, who's caught 48 passes, are Morgan's favorite targets. Together, they have close to 1,200 yards in receptions. Gaiter's caught four TD passes and Thornton five. Two running backs, Anthony Jones and Napoleon Maxwell, have rushed for 802 and 609 yards respectively. Jones has made nine touchdowns and Maxwell eight.
On defense, this is a team that has 18 sacks, 11 interceptions, and six forced fumbles. Two linebackers, Jamal Gates and Sage Lewis, stand to be difference-makers. Gates tops the team with 83 tackles and Lewis is second with 80. Gates brings four PD and one INT to this game, while Lewis has three INTs and PD.
Arkansas State Red Wolves
Freshman QB Layne Hatcher, who has a 68.3% completion rate, guides the Red Wolves. Hatcher, who became the starter about midway through the season, has passed for 2,533 yards and 23 TDs. He's tossed nine INTs and been sacked 27 times. His two top receivers are Omar Bayless, with 84 receptions and 16 TDs, and Kirk Merritt, with 64 catches and 11 scores. RB Marcel Murray, who has 153 carries for 782 yards, is averaging 5.1 YPA. He's rushed for six scores.
The ASU D has made 26 sacks, grabbed 10 INTs, and defended 40 passes. They've posted eight FF. DE William Bradley-King has 8.5 sacks and three FF. DB B,J, Edmonds brings 87 tackles, nine PD, and two picks to this game. Corner Jeremy Smith has been effective with two INTs and 10 PD.
.
Five Keys to the Game
In creating our 2019 Camellia Bowl pick, we see the following as being keys to this matchup:
ASU QB Hatcher's 68.3% completion rate is a big asset
FIU QB Morgan makes few mistakes and rarely gets sacked
Overall defense is an issue for both teams
Red Wolves passing are dangerous
Can Panthers keep up with ASU?
Our 2019 Camellia Bowl Pick
Our 2019 Camellia Bowl pick likes the Red Wolves as well as the over. We're going with the over, at 60.5, because both teams can score but neither is proficient at stopping opponents from putting points on the board. We're also taking Arkansas State. We like offensive depth and ability to score points.
See our other picks for Saturday, December 21 as the SMU Mustangs take on the Florida Atlantic Owls in the Boca Raton Bowl at 3:30 pm ET. Bookmark this page to stay up to date on our latest picks.
Makers Wanted Camellia Bowl Pick – Summary
Arkansas State Red Wolves as a pick and over 60.5