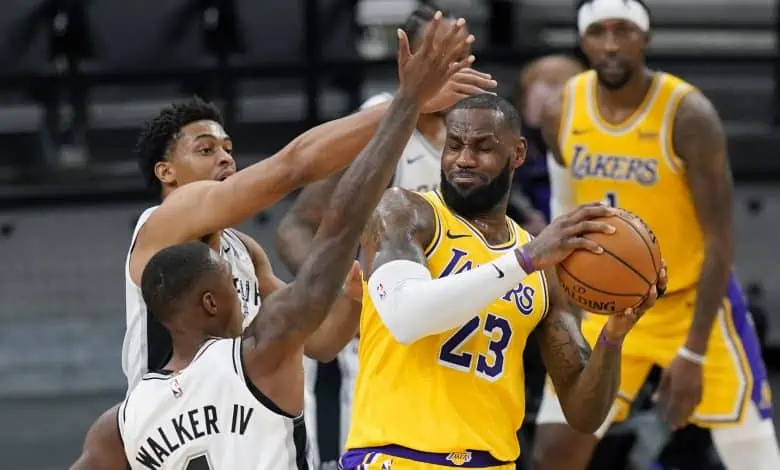 Lebron James, fresh off 56 points on Saturday in a win over the Warriors, leads L.A as underdogs in the March 7th Lakers at Spurs betting matchup. Los Angeles has still lost 7 of their last 9 though, the major reason San Antonio is -2.5 on Monday night.
San Antonio doesn't exactly exude a lot of confidence ahead of this matchup though, losers of four straight. The Spurs could also be a bit road weary, playing 9 of their last 10 away from the AT&T Center.
Lebron Ready to Step Up
James put the Lakers on his back on Saturday, pumping in a season high 56 points to help snap L.A's four game losing streak. Los Angeles needed the win not just because they had dropped 8 of 10 prior, but also because that losing streak has the Lakers down to 9th in the Western Conference almost inevitably having to be in the play-in tournament.
Los Angeles is 9.5 games back from Denver for the #6 seed that would avoid the play-in tournament, and with just 19 games to play the Lakers have nearly no chance to avoid the extra postseason games. That's not ideal for an aging team, but it is what it is and now L.A's main goal is to build momentum for the playoffs.
While L.A looked good on Saturday, Golden State has been playing about just as bad as of late with a 2-8 record over their last 10. It is optimistic to see Russell Westbrook go for 20 points vs. the Warriors – the only time he did so in the month of February. While the Lakers may not be out of the woods from their recent struggles, the good news is that San Antonio isn't exactly in a groove themselves.
Spurs the Play Back at Home?
It's time for San Antonio to buckle down as they are three games out of the #10 seed and a berth in the play-in tournament. The Spurs are -2.5 favorites on Monday which may seem strange for a team that is on a four game losing skid, but the Lakers also haven't had a win streak since early January.
San Antonio's defense has been a weak point during their losing streak, allowing 115+ points in five straight games. The Lakers defense has come under plenty of scrutiny of their own over the last month, which is a big reason why Monday's betting total is 236 – the highest of the 8 game NBA slate.
The Spurs can get this win behind another solid performance from Dejounte Murray, who went for 25 points and 10 assists while grabbing 9 rebounds in Saturday's 123-117 loss to the Hornets. Keldon Johnson can contribute as well, as scored 33 against Charlotte not long after putting up 32 in the double OT win over the Wizards.
Free March 7th Lakers at Spurs Betting Pick
Los Angeles is getting backed by 58% of the public on Monday night, not surprising with the win over Golden State and James' 56 point outing being fresh on the minds of the betting public. San Antonio is a -2.5 favorite even on a 4-game losing streak which just goes to show that looks like the right side to be on in this one.
Lakers 107 – Spurs 115 
Free Pick: Spurs -2.5