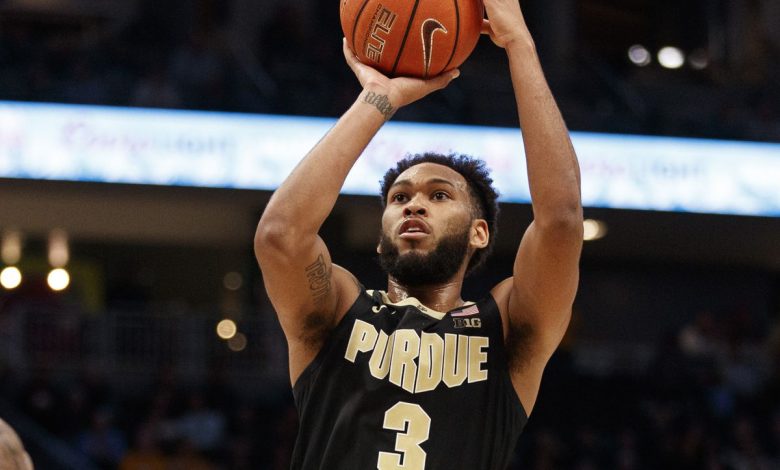 The Emerald Coast Classic continues Friday night with a fantastic evening session that is wrapped up with the Purdue Boilermakers going against the VCU Rams. VCU comes into the game ranked No. 20 in the nation, while the Boilermakers are still trying to find solid footing in the post-Carsen Edwards era.
VCU comes into the game a perfect 6-0 on the season with a quality win over LSU already on its resume. Head coach Mike Rhoades has an experienced team led by senior guard Marcus Evans (15.2 ppg) and junior forward Marcus Santos Silva (11.5 ppg, 10.5 rpg) as well as a great supporting cast which some consider to be the best mid-major group in the nation.
Purdue comes into the game boasting a 3-2 record and lacking a quality win in the first couple weeks of the season. The Boilermakers have won two consecutive games after dropping back-to-back matchups with Texas and Marquette. Senior wing Jahaad Proctor has emerged as the scoring replacement for Edwards, and Matt Haarms is one of the best rim-protectors in the country, but Nojel Eastern has yet to show the expected step forward so far this season on the offensive end.
Despite the records and ranking, Purdue is a three-point favorite in this contest, with the over/under set at 127.5.
Can The Rams Create Enough Havoc To Pick Up A Win?
As was the case when Rhoades was an assistant at VCU under Shaka Smart, VCU is fantastic at turning opposing teams over and creating easy bucket opportunities. The Rams are currently fifth in the country with their opponents' turnover percentage of 29.2 percent, which is nearly 10 points higher than the national average.
Though VCU did ultimately defeat LSU, it did blow a huge first-half lead to only win by seven. It will be interesting to see what the Rams learned from that game and how they play if they are able to get up on Purdue early.
Full Steam Ahead For A Quality Win
When losing a player like Edwards, there is going to be an adjustment period. This Boilermakers team has an excellent makeup and an excellent coach in Matt Painter. The fact that Purdue dropped back-to-back non-conference games, one of which was at home, is an exception and not the rule.
Proctor and Haarms have been consistent, while Sasha Stefanovic and Trevion Williams have been inconsistent and ultimately underwhelming. Eastern needs to find what works for him on offense (posting up smaller guards), and Purdue needs to exploit that advantage.
Purdue also can't get caught looking ahead to a showdown against Virginia in five days.
Preview and Pick
Why this game isn't a three-point spread the other way, we can't be sure. To this point in the season, it is quite clear that VCU is the better team, as Purdue was bad down the stretch against Texas and did not look great against Marquette. The Boilermakers' three wins were against opponents that aren't fantastic. Painter is a good coach and has a good, deep roster, but they just haven't put it all together yet.
VCU likes to turn people over, though Purdue is great at protecting the ball. Regardless of that, I think the Rams have enough talent to not just cover but to speed the Boilermakers up and ultimately win the game outright. Sixty-five a side shouldn't be a problem in this game either, so take the over.