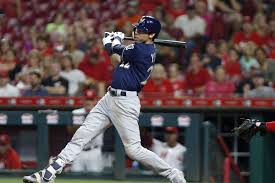 Our San Francisco Giants vs Milwaukee Brewers pick has Milwaukee MLB run line odds at +118 (-1.5). This San Francisco Giants vs Milwaukee Brewers prediction offers the SF run line at -130 (+1.5). The money line on this MLB matchup offers the Brewers at -150 and the Giants at +126. This is the first of a three-game set between these two teams. The game is slated for Friday, June 14 at 10:15 pm ET. It will be played at San Francisco's Oracle Park. The Brewers and Giants will meet again in mid-July in Milwaukee for three more games.
The Milwaukee Brewers (39-29 Overall, 17-16 Away), who are first in the NL Central one game ahead of the Chicago Cubs. They are 7-3 for their last 10 games. The San Francisco Giants (28-38 Overall, 13-20 Home) are 16.5 games out of first place in the NL West. They are 6-4 for their last 10 games and have won two straight.
San Francisco Giants vs Milwaukee Brewers Pick – Pitching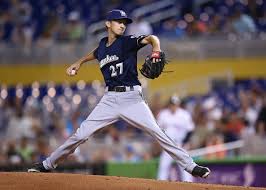 Righty Zach Davies (7-0 W/L, 2.41 ERA, 1.25 WHIP) starts for the Brewers tonight. Over 13 starts, Davies has won seven, including three on the road. The Brewers are 9-4 when he takes the mound. In both if his starts in June, he faced the Pittsburgh Pirates, winning both. In a 4-2 win on June 2, Davies pitched eight innings as he allowed two runs on eight hits. On June 8 in a 5-3 win, he lasted five innings, allowing three runs on seven hits.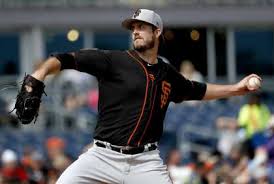 In this game, San Francisco left-hander Drew Pomeranz (1-6 W/L, 7.16 ERA, 1.75 WHIP) goes against Davies. Pomeranz's one victory this season came on May 24 against the Toronto Blue Jays. In that game he went six innings, which is his longest stint this season, and allowed no runs and just two hits. Since then, over six starts, Pomeranz is 0-4-2. His last loss occurred on May 31 against the Baltimore Orioles. In that game over 1.1 IP, he allowed eight runs on six hits with two of those hits being homers. In his last start, in which he received a no-decision, Pomeranz pitched five innings, giving up no runs and three hits. That was against the Los Angeles Dodgers. The Giants won that game 2-1.
Giants vs Brewers Stats and Offense
Statistically, the Giants have some major issues. First, they are only hitting .222 as a team and have launched just 60 homeruns. The only team to hit fewer round trippers in MLB thus far this season are the Miami Marlins with 50. The NL average for team homerun totals is 90. SF pitchers have allowed 96 four baggers and opponents are batting a healthy .251 against them. The Brewers come into town with a team batting average of .253 and 121 homeruns. However, teams are hitting .248 against them, and opponents have knocked 96 baseballs out of the park. Still, in terms of basic offense, Milwaukee is superior to San Francisco.
Christian Yelich is not the only offensive weapon that the Brewers possess, but he is the most potent one. Yelich is one of the best hitters in the league. He's batting .345 with 25 homers, 54 RBI, and 77 hits. His OBP is a hefty .446. He also has 14 steals. Mike Moustakas, who's hitting .278, has driven in 45 runs and hit 21 round trippers. Catcher Yasmani Grandal has a .285 BA and has smacked 15 homers while driving in 37 runs. With a .270 BA, Ryan Braun also has 37 RBI. In addition, he's has knocked 11 balls over the fence.
Brandon Belt is SF's top hitter. Belt leads the team with a .250 BA, .376 OBP, and nine homeruns. Leading the Giants in RBI is Kevin Pillar with 28, while Steve Duggar's 56 hits is the high-water mark for the club. Duggar also has 28 RBI and Belt 27. San Francisco's hitting is less than impressive.
Our San Francisco Giants vs Milwaukee Brewers Pick
In San Francisco Giants vs Milwaukee Brewers pick we are going with the Brewers and the run line. The Brewer offense is powerful. We expect Milwaukee to knock a few balls over the Oracle Park walls tonight. Plus, starter Davies, who is fourth in ERA in the NL and tied for fourth in wins, is having a solid season. Take the Brewers with the run line at +118 (-1.5). We've also got your Braves vs Phillies pick and your A's vs Mariners betting prediction.
Summary MLB Run Line Pick – San Francisco Giants vs Milwaukee Brewers
Milwaukee Brewers run line at +118 (-1.5)