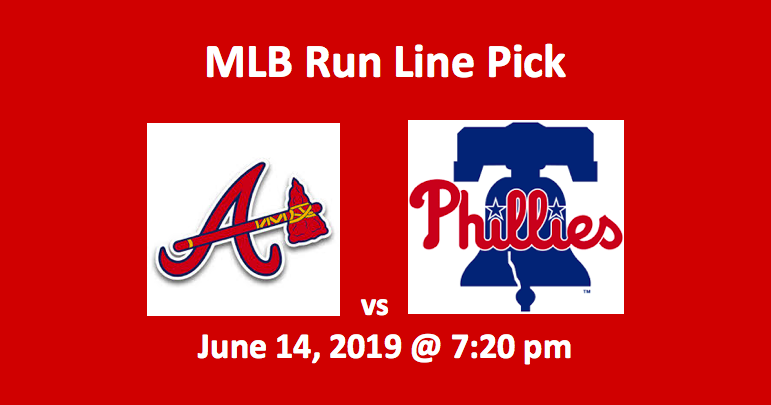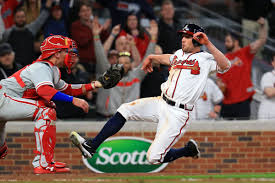 Our Atlanta Braves vs Philadelphia Phillies pick has Atlanta's run line odds at +143 (-1.5) and money line at -137. This Atlanta Braves vs Philadelphia Phillies prediction has the visiting Philly money line +127 at and run line coming in at -157 (+1.5). This MLB game will be played on Friday, June 14, 2019 at Atlanta's SunTrust Park in Cumberland, GA. This season, the Phillies lead the series with the Braces three games to none.
The Philadelphia Phillies (38-30 Overall, 16-15 Away) are second in the NL East 1.5 games behind the division-leading Braves. The Phillies are presently in the second NL wild card spot. The team is 5-5 for its last 10. The Atlanta Braves (40-29 Overall, 20-15 Home) have a strong home record. The NL East division-leading ball club has won eight of its last 10 games and won seven in a row.
Atlanta Braves vs Philadelphia Phillies Pick – Pitching
Righty Nick Pivetta (4-1 W/L 4.93 ERA, 1.38 WHIP) takes the mound for the Phillies. Pivetta pitched well in his last two starts. On June 2, he went up against the LA Dodgers, working six innings and allowing no runs while giving up three hits, striking out nine, and walking none. He got no-decision in what was an 8-0 loss. In his last start, which was on June 8 against the Cincinnati Reds, he pitched the full game, allowing one run on six hits while striking out six and walking none. He earned a 4-1 win. As of late, his control has been exceptional.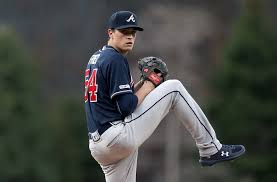 Max Fried (7-3 W/L, 3.75 ERA, 1.29 WHIP), a lefty, will start for the Braves. Fried had a solid May, going 4-2. In his two starts in June, he's gotten two no-decisions. However, the Braves won both games. On June 4 versus Pittsburgh, Fried struggled. He went just four innings, allowing five runs on nine hits. He walked two, gave up one homer, and struck out three. In his last start, which was against the Miami Marlins, he fared better as he lasted six innings, allowing three runs on six hits while striking out seven and walking one. Fried has not started against Philadelphia this season.
Braves vs Phillies Stats and Offense
The Braves are batting .255 and have hit 100 homeruns. At the same time, opponents are teeing off on them, earning a .258 BA while smacking 87 homers. The saving grace for the Braves is that opponents are also hitting .258 against Philadelphia hurlers and they've allowed 109 home runs. Also, the Phillies are batting just .244, and they have launched only 82 round trippers.
Jean Segura tops the Phillies with a .284 BA and 67 hits. Rhys Hoskins, who's hitting .273, leads the Phillies in homers (14), RBI (47), and OBP (.392). Bryce harper, who hitting .250, has driven in 46 runs and homered 11 times. J.T. Realmuto and Andrew McCutchen each have 10 round trippers and 36 and 29 RBI respectively. If they can get something going, the Phillies will have a chance.
For the Braves, Freddie Freeman leads the team in all major offensive categories, including batting average (.311), homeruns (18), and RBI (46). He also tops the team with 83, .401 OBP and 17 doubles. Ronald Acuna Jr. and Dansby Swanson, who are hitting. 285 and .266 respectively, have shown power. Acuna's hit 15 homers and driven in 45 runs, while Swanson's smacked 13 homers while accumulating 43 RBI.
Our Atlanta Braves vs Philadelphia Phillies Pick
Despite some recent struggles, we do like Fried in this home start. The Braves play well at home, and they have some very fine fire power. Philadelphia's Pivetta has certainly pitched well, but he does not have the same offensive thrust that the Braves enjoy. Our Atlanta Braves vs Philadelphia Phillies pick is the Braves at +143 with the run line at -1.5. Be sure to read our San Francisco Giants vs Milwaukee Brewers run line late-betting pick. Game time in that one is 10:15 pm ET.
Summary MLB Run Line Pick – Atlanta Braves vs Philadelphia Phillies
Atlanta Braves +143 (-1.5)