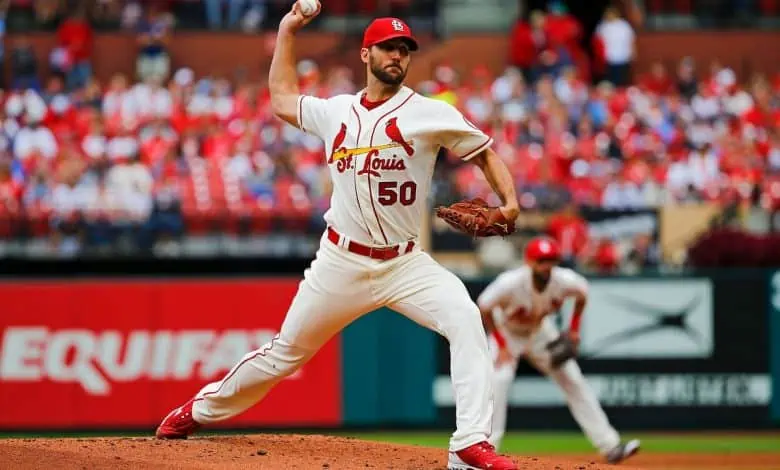 The St. Louis Cardinals (18-15, 9-8 home) take on the San Francisco Giants (20-13, 9-6 away) in the rubber match and of a three-game National League series. San Francisco rolled in the opener, 8-2, and the Cardinals bounced back Saturday with a 4-0 victory.
Sunday's first pitch is at 7 p.m. EST at Busch Stadium in St. Louis, Mo. The Giants are the betting favorite (-150) in the series finale, and the over-under run total is seven.
What to Know – San Francisco Giants
San Francisco had won six in a row prior to Saturday's defeat, pushing its record well over .500 after an up and down month of April. The Giants' recent winning streak have moved San Franciso to a half-game out of first place in the NL West.
The expected starter for San Francisco is lefty Carlos Rodon (4-1, 1.80 ERA, 0.91 WHIP). Rodon has been a great addition to the Giants' rotation after joining the team in the offseason following seven seasons with the White Sox. The 29-year-old hasn't allowed more than two earned runs in six starts, throwing 35.0 innings and scattering 20 hits, 12 walks, with 53 strikeouts.
The Giants' offense is balanced from top to bottom, with second baseman Wilmer Flores leading San Francisco with a .267 batting average and 19 runs driven in. Outfielder Joc Pederson has a team-high six home runs, and shortstop Thairo Estrada has scored 21 runs.
San Francisco's offense ranks eighth in the majors with a .245 team batting average, scoring 4.9 runs per game. The Giants' pitching staff ranks sixth in the MLB with a 3.41 team earned run average.
What to Know – St. Louis Cardinals
The Cardinals have dropped five of their last seven games but remain in a good position in the NL Central. St Louis is 2.5 games behind the Milwaukee Brewers for the stop spot in the division.
On the mound for the host is veteran right-hander Adam Wainwright (3-3, 3.18 ERA, 1.29 WHIP). The 40-year-old continues to find success on the hill in his 16th major league season and will aim to piggyback after an excellent outing earlier this month. Wainwright has tossed 34.0 innings in six starts and surrendered 12 earned runs on 31 hits, 13 walks, while striking out 28.
Offensively, third baseman Nolan Arenado is the engine that keeps St. Louis moving. Arenado has racked up seven home runs and 27 RBI over the first month of action, showcasing a .311 batting average. First baseman Paul Goldschmidt has began to heat up, riding a seven-game hitting streak into Sunday's tilt.
The Cardinals score 4.3 runs per game behind a team batting average of .240 that sits 11th amongst major league teams. St. Louis has one of the better pitching staffs in the majors, ranking eighth in the league with a 3.44 ERA.
The Pick is In
Sunday night's national showdown on ESPN should be a good one. With Rodon and Wainwright on the mound, expect offensive production to be limited.
The hitting duo of Arenado and Goldschmidt give the Cardinals a lead late, and St. Louis gets the win and takes the series against San Francisco.
Betting Pick: St. Louis Cardinals ML