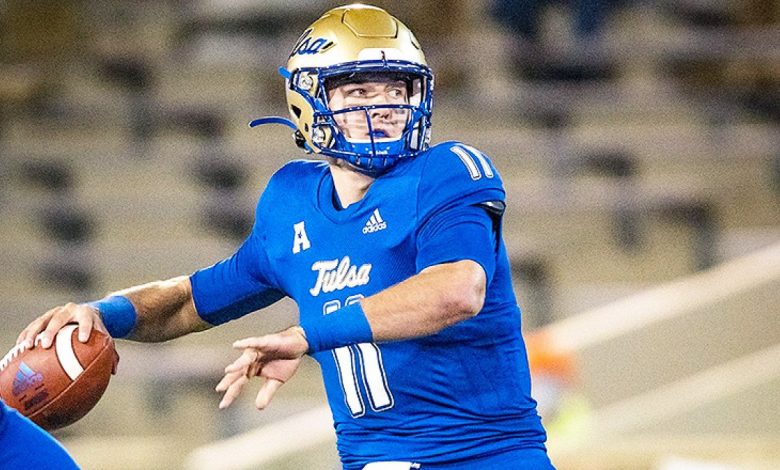 The Tulane at Tulsa pick is an interesting spot for Golden Hurricane backers. #25 Tulsa has confidence as they've climbed into the rankings for the first time in a decade, but this is a team that has also been battered in their schedule due to COVID postponements. Tulane has also won 4 of the last 5 in this series.
Oddsmakers do have Tulsa as -6.5 favorites on Thursday night, and generally the home team is a safe bet when these two squads get together, winning 7 of the last 10 SU. The Golden Hurricane have especially had offensive success when playing Tulane at H.A. Chapman Stadium, posting 38+ points in four straight prior to the Green Wave winning 24-17 in 2018.
Tulane on a Nice Stretch
So far this season Tulsa has played in weeks 3, 5, 8, 9, and 11, having multiple games cancelled due to COVID concerns. One of the positive things the Green Wave have going for them in the Tulane at Tulsa pick is consistency, as Willie Fritz' team has now played for five straight weeks.
Tulane has won 38-26 and 24-17 the last two years against Tulsa, and also comes into Thursday's game on the cusp of a 3-game win streak. Two of those victories came against 1-5 Temple (38-3) and 1-6 ECU (38-21), but last week's 38-12 win over 6-2 Army shows the power of momentum (even though the Green Wave were -3 home favorites).
The Green Wave also boast the #2 rushing attack in the American Conference, tallying 224.1 ypg behind a very deep backfield. Four players had at least 30 yards rushing in the win over East Carolina, and three backs had 50+ vs. Temple. The Green Wave have now put up 31+ points in seven straight games.
Tulsa Aching For Consistency
The Golden Hurricane have done a great job of holding things together en route to 4-1 record amidst numerous cancellations and postponements. Thursday's game marks just the second time this season that Tulane will play in consecutive weeks, but it's also on the short turnaround after beating SMU 28-24 at home Saturday as -1 favorites.
Another way Tulsa is searching for normalcy is to just get an old fashioned lead and keep it. The awkward scheduling probably has a lot to do with it, but Tulsa has started slow in most of their games, and have had to come back by 18 points to beat UCF, 14 points to East Carolina, and from a 21-0 deficit last week against the Mustangs.
Tulsa getting down and coming back does show great resiliency though. Can the Golden Hurricane afford a big deficit against a team that can run the ball so efficiently as Tulane though? Tulsa does have the #2 rush defense in the AAC, but QB Zach Smith has also thrown an INT in all five games this season, and has 6 TD to 4 picks the last three games.
Free Tulane at Tulsa Pick
Tulsa's #2 ranked conference rush defense would usually cancel out Tulane's ground attack, but not necessarily with the first quick turnaround of the season for the Golden Hurricane. Tulane was in a very punishing matchup of their own on Saturday though when Army ran the ball 57 times for 270 yards.
Tulsa usually puts up some points at home in this matchup, and Tulane has the #4 total defense in the AAC, but once again the short turnaround has to favor the offense. Relying on scoring has to be the play in this tilt.
Tulsa 42 – Tulane 38
Free Pick: Over 54.5