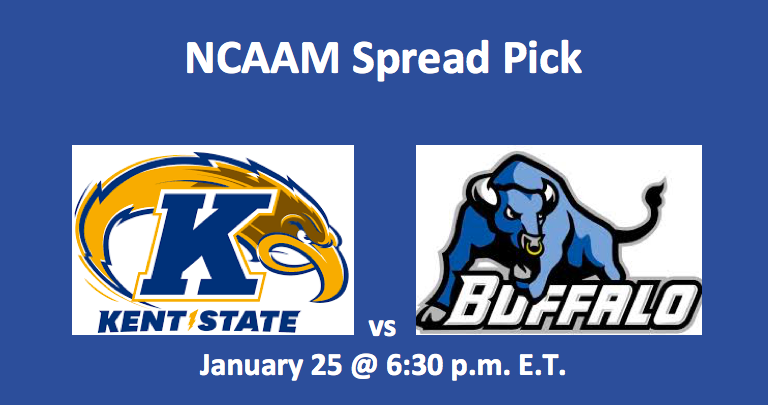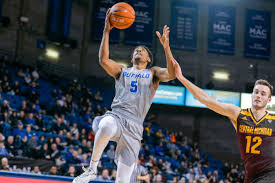 The #14 Buffalo Bulls (17-2 Overall, 5-1 MAC) visit the Kent State Golden Flashes (15-4 Overall, 4-2 MAC) tonight, Friday, January 25, for a 6:30 pm ET start. Our NCAAM Golden Flashes/Bulls pick has Buffalo favored by eight points. The Bulls are second in the MAC East. They moved down into second place after losing on January 22 to the MAC West-leading Northern Illinois Huskies. The final in that contest was 77-75. Kent State is third in the MAC East, one game behind the Bulls. That means this is a big game for both teams.
Strength of Schedule, MAC Play, Recent History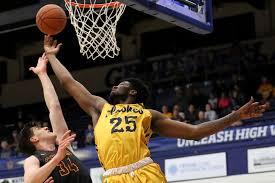 The Bulls got noticed nationally early in this season when they beat #13 West Virginia 99-94 in OT. That was on November 9 and it was an away game for Buffalo. The Bulls started the season with 11 straight wins, which, along with their defeat of the Mountaineers, including a 71-59 victory over Syracuse. Their first loss was to #20 Marquette 103-85. After that, it was six more wins, including five in the MAC. Then, three days ago, came the two-point defeat by NIU.
This is the first time this season that Kent State will play against a nationally-ranked team. They started the season with an 8-2 mark. Losses were to Liberty 77-70 and Louisville 83-70. After the loss to the Cardinals, which occurred on December 15, the Golden Flashes beat Oregon State 66-63. The win over the Beavers marked the start of a nine-game stretch where Kent State won seven and lost two. MAC losses were to Bowling Green 86-64 and Eastern Michigan 95-61. For the record, on January 19 the Golden Flashes beat NIU 78-68. They've won their last three games.
Advantage?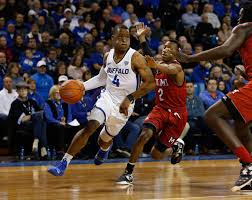 In terms of strength of schedule our Golden Flashes/Bulls pick notes that Buffalo has clearly had bigger challenges, and overall, they done well meeting those challenges. MAC play looks even, despite Buffalo having one more win. The Bulls lost to NIU, while the Golden Flashes beat them.
Over the last few seasons, Buffalo has dominated Kent State and have covered 10-of-14 meetings. However, those four times they did not cover were over their last four meetings. Slight edge for Bulls.
Edge: Buffalo
Golden Flashes/Bulls Pick – Statistics
The Bulls are plus-7.7 PPG over the Flashes. In points against, Buffalo is allowing 1.9 fewer points per game. That gives them a combined PF/PA of +9.6. Although field goal percentage is close, Kent State certainly has a decided edge in three-point percentage, 36.0%-to-34.2%. Still, this season, Buffalo has made 20 more threes than Kent State. Also, the Bulls are tops in APG (17-to-15) and RPG (40-to-35). In addition, the Bulls are +2.1 in offensive rebounds.
Edge: Buffalo
Tonight's Key Players
For Bulls three players top in scoring and rebounding – guards Massinburg and Harris and forward Perkins with a total of 47.2 PPG and 20.5 RPG
For the Flashes, junior forward Philip Whittington (9.5 PPG, 7.7 RPG) looks to command the paint
Three-point duel – State's Jaylin Walker (45 3PT%) vs Bulls' C.J. Massinburg (42 3PT%)
For Kent State, guard Jalen Avery needs to set up plays and keep ball moving
Bulls have Massinburg and Caruthers to precipitate ball movement and set up plays
In our Golden Flashes/Bulls pick, we like Buffalo's roster. They're deeper and are more diverse.
Edge: Buffalo
Our Buffalo at Kent State Spread Pick
Our Golden Flashes/Bulls pick is leaning towards Buffalo. They should have the stuff to beat Kent State tonight. Remember that game time for this event is 6:30 pm ET. Our pick is the Bulls at -8.0. We also have the totals pick on this game!
Summary #14 Buffalo Bulls at Kent State Golden Flashes – Buffalo at -8.0