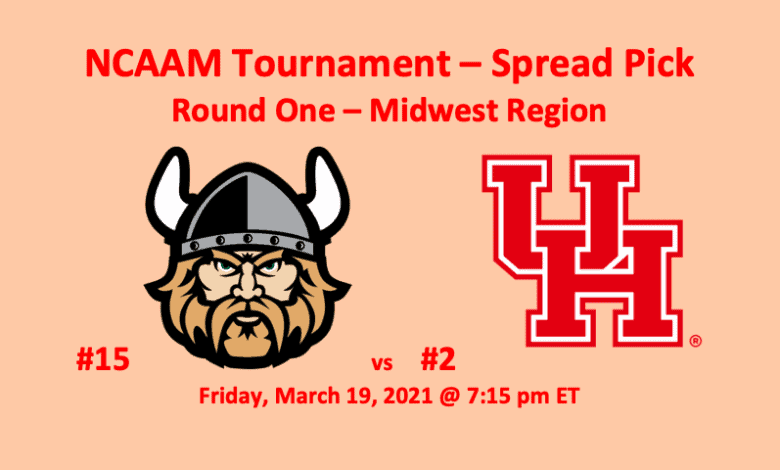 Our Cleveland State vs Houston pick has the Horizon League tournament champs, the Vikings, meeting the American Athletic Conference tourney title winners, the Cougars, battling each other. In this First Round, Midwest Region 2021 NCAA Men's Tournament matchup, Houston is at a hefty -20.5 (-103). Underdog Cleveland State is listed at +20.5 (-107). Prior to taking down the conference tournament, Cleveland State finished second to Wright State in the AAC. In the finals of the tourney, the Vikings beat the Oakland Golden Grizzlies 80-69. Over their last five games, Cleveland State has gone 4-1, winning their last four. The Houston Cougars, who've taken five of their last five contests, finished second in the ACC just behind Wichita State. In the conference finals, the Cougars easily beat the Cincinnati Bearcats 91-54. The Vikings and Cougars will meet on Friday, March 19 at 7:15 pm ET. The game will be held at Simon Skjodt Assembly Hall in Bloomington, IN. Take a look at all of our NCAAM Tournament picks. We have every one, including Liberty vs Oklahoma State.
Cleveland State vs Houston Pick – Stats
To be upfront, most of the statistics indicate a blowout by the Cougars. Houston tops Cleveland State in just about every category. The Cougars are better in points per game (77.6-71.5), rebounds (41.1-35.0), and assists (14.1-14.0). They're also making one more steal, two more blocks, and two fewer turnovers per game. The Vikings are slightly better when it comes to field-goal percentage (45.2-44.4). However, the Cougars excel from downtown (36.1-31.9) and from the foul line (74.1-66.9).
Key Players
The Vikings use four primary guards, including adroit outside-in backcourt man Torrey Patton. Patton is averaging team bests in points per game (14.9 PPG) and rebounds (8.0 RPG). Craig Beaudion, who's recording 9.6 PPG, leads team with 3.7 APG. At 40.7%, he's the club's best three-point shooter. Also, in the backcourt, Tre Gomillion and D'Moi Hodge are each hitting for 10.5 PPG. Gomillion, a solid inside player, is hitting 50.9% of his shots and bringing down 5.2 RPG. In the paint, Algevon Eichelberger offers 6.2 PPG and 3.4 RPG.
Like the Vikings, the Cougars also utilize four flexible guards. Quentin Grimes, who is a 41% shooter from anywhere on the court, leads the team with 18.0 PPG. He's also good for 6.0 RPG. Also, in the backcourt, DeJon Jarreau commands the play, averaging 5.5 APG while scoring 11.0 PPG. Additionally, guards Marcus Sasser and Tramon Mark are hitting for 13.7 and 8.1 PPG respectively. In the paint, Justin Gorham, a 50.3% field-goal and 37.8% three-point shooter, is averaging 8.6 PPG while grabbing 9.0 RPG.
Cleveland State vs Houston Pick – Final Thoughts
Our Cleveland State vs Houston pick notes that in terms of depth and performance, the Cougars have a major edge in both the backcourt and frontcourt. We expect them to dominate in the frontcourt as well as beyond the arc. We like Houston at -20.5 (-103).
#15 Cleveland State Vikings vs #2 Houston Cougars
Houston Cougars at -20.5 (-103)