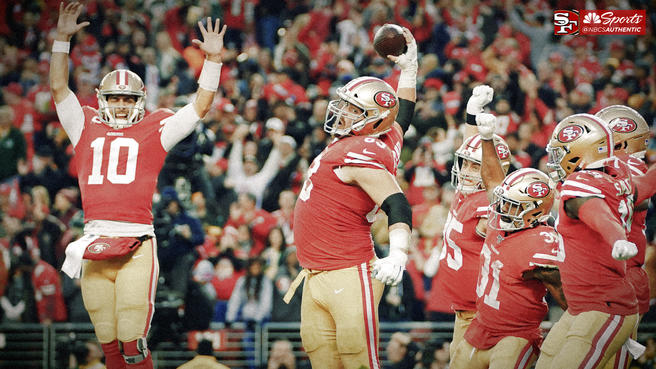 The MVP of Super Bowl LIV betting preview starts and ends with Kansas City's Patrick Mahomes. The Chiefs are a slight favorite in the game and Mahomes is the favorite in the most valuable player race at +115 as well.
Usually you'd think the team that wins did so with offense and thus the easy choice for MVP would be that team's quarterback. It's why Jimmy Garoppolo is next on the favorite list at +275 despite throwing for 131 yards in the NFC divisional playoffs and attempting just 8 passes in the conference championship game. QBs have the best odds – but they're far from a given for this coveted award.
RBs Have Any Chance Here?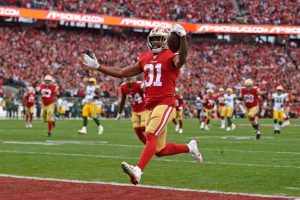 Obviously with Garoppolo doing so little (stats wise) so far in this postseason, a great MVP of Super Bowl LIV betting play is Raheem Mostert (+550). This play is a tough one though as a running back hasn't won the award since Terrell Davis in 1998. Everybody remembers the 29 carry, 220 yard performance Mostert had last game vs. Green Bay, but he had only one other 100+ yard game all season. The Chiefs also held Derrick Henry to just 69 yards last week.
Damien Williams at +2500 actually has better value than Mostert believe it or not. Mostert has 3 TDS rushing this postseason and another through the air. SF's #1 focus is going to be stopping the Kansas City passing game with the #1 secondary in the league which may leave opportunities for the running game. With the Niners' impressive pass rush, quick dump offs to Williams may be a lifesaver for K.C. Williams had 6 targets in both postseason appearances.
A Historic Tight End Win on Sunday?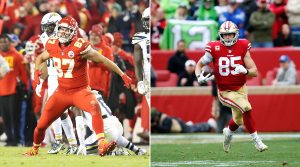 So far in Super Bowl history there have been 4 linebackers, 3 defensive ends, 2 safeties, a cornerback, and a punt returner to have won MVP – but never a tight end. If there's ever a year that could change it's when George Kittle (+1000) and Travis Kelce (+1600) are both in action.
What's working against Kittle is that the 49ers don't pass – he has just 4 catches for 35 yards this postseason. Kelce's biggest problem is that KC has too many weapons. Also if Kelce has a productive day it's going to be hard not to give the award to Mahomes. Then again, it was Kelce who was most valuable in the Chiefs comeback over Houston as he had 10-134 and 3 TDs.
KC Receivers Have Incredible Value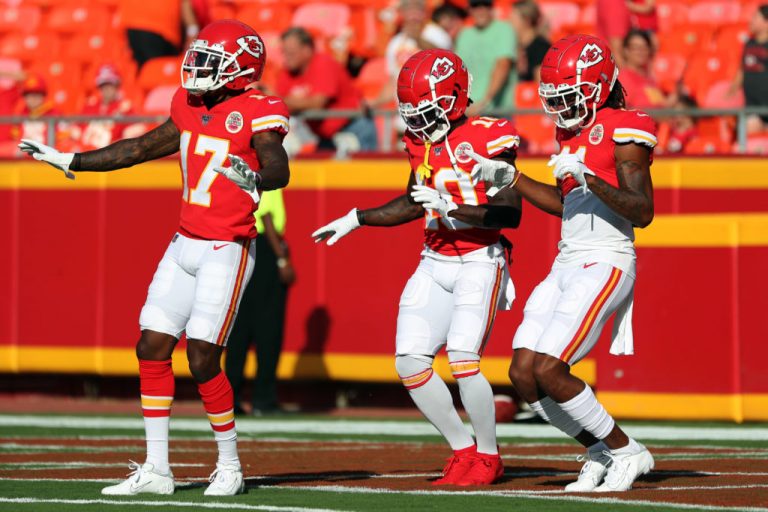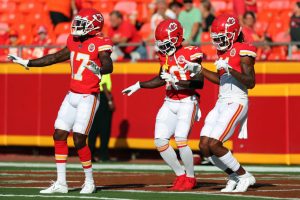 The great thing about both Tyreek Hill (+1600) and Mecole Hardman (+5500) is that they can score in a variety of ways besides through the passing game. Hill has 5 rush TDs in his career while Hardman had one on the ground this year as well as a 104 yard kick return for a score in the regular season and a 58 yarder in these playoffs. Hill had two TDs vs. Tennessee and even Sammy Watkins (+6000) has some potential after a 7 catch 114 yard game vs. the Titans.
Julian Edelman (2019) and Santonio Holmes (2009) have won MVP from the wide receiver spot in the past 10 years when their QBs didn't have completely astronomical stats. Does that give Deebo Samuel (+2500) or Emmanuel Sanders (+4500) value for the Niners? Probably not as they have a combined 7 catches this postseason.
49ers Defense Get a Nod?
Nick Bosa (+1600) has 3 sacks this postseason and who better to be named MVP than a guy who helped shut down the dangerous Mahomes? Arik Armstead (+12500) has been impressive too and may get better matchups as the Chiefs focus on shutting down Bosa the defensive rookie of the year.
Best Bets
Mahomes +115
Kelce +1600
Hill +1600
D. Williams +2500
Armstead +12500