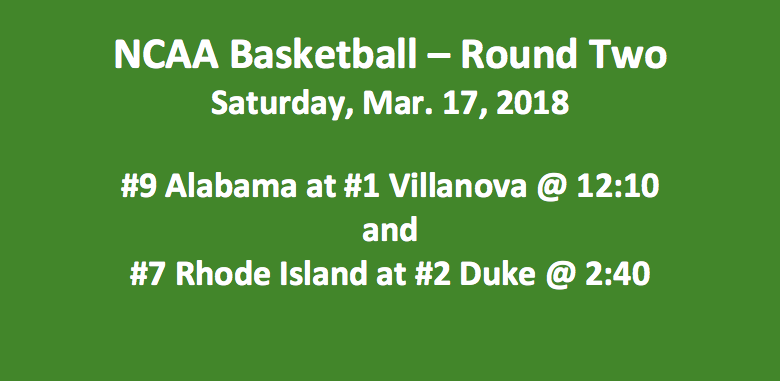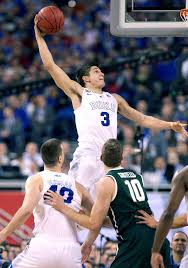 The dust has settled on the first round of the 2018 NCAA Tournament. Last night UMBC stunned everyone by being the first ever 16th seed to defeat a one seed in the initial round. They did it by beating one of the best, Virginia, 74-54. The Cavaliers must still be thinking they just lived through a hoop nightmare. Today is the first day of Round Two of the 2018 NCAA Tournament. There are now 32 teams left and 16 games to be played over the next two days. Eight are on tap today. In this article, we're offering our first two Round Two 2018 NCAA Tournament Saturday picks.
The first two games feature #9 Alabama at #1 Villanova at 12:10 p.m. E.T. and #7 Rhode Island at #2 Duke at 2:40 p.m. E.T. We will cover every game, so please check back a few hours prior to each tipoff for our picks. Here are our first two of Round Two 2018 NCAA Tournament Saturday picks. As we did with the first round, we're offering the spread and over/under for each game.
#9 Alabama at #1 Villanova
East Region at 12:10 p.m.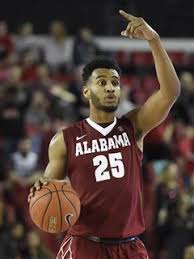 On Friday, the Alabama Crimson Tide (20-15) got by favored #8 Virginia Tech 85-83. Now it seems as if anything is possible. But it won't be easy against the Villanova Wildcats (31-4), as they took apart #16 Radford 87-61 in their first game.
A few stats concerning these teams. 'Bama is -10 in PF/PA, while 'Nova is +26. The Tide is scoring 72.7 PPG while allowing 83.0. The Cats are good for 87.1 PPG, and they are allowing 61.0. Villanova is plus-four percentage points in field goals and plus-four in assists over Alabama. Also, the Wildcats are way ahead in free throws (77% to 67%) and threes (40% to 33%).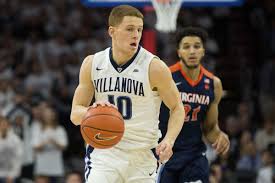 For Alabama, freshman guard Colin Sexton, who's averaging 19.2 PPG, will need to try to open up the outside scoring. At the same time, junior forward Donta Hall, who's putting in 10.9 PPG and taking down 6.7 RPG while blocking an average of two shots per contest, will try to secure the paint.
The problem for the Crimson Tide is that Villanova is exceptionally deep. They have six guys who are capable of double-digit scoring. Plus, this is an experienced team anchored by two junior guards, Jalen Brunson (19.3 PPG, 4.7 APG) and Mikal Bridges (17.9 PPG, 5.5 RPG). Both of these guys are shooting better than 50% from the floor.
In this game, we're taking Villanova at -11.0 and the over at 148.5. We think that the Cats are just too overwhelming for Alabama to stop them.
Our Picks: Villanova at -11.0 and over 148.5
#7 Rhode Island at #2 Duke
Midwest Region at 2:40 p.m.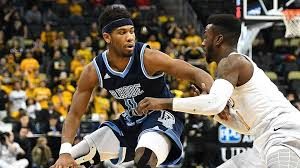 We're looking at the Rhode Island Rams (26-7) and Duke Blue Devils (27-7) matchup and thinking that the Rams may be completely overwhelmed. In the first round, URI beat #10 Oklahoma in OT 83-78. In that same round, Duke easily got by #15 Iona 89-67. Duke and Rhode Island have met four times prior and the Blue Devils have won every game. Two of those wins were in the NCAA Tournament.
Duke has the edge in many ways, including size, depth, and overall stats. The Blue Devils are plus-eight in PF/PA, scoring 84.8 per game and allowing just 67.0. In comparison, the Rams are putting up 77.0 per game and giving up 78.0. Duke leads in shooting percentage (49.5% to 45.9%), assists (17.7 to 15.4), and rebounds (41.8 to 34.5).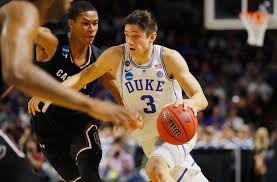 Look for the Rams to try to exploit their three-point game. Two senior guards, Jared Terrell (17.0 PPG) and E.C. Matthews (13.2 PPG) will use their outside shooting chops. Terrell is the team's best three-point guy, hitting 42%. Sophomore forward Cyril Langevine (6.2 PPG, 5.9 RPG), who is 6-8, will try to command the boards. But he'll have his hands full with Duke's big guys.
For Duke, freshman forward Marvin Bagley III is a team unto himself. The double-double artist is averaging 21.1 PPG and 11.3 RPG. Then there's freshman forward Wendell Carter Jr. who's been good for 13.6 PPG and 9.3 RPG. The Blue Devils also have some impressive guards, including freshman Grayson Allen (15.7 PPG, 4.6 APG)
Although URI is a very tough and smart team, Duke is loaded. The spread is 9.5. Duke should win this game by a good 12 points. With that in mind, we are going with the Blue Devils. The over/under stands at 148.0 even. Duke should score about 85 and the Rams around 66. That puts this game over.
Our Picks: Duke at -9.5 and over 148.0
Round Two 2018 NCAA Tournament Saturday Picks: Final Word
Those are our first Round Two 2018 NCAA Tournament Saturday picks. There are six more games to go and a dozen more picks. Next will be #13 Buffalo and #5 Kentucky at 5:15 p.m. E.T. and #11 Loyola (Chi) at #3 Tennessee at 6:10 p.m. E.T. We'll have those posted in a few hours. Good luck!