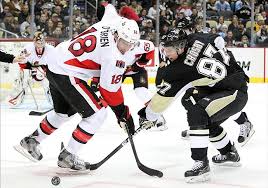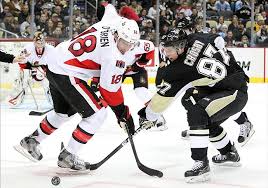 The very tough, never-say-die Ottawa Senators play the always-ready-to-score Pittsburgh Penguins in the Stanley Cup Eastern Conference Finals. The series begins on Saturday, May 13 at 7 p.m. E.T. in Pittsburgh. The Penguins, who won the Cup last year, finished second in the Metropolitan Division with 111 points in the regular season. The Senators, who earned 98 regular-season points, were second in the Atlantic Division. The Penguins beat the Columbus Blue Jackets in five games in round one and then beat the Washington Capitals in seven in round two. In their first round series, the Senators took down the Boston Bruins in six games and then went on to beat the New York Rangers in six. Here's a look at these two teams as we offer our Pittsburgh plays Ottawa NHL East Finals pick.
Penguins and Senators: Regular Season Meetings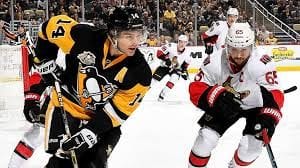 The two teams met three times in the regular season. Despite the fact that Ottawa scored just one more goal in the series than Pittsburgh (11-10), they won two of three games. These outcomes are despite the fact that the Penguins outshot the Senators in these games 111-97. When these two teams meet outcomes are unpredictable. In December, the Penguins spotted the Senators a 4-2 lead. Then over the next 32 minutes they scored six goals for the win. In May when the two teams met in Ottawa, the Senators came back in the final minutes to tie the game and then won in a shootout. Ottawa D-man Erik Karlsson has been tough on Pittsburgh, accumulating seven points in the three games and the Senators' power play has had a 50% success rate against Pittsburgh.
Teams and Players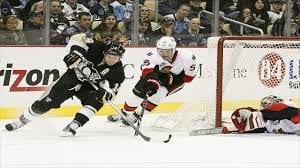 The Senators have been successful for three primary reasons, the trap they play on defense, which slows teams down and often stops opponent offenses; their top-notch goalie Craig Anderson; and their inspirational and fiery coach. The Senators feature the best defenseman in the league, Karlsson, who thus far in the playoffs has two goals and 11 assists for a total of 13 points. He is at +8. Center Jean-Gabriel Pageau leads the team with seven goals. RW Bobby Ryan and center Derick Brassard both have nine points, which includes a total of seven goals. The Senators were unspectacular statistically in the regular season, as they were 22nd in goals scored, 22nd in the penalty kill, and 23rd on the power play. Their top stat was in goals against, which came in at 2.6. But they have turned it up in the playoffs.
The Penguins were tops in the league in the regular season when it came to scoring goals and they were third on power play percentage. Pittsburgh centers Evgeni Malkin (5 G, 13 A), Sidney Crosby (4 G, 10 A) and Jake Guentzel (9 G, 5 A) are a massive force and will have to be controlled by the Ottawa D. That will be tough to do. Then there's winger Phil Kessel with four of his five playoff goals on the power play, 13 points and a plus/minus of +9. D-man Justin Schultz has notched four of his six assists on the power play. On defense, Pittsburgh was fairly average, as they were 17th in goals allowed and 20th on the PK.
Pittsburgh vs. Ottawa in Goal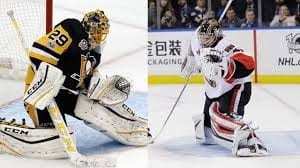 In the playoffs, Ottawa goalie Craig Anderson has played well, posting an 8-4 record, which includes one shutout. His save percentage is .914 and his goals against average stands at 2.49. Despite having a rough go partway through the Rangers' series, Anderson regained his composure and stepped up, helping the Senators take down a few tough Rangers team. Anderson is ready to go in this series.
In game seven versus the Washington Capitals, Penguins goalie Marc-Andre Fleury played an excellent game, earning a shutout. Of course, Pittsburgh has Matt Murray also. Murray was supposed to be their goaltender for the playoffs but was injured in his warm-up before game one. He appears to be healed and ready to go if Fleury runs into problems. In the playoffs, Fleury is 8-4 with a 2.66 GAA and .927 SV%.
Pittsburgh vs. Ottawa Playoff Schedule
Game 1: Senators at Penguins, Saturday, May 13, 7 p.m.
Game 2: Senators at Penguins, Monday, May 15, 8 p.m.
Game 3: Penguins at Senators, Wednesday, May 17, 8 p.m.
Game 4: Penguins at Senators, Friday, May 19, 8 p.m.
Game 5: Senators at Penguins, Sunday, May 21, 3 p.m.*
Game 6: Penguins at Senators, Tuesday, May 23, 8 p.m.*
Game 7: Senators at Penguins, Thursday, May 25, 8 p.m.*
*If necessary
Pittsburgh Plays Ottawa NHL East Finals Pick
Fleury gives the Penguins a bit of an edge, but the Ottawa defense may take that away. Plus, Anderson is no pushover. He stopped 37 of 39 shots in the game-winner versus the Rangers. Our Pittsburgh plays Ottawa NHL East Finals pick is the Senators in seven.
Pittsburgh Plays Ottawa NHL East Finals Pick: Senators in seven