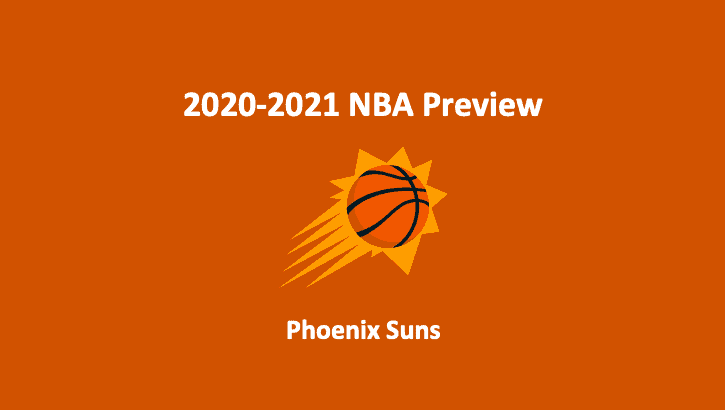 Our Phoenix Suns preview 2020 – 2021 observes that last season this team did better on the road than at home. When away, the Suns were 17-17, however, in Phoenix they went 17-22. Consequently, the team ended the season with a losing record of 34-39. They finished third in the Pacific Division and 10th in the Western Conference. Thus, they were eliminated from the playoff picture. Phoenix, which from 1988 through 2010 made the playoffs 19 out of 22 seasons, has missed the postseason for the past 10 years. In that time, they have recorded a winning season once. In the past decade, their average number of wins per season comes to 30.6 games. In the last five seasons, they've cracked the 30-win mark once. That was last year.
Phoenix Suns Preview 2020 – 2021 – Stats
When looking at their record, you might expect the Suns to be in the lower tier of scoring. However, they were in the upper third, 10th, if the league, averaging 113.6 PPG. On the other side of the court, Phoenix allowed opponents 113.4 PPG, which was 20th. Consequently, at +0.2, the team was almost dead even in PF/PA. During the course of an NBA season, that's a very thin positive differential. Team shooting percentages were 46.8 FG% (9th), 35.8 3PT% (16th), and 83.4 FT% (1st). That strong free-throw completion rate kept this team in many games. Also, they topped the NBA in assists, averaging 27.2 PG.
However, it didn't help this team's fortunes that they were 21st in rebounds with 43.5 PG and 18th in turnovers with 14.2 PG. Interesting to note that the team broke even on rebounds, as they allowed 43.5 PG, while they were -0.7 in turnover differential. Also, opponents outshot the Suns in field goals and threes by 0.4%. However, Phoenix was first in free-throw differential at a hefty +4.5%. The Suns were 15th in steals and 29th in blocks. All-in-all, the mixed bag of stats hampered this team's ability to post a winning record.
Phoenix Roster
The Suns possess a fine backcourt that can set up plays quickly, pass adroitly, and shoot accurately. Plus, Chris Paul is an excellent court general and Devin Booker can knock points in from anywhere. The frontcourt is strong at the power and small forward spots, while center could be a concern as Deandre Ayton has had his issues. However, if he can stay in the lineup, Ayton is a constant double-double threat and a fine two-way player. Some of the subs are underperformers. Draft pick Jalen Smith has fine potential.
Phoenix Suns Preview – Backcourt
This is point guard Chris Paul's 16th season. The long-time New Orleans and LA Clippers guard has spent the last three seasons with the Houston Rockets and the Oklahoma City Thunder. This is his first season with the Suns. Paul is still a very productive player. Last season he played and started 70 games, averaging 17.6 PPG, 6.7 APG, and 5.0 RPG. His shooting percentages are very solid with him recording a 48.9 FG%, 36.5 3PT%, and 90.7 FT%. He joins dynamic shooting guard Devin Booker, a five-year Phoenix vet. Booker's shooting rates last season were 48.9% FG%, 35.4 3PT%, and 91.9 FT%.
Suns Preview – Frontcourt
Mikal Bridges moves into the starting role at small forward. Last year, his second in the league, he shot 51.0% from the field and 36.1% from downtown. Averaging 28.0 MPG, he recorded 9.1 PPG and 4.0 APG. He also made 1.4 SPG. In eight seasons, PF Jae Crowder has played with six different teams. This year he joins team number eight. Phoenix would like to see Crowder get back to averaging 14 PPG, five to six rebounds, and close to two steals per game. Our Phoenix Suns preview 2020 – 2021 observes that over the past four years, his production has dwindled.
Last season, center Deandre Ayton had his issues as he tweaked his ankle and then missed 25 games for violating the NBA's anti-drug policy with a positive test for a diuretic. In two NBA seasons, Ayton's averaged 17.0 PPG, 11.5 RPG, and 1.5 BPG. He hit 54.6% from the field. If he can stay healthy and out of trouble, Ayton will be a major force on this team.
Suns Bench
Cameron Payne (Day-to-Day) and Langston Galloway come in the relieve the point, while E'Twaun Moore and Jevon Carter lend support at shooting guard. In his first season with the Suns, Payne, a five-year NBA veteran, averaged 10.9 PPG, 3.0 APG, and 1.0 SPG, while Galloway, who played with the Pistons, was good for 10.3 PPG. Last season, at the shooting spot with New Orleans, Moore hit for 8.3 PPG, while Carter posted 4.9 PPG while averaging 16.3 MPG.
In front, it's Cameron Johnson (Day-to-Day) at small and power forward with Abdel Nader (Day-to-Day) also at the small forward spot and Dario Saric (Day-to-Day) in the power position. In his first NBA season last year, Johnson recorded 8.8 PPG and 3.3 RPG while averaging 22.0 MPG. This is Nader's third team in four seasons. Last year, with Oklahoma City, he had his best year, averaging 6.3 PPG and 1.8 RPG in 15.8 MPG. Saric came to Phoenix last year after playing three seasons with Philadelphia and Minnesota. He averaged 10.4 PPG and 6.2 RPG. He hit 44.1% of his field goals and 35.7% of his threes.
Finally, Jalen Smith and Damian Jones come off the bench to sub at center. Smith, this year's number-10 draft pick, played two seasons with the Maryland Terrapins. Last year, Smith averaged 15.5 PPG, 10.5 RPG, and 2.4 BPG. His shooting percentages were 53.8 FG%, 36.8 3PT%, and 75.0 FT%. He could have a major impact on this team. Jones, who spent three seasons with Golden State and was with Atlanta last year, comes to the Suns averaging 5.6 PPG and 3.7 RPG.
Phoenix Suns Preview 2020 – 2021 – Coaching
In 2019, Monty Williams became head coach of the Suns. He broke into the coaching ranks as an assistant in 2005 with the Portland Trail Blazers. In 2010, he became New Orleans head coach. He lasted five years in that position, and after being let go, he became associate head coach for the Oklahoma Thunder. After serving in that position from 2015-2016, he had a two-year hiatus from the NBA. In 2018, he joined the Philadelphia 76ers as an assistant. The next year, he signed on to be the helmsman in Phoenix.
Williams is known as a head coach who adapts to situations, adopts new approaches, and adjusts his methods. He likes his offense to play up-tempo, which he does not necessarily consider quickly dribbling the ball up the court. For Williams, it's about passing, cutting, and shooting. He wants quick ball movement that allows offenses to stay ahead of defenses and find the best shot. That kind of basketball calls for quick decision-making and accurate passing and shooting. He mentors players by being honest, however, he notes that he never wants to embarrass anyone. Our Phoenix Suns preview 2020 – 2021 finds that Williams is about process and building on a player's skills, talents, and techniques. He works collaboratively with his coaches and like to delegate to his assistants, keeping everyone involved in the process.
Phoenix – Pluses and Minuses
Addition of Chris Paul is a major improvement
Solid passing
Excellent free-throw shooters
More rebounding needed
Better overall D required
Ayton needs to stay in lineup
Phoenix Suns Preview 2020 – 2021 – Final Word
Our Phoenix Suns preview 2020 – 2021 sees this team as moving up in the Pacific Division. For the first time in a decade, they very well could make the playoffs. This is a team that can pass, set up plays, and drain the shot. However, they have to improve on the transition and do better at squelching opponent offenses. If they do those two things, the Suns will be in the postseason.
Phoenix Suns Projection – 42-30 Third-Place – Pacific Division