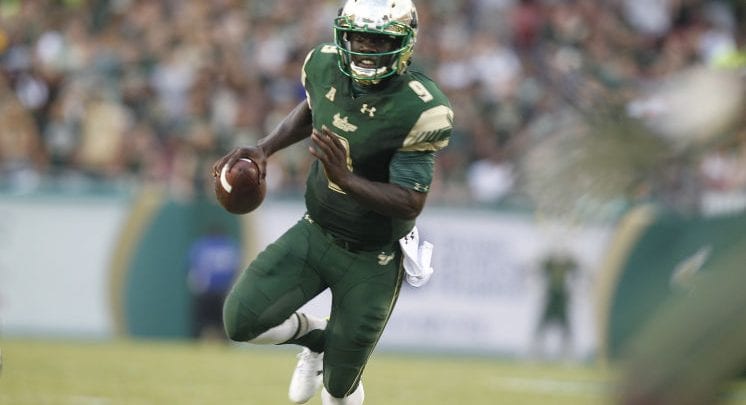 Illinois coach Lovie Smith finds himself in familiar territory as his 2-0 Fighting Illini visit the South Florida Bulls. Unfortunately, things didn't end well for Smith the last time he was in Tampa, being dumped unceremoniously after a 6-10 season with the Buccaneers. Things don't get any easier Friday night as the game was pushed up a day by the American Athletic Conference – oh, and Illinois will be facing the 2-0, #22 ranked USF Bulls.
The 9/15 college football free pick has an all-around weird feel to it. Big Ten teams just don't play on Friday nights and the entire South Florida campus is closed until Tuesday in the aftermath of Hurricane Irma. This is the first time the two teams have met and it will be interesting to see the reaction the crowd in Tampa gives to Smith's Illini Squad.
9/15 College Football Free Pick – Illinois Matchup
The Illini look to end a few streaks Friday night. They haven't started a season 3-0 nor beat a ranked opponent since 2011. South Florida, like Illinois, is 2-0 and ranked under new coach Charlie Strong but the wins have come against underwhelming opponents in San Jose State and Stony Brook. Illinois is 2-0 as well but their wins have come against Ball State and Western Kentucky – this isn't Ohio State / Oklahoma Part II is what we're saying.
5 keys to beating the South Florida Bulls https://t.co/mgK7S8mswB #Illini #Illinois #Football #WeWillWin

— Writing Illini (@WritingIlliniFS) September 15, 2017
That isn't to say the game can't be entertaining. Illinois has blazed off to their strong start behind their defense – definitely not their offense. In last week's game against a normally high-powered Western Kentucky team Illinois gave up only 244 total yards, 6 of which were on the ground. This run game prowess bodes well in a matchup against a  USF team that ran the ball 74 times in their opener (315 yards). That potent South Florida running game was held to 92 yards on 36 carries last week against Stony Brook however.
9/15 College Football Free Pick – USF Matchup
It's the zone read against the Big Ten Beef in terms of USF offense against the Illini D. Bulls QB Quinton Flowers has already thrown for 398 yards and 4TD while running for another 137 yards and a score. When he does hand off, the Fighting Illini defense has to contend with Darius Tice, who has gained 151 yards and 3 TD on the year.
Come on Lovie Smith and Illinois. Do it for America one time.

— Brandon Ratay (@ChatRat_Stadium) September 15, 2017
9/15
As is typical of Lovie Smith teams, this Illinois team is defense centric – almost solely. They are the 155th ranked rushing offense in the nation and have only thrown for a total of 252 yards in two games. South Florida's defense is formidable…enough, allowing 308 total yards per game.
9/15 College Football Matchup – Betting Preview
Illinois is a whopping 16.5 point underdog which could be motivation being a Big Ten team against an American Athletic Conference squad. In this game, there are just too many intangibles to overlook however. The first of which is Illinois' travel schedule, flying into Tampa Thursday for an early evening Friday start. Players just aren't used to this. Plus, don't forget that for all the turmoil that Irma brought last weekend, it did give USF a break on the field at least. Their game against Connecticut was postponed so the team will have a full two weeks of rest.
Both teams will be rusty early, but the USF running game is just too much for the Illinois squad. The Illini defense should hold up defense – but their offense won't have any firepower to match in the 9/16 college football free pick.
Pick South Florida -16.5