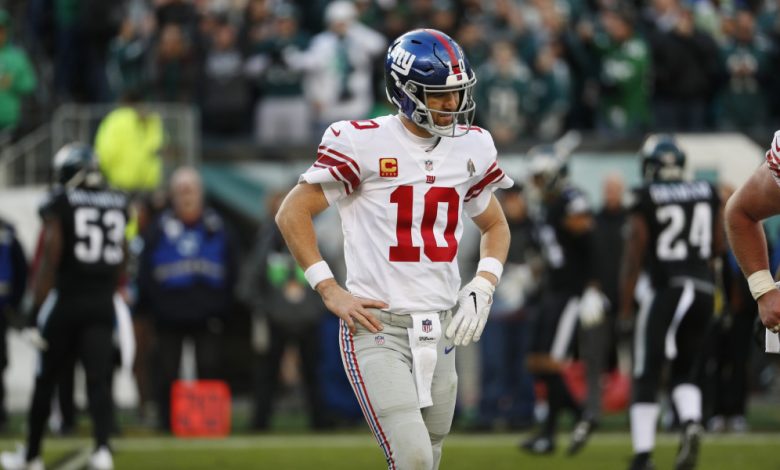 Oddsmakers have set the O/U for the NFL week 14 Giants at Eagles free pick at 45.5. It's a hard number to set as the Giants turn back to an old friend under center. Is there any way that gives a boost to this NYG offense that has been stagnant over the last month? Philadelphia definitely has some questions of their own on both sides of the ball – especially the defense after allowing 37 points to the Dolphins last week.
Not the Best Weather Conditions For Manning's Return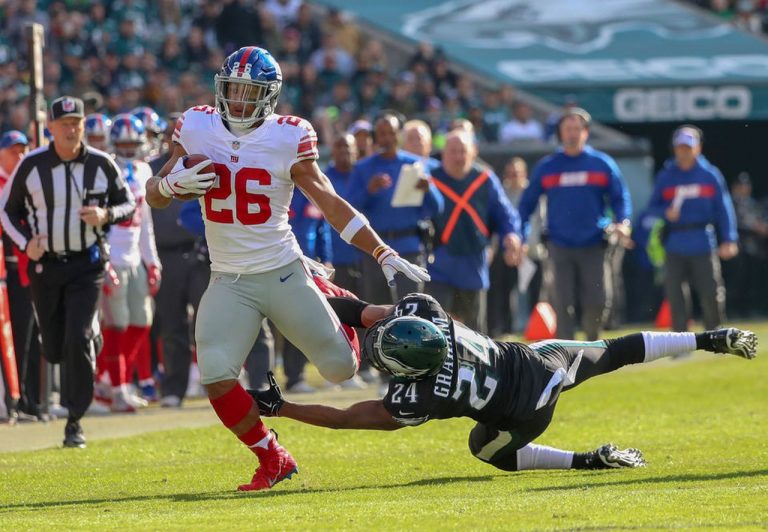 There's supposed to be a steady rain in Philadelphia when Eli Manning returns to QB the Giants for the first time since week 2. Manning had a decent game in the opener against Dallas, throwing for 308 yards with a completion percentage of 68.2% but the Giants lost 17-35. Manning followed that up with 250 yards passing vs. Buffalo, but his 2 INT in the 2TD loss made New York turn to rookie Daniel Jones.
The Giants produced 17 and 14 points in Manning's two starts. It's hard to envision that getting much better after sitting the last 10 weeks and in inclement weather conditions. Overall the New York offense has been held to 18 points or less in 3 of the last 4 games and rank 25th in the league in ppg on the season. There's hope for the New York offense for the fact that Philadelphia gave up 365 and 3 TD to Ryan Fitzpatrick at Miami last week.
Saquon Barkley also had 26 carries for 231 yards in two games vs. the Eagles last season, breaking a 50+ yard run in each contest. Philadelphia has been very stout vs. the rush this year though ranking 3rd in allowing just 91 yards per game. Barkley did have his only 100+ yard games of the season when Manning was under center the first two weeks however.
Eagles Still Have Reasons For Coming Out Strong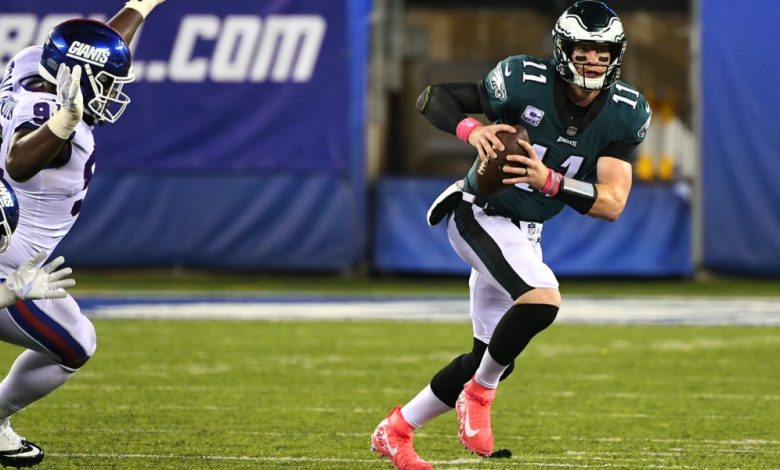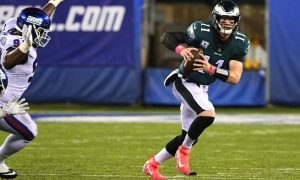 It's no secret that the NFC East is bad. Philadelphia has dropped 3 in a row to move to 5-7 on the season but can pull into 1st in the division with a win over New York. The Eagles offense looked good for the first time in 3 games in Miami last week, but their defense laid a very unexpected lemon against the league's 3rd worst scoring offense.
Carson Wentz tossed 3 TDs last week, his first time throwing multiple scoring passes since week 6. It was a rare high scoring loss for Philadelphia after losing 9-17 to Seattle and 10-17 to New England (both at home) in the two games prior. Philly has now been held to 10 points or less in 3 of the last 6 games however. 4 of the last 5 Giants opponents have put up 30+ points though which does give Philadelphia a shot at breaking out here.
The Giants allowed a 4 TD day to Aaron Rodgers last week, 278 to Mitch Trubisky the game prior, and allowed Dak Prescott to throw 3 TD scores in week 9. New York has ranked 25th in pass defense this season, but is 29th in points against. New York is really hoping for a rainy night on Monday.
NFL Week 14 Giants at Eagles Free Pick
Manning is in a tough spot on Monday Night, rusty and having to go against a usually-tough Philadelphia defense in a driving rain storm. Sometimes the weather games lead to short fields and easy scoring drives, but it's hard to see these division rivals putting up too many points on each other here.
Pick: Giants / Eagles *Under* 45