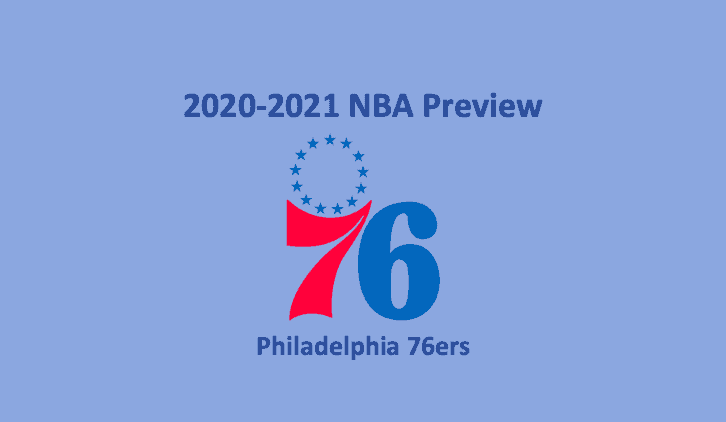 Our Philadelphia 76ers preview 2020 – 2021 notes that last season the Sixers finished at 43-30. That earned them sixth place in the Eastern Conference and third place in the Atlantic Division. They ended up 10.5 games behind first-place Toronto. In the playoffs, the Boston Celtics beat Philadelphia in the first round four games to none. Also, in the regular season, the Celtics were second in the Atlantic Division, finishing five games ahead of the 76ers. Consequently, it made sense that Philadelphia had a tough time with Boston in the postseason.
Philadelphia 76ers Preview 2020 – 2021 – Stats
Last year, the Philadelphia 76ers averaged 110.7 PPG (20th), and they were good on 46.8% (11th) of their field goals. On defense, the Sixers allowed opponents 108.4 PPG (6th) while other clubs hit 46.3% (16th) of their field-goal attempts. The team's +2.3 PF/PA differential ranked 10th in the league, and their +0.4 FG% differential was 13th. Note, on the boards, the 76ers were +3.6, which was the second-best rebounding differential in the NBA. Plus, Philadelphia hit 36.8% of their threes and 75.5% of their frees. Those ranked ninth and 22nd respectively. Additionally, they recorded 25.8 APG (8th), 8.0 SPG (9th), and 5.3 BPG (9th). Overall, in most statistical categories, the Sixers were better than most of the league, but certainly not a top performer.
Philadelphia Roster
The Philadelphia roster is good, but not great. PG Ben Simmons is a solid field-goal shooter, playmaker, and defender, but he's an inadequate defender. SG Danny Green, an NBA lifer, can contribute but not as much as one would like. The frontcourt is not spectacular. Center Joel Embiid brings some fine tools to the court, but he has a tough time staying off the IR or PUP list. SF Matisse Thybulle showed promise last year as a rookie. Now, he needs to step up. The bench is thin.
Philadelphia 76ers Preview – Backcourt
Starting his fourth year with the Sixers, Ben Simmons has proven to be a productive shooter, averaging 16.4 PPG, while also dishing off 8.0 APG. A converted forward, Simmons lacks a three-point shot, but his field-goal success rate is 58.0%. Plus, he's an avid defender. Last season, he averaged 2.1 SP. Veteran shooting guard Danny Green, who last year played with the Lakers, starts his 12th NBA season with Philly. Last season with LA, he averaged 24.8 MPG while scoring 8.0 PPG and taking down 3.3 RPG. Green was good on 41.6% of his shots and 36.7% of his threes.
76ers Preview – Frontcourt
In 2019-2020, small forward Matisse Thybulle averaged 19.8 MPG. He scored 4.7 PPG, grabbed 1.6 RPG, and made 1.4 SPG. This year, Thybulle starts and will see his time on the court expand, and, hopefully too, his production. Power forward Tobias Harris and center Joel Embiid work the paint and the rim. Harris, a 13-year NBA vet, has spent the last two seasons with the 76ers. Last year, he was good for 19.6 PPG and 6.9 RPG. Harris can score inside and out. Last year, he sank 47.1% of his field goals and 36.7% of his threes. Embiid, who's in his fifth year, has struggled with injuries. This Philadelphia 76ers preview 2020 – 2021 finds that his maladies are really the only thing holding him back. Last season, the 7-0, double-double center averaged 23.0 PPG and 11.0 RPG. He sank 47.7% of his field goals and 33.1% of his threes.
76ers Bench
The backcourt includes Shake Milton and Tyrese Maxey (Day-to-Day) at the point and Seth Curry and Furkan Korkmaz at shooting guard. In his second NBA season last year, Milton saw his numbers jump as he went from being a 39.1 to 48.4-percent shooter and a 31.8 to 43.0-percent three-point shooter. Milton doubled his points per game to 9.4. Maxey, a rookie from Kentucky who was the 20th overall pick in this year's draft, is a premium shooter who brings energy, creativity, and aggressiveness to the court. However, at 6-2, he's short by NBA standards. Plus, his passing and ball handling skills are subpar.
This is Curry's eighth NBA season and his seventh club. Last season, the shooting guard played for Dallas. With the Mavs, he averaged 12.4 PPG, completing 49.5% of his field goals, and 45.2% of his threes. Korkmaz, in his fourth season with Philadelphia, has shown steady improvement. Last year, he succeeded in completing 43.0% of his shots from the field and 40.2% of his threes, while averaging 9.8 PPG.
In front at SF, it's the versatile Danny Green, the team's starting shooting guard, as well as former Oklahoma City forward Terrance Ferguson (3.9 PPG, 1.3 RPG, 35.5 FG%). Veterans Mike Scot (6.0 PPG, 3.6 RPG), who's Day-to-Day, and Justin Anderson (2.8 PPG, 2.0 RPG) fill in at power forward, At center, it's 16-year vet Dwight Howard (7.5 PPG, 7.3 RPG, 1.1 BPG) as well as Tony Bradley (4.9 PPG, 4.6 RPG). Howard, who last season played with the Lakers, recorded a 72.9 FG%, and Bradley, who comes to the Sixers from Utah, completed 66.7% of his shots.
Philadelphia 76ers preview 2020 – 2021 – Coaching
Our Philadelphia 76ers Preview 2020 – 2021 observes that Doc Rivers, who's been coaching in the NBA since 1999, is the new Philly coach. Rivers, who coached Orland for five seasons, Boston for nine, and the LA Clippers for seven, has won one NBA title and one Eastern Conference championship. He did both with the Celtics. Rivers' coaching philosophy is based on a word, "Ubuntu," that he learned from Nelson Mandela and Archbishop Desmond Tutu. The translation of Ubuntu is "I am because we are" or "I can't be all I can be unless you can be all you can be." This word, idea, action is the cornerstone of his work with players, coaches, and all others involved in the team.
Philadelphia – Pluses and Minuses
PG Ben Simmons is a good playmaker
Center Joel Embiid – double-double man
New head coach Doc Rivers is a proven winner
Embiid has a tendency towards injury
This team is sound but not spectacular
From the point, Simmons does not have a three-point shot
Philadelphia 76ers Preview 2020 – 2021 – Final Word
Our Philadelphia 76ers preview 2020 – 2021 finds that the Philly bench is fairly thin, and that the starting five is lacking. There are questions regarding the backcourt, small forward spot, and Embiid's health. Hiring Doc Rivers is a good move, as the veteran coach has a penchant for getting the most out of his players. We expect the Sixers will make the playoffs. However, we don't think they'll survive the first round.
Philadelphia 76ers Projection – 42-30 Fourth-Place, Atlantic Division