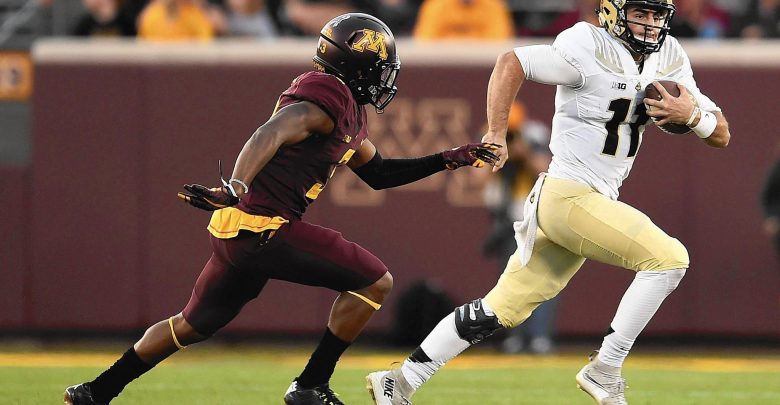 There's no doubt that the Purdue Boilermakers have had what they'd consider a mildly successful 2018 season, topped by their 49-20 drubbing of Ohio State on October 20th. That being said, Purdue is just 5-4 on the year and can they really be justified as -10.5 favorites at Minnesota in the NCAAF week 11 Big Ten free pick? The Golden Gophers are a disappointing 4-5 so far this year, but are 4-1 at home. Does Minnesota have a legitimate shot at an upset W?
Purdue In a Prime Letdown Spot?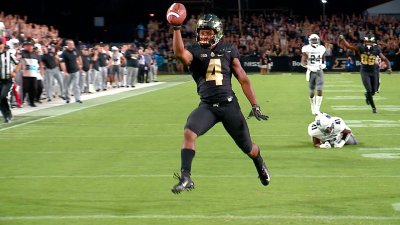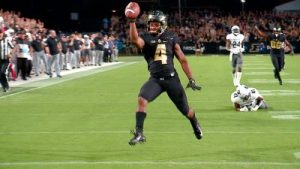 The Boilermakers have beaten 3 ranked teams this season, including the victory over the Buckeyes and a 38-36 road win in Iowa last week. It's not the big games that they worry about getting up for however. After the OSU win, Purdue dropped a 13-23 road contest at Michigan State as -2.5 favorites. They opened up the season with a 17-21 loss to Northwestern and were absolutely atrocious in a 19-20 loss to Eastern Michigan as -15 favorites. The NW and EMU games were early in the season however and Purdue is rolling nicely overall lately, posting a 4-2 mark in the Big Ten. Taking care of business today and next week at home against Wisconsin still gives Purdue a shot at a possible Big Ten Championship game berth.
Purdue giving up 10 points on the road in the NCAAF week 11 Big Ten free pick might seem like a lot but maybe it really isn't when you look at the matchups. First off, Boilermakers QB David Blough is a seasoned 5th year player who is 8th in the country in passing with 2,683 yards. He leads a Purdue offense that is putting up 33.4 ppg and one of the main recipients of that success is freshman playmaker Rondale Moore who has an amazing 74 catches for 833 yards on the year. If Purdue's passing attack isn't enough to outduel Minnesota's defense, they can lean to RB D.J. Knox who has compiled 753 yards on the ground this year. Also, this is a Golden Gophers D that allowed 430 yards and 5TD to Illinois last week…in the rushing game alone.
How Does Minnesota Keep Pace With the Purdue Offense Today?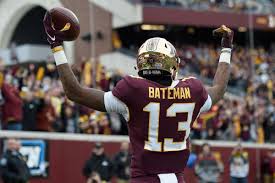 It's almost a given that Purdue is going to get their share of points today as this is a team that has put up 38+ points in 4 of their last 5 games. Then again, game time temperatures in Minneapolis today are expected to be a frigid 24 degrees with snow expected in the afternoon. If the Gophers defense could limit the Boilermakers today they'd have a legitimate chance at an outright win. Of course that's a huge IF for a defense that is last in the Big Ten allowing opposing QB's to complete 65% of their passes. Illinois doesn't exactly boast a high-powered offense yet they amassed 646 yards against the Golden Gophers defense last week. After that contest Minnesota fired their defensive coordinator and will now have to adjust on the fly ahead of the NCAAF week 11 Big Ten free pick.
If the Gophers defense struggles as expected (allowing 32 points and 424 ypg) can their offense keep the team in the game and avoid a blowout? Signs point to 'maybe' as this is a team putting up over 32 ppg in their last 3 contests. The Golden Gophers have two elite WR's in Tyler Johnson (8 rec TD leads Big Ten) and Rashod Bateman (42 catches is school freshman record). QB Tanner Morgan has posted back-to-back 250+ yard passing games and has 5TD to just 1 INT over that span. The Boilermakers can be exploited through the air, but don't give up much on the ground ranking 30th in the country in rush yards against.
NCAAF Week 11 Big Ten Free Pick Betting
Despite the cold weather expected today, there will be points put on the board as evidenced by the O/U staying firm at 59. The Golden Gophers have gone 4-1 at home this year but those also came in games they were expected to win. Minnesota's offense will put up some points, but there's no way their defense is going to be able to stop the plethora of playmakers that Purdue trots out to the field.
Big Ten Free Pick: Purdue Boilermakers -10.5