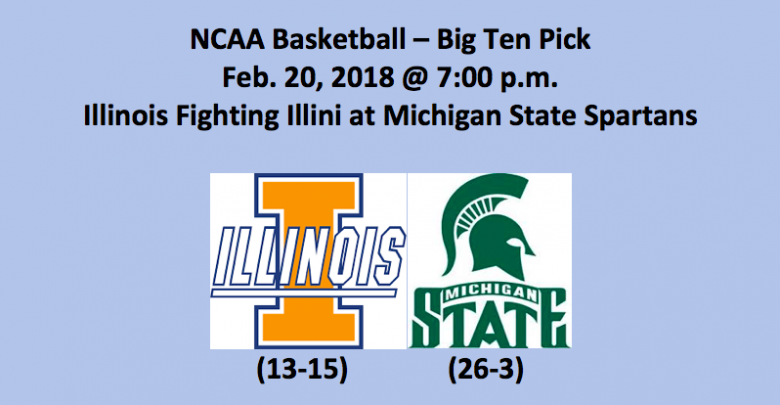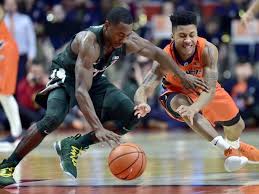 The Illinois Fighting Illini (13-15 Overall, 3-12 Big Ten) travel to the Breslin Center in East Lansing Michigan to battle the #2 Michigan State Spartans (26-3 Overall, 14-2 Big Ten). Illinois sits in 11th place in the Big Ten. They're 10.5 games behind Michigan State. In the conference, the Spartans are one game ahead of second-place Purdue and Ohio State. For this contest, which tips off at 7 p.m. E.T., our Illinois plays Michigan State 2018 NCAA pick offers the Spartans at -15.5 and the over/under at 147.5.
Recent History
These two teams have already met once this season. That was on Jan. 22 when the then #6 Spartans easily handled the Fighting Illini, beating them 87-74. Illinois is coming off a 72-66 Feb. 18 win against the Nebraska Cornhuskers. Prior to that, they had lost four straight games, including a 75-67 take down by #17 Ohio State on Feb. 4. The Spartans have won 10 in a row. Their last loss was to arch rival Michigan on Jan. 13. The final score was 82-72.
Matchup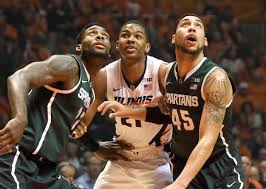 Illinois is scoring on average 75.6 PPG, while allowing opponents 72.5 PPG. They're putting in 43.8% of their field goals. In comparison, Michigan State is scoring 82.6 PPG, while limiting opponents to 64.8 PPG. Their field goal success rate is 51.4%. The Spartans are plus seven on rebounds, plus seven on assists, and plus three on blocks over the Fighting Illinis. Michigan State has been good on 42% of their three-point attempts. Illinois on just 32%.
Players to Watch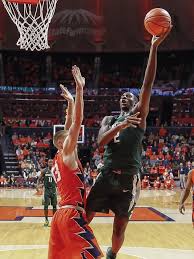 The Illini will look for junior forward Leron Black (15.1 PPG, 5.5 RPG, 57 FG%) and freshman guard Trent Frazier (12.3 PPG, 2.8 APG, 41 FG%) to lead the way. Black has a fine three-point shot that he's sinking 53% of the time. Junior forward Michael Finke (9.6 PPG, 4.8 RPG, 48 FG%) is injured and out. He's been a key player on this team.
The Spartans have five players who are averaging double digits in scoring. Sophomore guard Miles Bridges (17.0 PPG, 6.9 RPG, 2.8 APG) is a fine inside/out player. He's a 48% shooter who's hitting 37% of his threes. Freshman forward Nick Ward (13.1 PPG, 7.6 RPG, 68 FG%) is key to this team's success, while sophomore guard Cassiuis Winston (12.3 PPG, 7.1 APG, 53 FG%) serves as an avid playmaker. He's also good on 54% of his shots from beyond the arc.
Our Illinois Plays Michigan State 2018 NCAA Pick
Certainly, Illinois is outmatched by this Spartan team. The question is can Michigan State vanquish this club? We think they can and will tonight. Our Illinois plays Michigan State 2018 NCAA pick is the Spartans at -15.5 We also like the over at 147.5.
Summary Fighting Illini at Spartans Picks- Michigan State at -15.5 and over 147.5