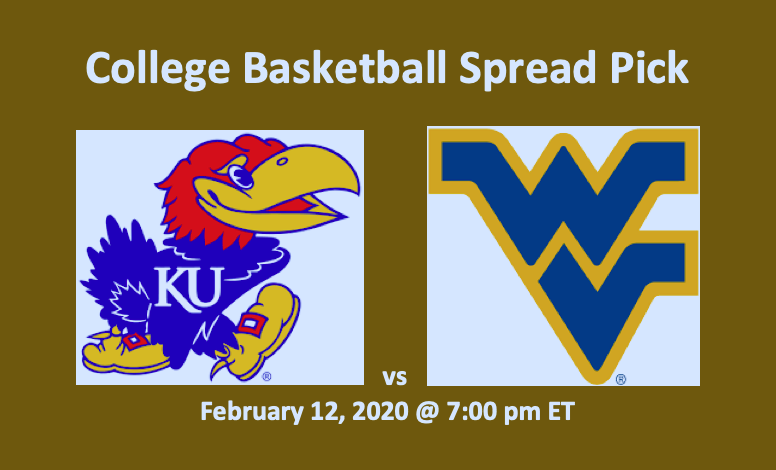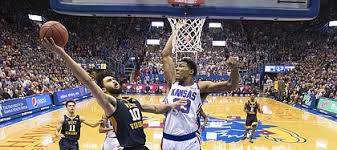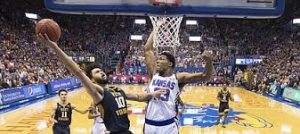 Our Kansas vs West Virginia pick notes this is the second meeting between these two teams this season. This Kansas vs West Virginia pick has the #14 Mountaineers at -1.5. The #3 Kansas Jayhawks (20-3 Overall, 9-1 Big-12) are second in the Big 12. They're 1.5 games behind the first-place and #1 Baylor Bears who sport an 11-0 conference mark. The #14 West Virginia Mountaineers (18-5 Overall, 6-4 Big-12) are fourth in the Big 12. They are 4.5 games behind the conference-leading Bears. In their first meeting this season, which was on January 4, the Jayhawks beat the Mountaineers 60-53. This game will be played Wednesday, February 12, 2020 at 7:00 pm ET. The venue will be the WVU Coliseum in Morgantown, WV.
Kansas vs West Virginia Pick – Recent Performance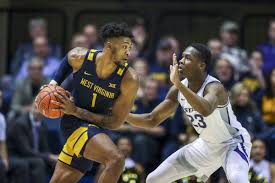 Since beating the Mountaineers, the Jayhawks have gone 9-1. Their one loss was to the #4 Baylor Bears. On January 11, Baylor beat Kansas 67-55. The Jayhawks, who have played five top-25 teams, are 2-3 in that arena. They last played on February 8 beating the unranked TCU Horned Frogs 60-46.
WVU started the season going 9-1. Their one loss was to St. John's 70-68. Big wins this season include a 67-59 victory over #2 Ohio State and a 66-54 beating of #22 Texas Tech. Since taking down the Red Raiders on January 11, the Mountaineers are 5-3. They last played on February 8 losing to Oklahoma 69-59.
Jayhawks at Mountaineers – Stats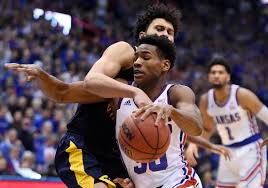 Our Kansas vs West Virginia pick notes that overall the Jayhawks look a little better on paper than the Mountaineers. Kansas is scoring 75.0 PPG and allowing 60.3 PPG. WVU is averaging 72.8 PPG and giving up 61.7 PPG. Those numbers give the Jayhawks a +5.2 edge. The Jayhawks are hitting 48.6% of their filed goals. West Virginia is good on just 43.2%. Kansas is also better from the free-throw line (66.4 to 64.3%) and three-point arc (34.4 to 30.3%). They're blocking 5.1 shots per game while the Mountaineers are stopping 3.7. The Jayhawks are also better in APG, 14.4 to 12.7. West Virginia has the edge in rebounds 41.4 to 38.9 per game.
Player and Roster Assessment
Guard Devon Dotson leads the Jayhawks with 18.0 PPG. The 46.5% shooter is also good for 4.4 APG and 4.0 RPG. Also in the backcourt, Ochai Agbagi is averaging 10.3 PPG and 4.3 RPG. He's good on 35.6% of his threes. Agbagi is averaging 2.6 BPG. Guard Marcus Garrett, who's hitting for 9.2 PPG, is dishing off 4.5 APG. Center Udoka Azubuike controls the paint, averaging 9.7 RPG and 13.0 PPG. Azubuike is completing 75.9% of his field goals.
Oscar Tshiebwe and Derek Culver lead the Mountaineers upfront. Tshiebwe, a 58.1% shooter, leads the team in points per game with 11.5 and rebounds per game with 9.1. Culver is second in both categories, averaging 10.8 PPG and 8.9 RPG. Also in front, Emmitt Matthews Jr. offers 6.9 PPG and 3.7 RPG. He can pop out and hit threes at a 33.3% rate. In the backcourt, Miles McBride and Jermaine Haley lead the way with 9.8 and 9.4 PPG respectively.
Our Kansas vs West Virginia Pick
Although WVU is slightly favored in this game, we can't help but think that this is the Jayhawks' game to lose. It's true that the Mountaineers are loaded in the paint but they don't have a frontcourt player the caliber of Azubuike. Plus, WVU has struggled to score lately. Our Kansas vs West Virginia pick is the Jayhawks at +1.5.
#3 Kansas Jayhawks vs #14 West Virginia Mountaineers Prediction – Summary
#3 Kansas Jayhawks at -1.5