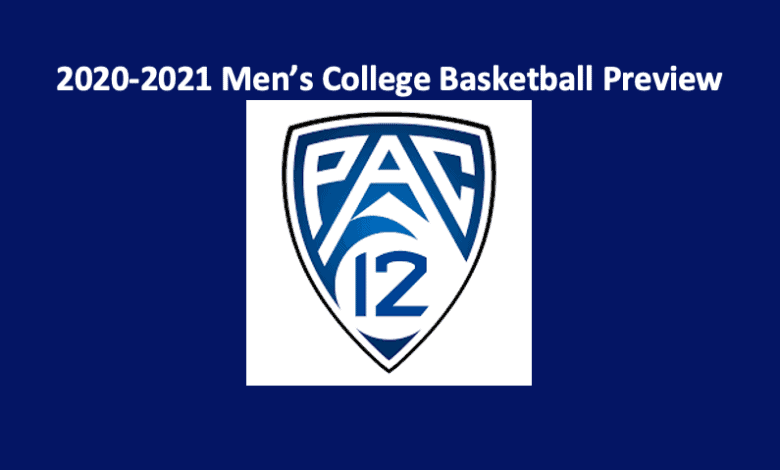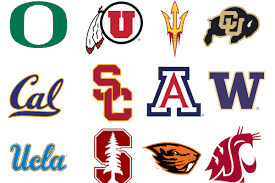 Our Pac-12 basketball preview 2020 – 2021 sees three teams as competing for first place in the conference. Those teams, all in the AP Preseason Top-25, are the #18 Arizona State Sun Devils, #20 Oregon Ducks, and #22 UCLA Bruins. Of the five majors, the Pac-12 is considered to be the third-toughest in men's basketball. Despite that ranking, this conference is thought of by many to be an outcast as far as the national stage is concerned. Some feel that in the realm of men's college basketball that the Pac-12 is like Rodney Dangerfield, they get no respect. One reason for this dearth of regard has to do with the fact that the last time a Pac-12 team won the national title was 1997. That was when Arizona beat Kentucky 84-79 in OT.
Pac-12 2019 – 2020
The Oregon Ducks finished the 2019 – 2020 college basketball season in first place and ranked 13th. The Ducks were 13-5, one game ahead of the second-place UCLA Bruins. Oregon's conference and nonconference record came to 24-7. That was the best overall record in the Pac-12. The Ducks won six of their last seven games, including beating #24 Arizona 73-72 in OT. Along with posting a 12-6 conference record, UCLA went 19-12 overall. In the regular season, the Bruins fell to Oregon 75-96. Like the Ducks, UCLA had a strong run at the end of the season, winning nine and losing two over their final 11 games.
The USC Trojans and Arizona State Sun Devils tied for third with 11-7 records. After that it was the Arizona Wildcats tying the Colorado Buffaloes for fifth, as each team won 10 games and lost eight. The Stanford Cardinal secured seventh place with a 9-9 record. Stanford's nonconference mark was a strong 11-4, as they went 11-1 over their first dozen games. At one point in conference play, the Cardinal were 1-7. The last five teams in the conference standings had losing records with the Oregon State Beavers, Utah Utes, and California Golden Bears tying for eighth with 7-11 records. In 11th place, it was the Washington State Cougars at 6-12, while the Washington Huskies came in last with a record of 5-13.
2019 – 2020 Conference Standings and Records
Oregon Ducks (#13 ) 13-5
UCLA Bruins 12-6
USC Trojans 11-7
Arizona State Sun Devils 11-7
Arizona Wildcats 10-8
Colorado Buffaloes 10-8
Stanford Cardinal 9-9
Oregon State Beavers 7-11
Utah Utes 7-11
California Golden Bears 7-11
Washington State Cougars 6-12
Washington Huskies 5-13
Pac-12 Basketball Preview 2020 – 2021 – Ranking the Teams
Our Pac-12 basketball preview 2020 – 2021 finds that the race for first place will once again be a tight one. It will come down to Oregon, UCLA, or Arizona winning the conference, or, as the dark horse, it could be Stanford. Due to their strong finish last season, some are picking UCLA as the winner of the Pac-12. After all, the Bruins do have a strong and experienced team. Then again, so too does Oregon. There is the chance that Arizona State will take a big step forward. They are positioned to do so. Finally, there is, as noted, Stanford. They've made some improvements that could certainly pay off big time. You never want to count the Cardinal out.
1. Oregon
The Ducks lose some major players from last season, including the Pac-12's Player of the Year point guard Payton Pritchard (20.5 PPG). However, head coach Dana Altman, who's noted for utilizing his players to their fullest, does welcome back guards Chris Duarte (12.9 PPG), a senior, and Will Richardson (11.0 PPG), a junior. Both are preseason all-conference selections. Plus, UNLV graduate transfer Amauri Hardy was All-MWC last season. At guard, he averaged 14.5 points, 3.3 rebounds and 3.3 assists per game. Also, transfers LJ Figueroa (St. John's) and Aaron Estrada (St. Peter's) will help underpin the backcourt. Last year, Figueroa topped St. John's in scoring. With St. Peter's. Estrada was good for 8.1 points per game and received MAAC Rookie of the Year honors. The Ducks are a good team who will put up a tough fight.
2. UCLA
Although the Bruins' 2019 – 2020 end-of-the-season turnaround is being called "miraculous" by many, the fact is it was a good run that ended when the season did. That doesn't mean that this UCLA team won't do well. But there's no guarantee that they can repeat or build on what they did at the end of the season. Although they may indeed win the division, we've picked UCLA to finish second. At the same time, in our top-25 preview, we've indicated that the Bruins will make it to the Final Four. One big factor that that could help UCLA's ascendency is the return of its top five scorers. Plus, the Bruins have added four-star freshman guard Jaylen Clark and Kentucky transfer Johnny Juzang. Senior forward Chris Smith returns after investigating the possibility of entering the NBA Draft. Last season, the Bruin forward averaged 13.1 points per game. He also recorded 5.4 rebounds, 1.6 assists and 1.0 steals per contest. This is a fine team. The Bruins could take it down to the wire with the Ducks and Sun Devils.
3. Arizona State
Slowly, head coach Bobby Hurley has made improvements and rebuilt this team to the point where they have played three straight seasons which were NCAA Tournament worthy. Despite being weak in various key statistical categories, including rebound margin, assists, and defense, the Sun Devils managed to win 20 games and record an 11-7 Pac-12 mark last season. This team looks ready to take it to the next level. One major factor for this optimism is ASU's backcourt. It is one of the best in the nation. Included are returning players seniors Remy Martin (19.1 PPG, 4.1 APG, 1.5 SPG) and Alonzo Verge Jr (14.6 PPG), as well as four-star freshman recruit Josh Christopher and Portland transfer Holland Woods (17.7 PPG, 5.2 APG). Although forward Romello White (10.2 PPG, 8.8 RPG) is gone, Kimani Lawrence and Taeshon Cherry return. They're experienced and skilled. Also, incoming freshmen Marcus Bagley and Pavlo Dziuba will see court time. Expect them to utilize their scoring chops. The Sun Devils will be competitive.
4. Stanford
Just about every player from last season returns to the Cardinal. There's a boatload of talent and experience that includes senior guard Daejon Davis and junior guard Bryce Wills and forwards Oscar da Silva, Spencer Jones, and Jaiden Delaire. In the backcourt last year, Willis won All-Pac-12 Defensive honors. He averaged 7.8 points, 4.0 rebounds and 2.0 steals per game. In front last season, da Silva was good for 15.7 points and 6.4 rebounds. Jones, who averaged 8.8 PPG, popped out beyond the arc to hit 43.1% of his threes. The addition of five-star freshman wing Ziaire Williams will have an immediate effect. Head coach Jerod Haase has yet to guide this team to an NCAA Tournament appearance. This could be the season.
5. Utah
Our Pac-12 basketball preview 2020 – 2021 finds that last season this team saw its offensive efficiency fall off. In terms of points scored, the Utes averaged 70.9 PPG, while their defense allowed 70.3 PPG. Two other weak points were this team's field-goal defense, which ranked 11th in the Pac-12, and their turnovers per game, which came in at 13.5 (211th Nationally, 9th Pac-12). We do think that Utah will show improvement as they have a slew of players returning who look to move up to a new level of play. In the backcourt, sophomore Rylan Jones (9.6 PPG) and senior Alfonso Plummer (8.4 PPG) come back. Plummer is a 42-percent three-point shooter. In front, there's junior forward Timmy Allen (17.3 PPG, 7.3 RPG), junior forward Riley Battin (7.8 PPG), and sophomore center Branden Carlson (7.0 PPG). One area Allen needs to improve is turnovers. He had 94 TOs last season while recording 92 assists. Overall, the Utes must step it up on defense.
6. USC
Head coach Andy Enfield brings in four eligible transfers in an attempt to quickly make up for key losses. Only one starter, sophomore point guard Ethan Anderson, returns. Last year as a freshman, Anderson posted 5.5 PPG and 4.2 APG. The team needs to see Anderson make a major jump this season. McDonald's All-American Isaiah Mobley also had a solid frosh season, averaging 6.2 PPG and 5.3 RPG. His brother, freshman forward Evan Mobley, who is another McDonald's All-American, joins the team. Transfers with Division I experience include guards Noah Baumann (San Jose State), Tahj Eaddy (Santa Clara), and Isaiah White (Utah Valley) and forward Chevez Goddwin (Wofford). This quartet will definitely make a difference. The Trojans have not been to the NCAA Tournament since 2017. They have a shot at it this year.
7. Arizona
All right, so the Arizona Wildcats come to this season having lost six of their top scorers. To put in perspective the transition this team is going through, note that seven of nine team members who played 200 or more total minutes each last season are gone. Head coach Sean Miller can boast that he has the top-five recruiting class in the nation. There are five four-star prospects joining the team. Plus, transfer guard James Akinjo (Georgetown) offers the Wildcats maturity and experience. As a freshman, Akinjo averaged 13.4 points, 5.2 assists and 1.1 steals per game. However, as a sophomore, he only played in seven games. Then he came to Arizona. Transfer Jordan Brown (Nevada) is a former five-star recruit. With Nevada, as a freshman, he played just 10.1 minutes per game. Finally, Terrell Brown is a grad transfer. Brown has been elected to the All-WAC team twice. Last year, he was good for 20.8 points, 6.2 rebounds, 4.8 assists, and 1.6 steals per game. Each player in this trio of transfers should have a major impact this season. Still, even with a very fine frosh class, Arizona is likely to struggle to find its center.
8. Colorado
The Buffaloes see three of their top scorers from last season come back. Included are guard McKinley Wright IV (14.4 PPG), senior guard/forward D'Shawn Schwartz (9.8 PPG), and junior forward Evan Bailey (8.9 PPG). Under head coach Tad Boyle, Colorado has enjoyed two back-to-back 20-win seasons. This team did a lot right last year. Overall, their stats were excellent. However, their offensive field-goal percentage was 43.7, which ranked 176th nationally and eighth in the conference. This becomes important when you realize that six of Colorado's eight Pac-12 loses were by single digits. If this team can win some of the tight games, they could move up the Pac-12 ladder.
9. Washington
What a fall from grace! You may remember that the Washington Huskies topped the Pac-12 in 2018-2019 only to finish last in 2019-2020. Last season, a major problem for this team was turnovers. They allowed 15.1 per game, which ranked last in the conference and 319th in the nation. On the positive side, their field-goal defense of 38.1% was first in the conference and sixth in the nation. But all other stats were below average. Their rebound margin was a low negative and their PF/PA differential was plus-4.2, which was not bad but not great. Through our Pac-12 basketball preview 2020 – 2021, we expect that the Wildcats will move up in the standings. Note, point guard Quade Green returns after scoring 11.6 PPG. Senior guard Nahziah Carter is the top returning scorer with 12.2 PPG. Additionally, he recorded 4.9 RPG, 1.5 APG, and 1.4 APG. This will be a good backcourt. Also, Wichita State transfer Erik Stevenson, a guard, has been approved by the NCAA to play. Last year with the Shockers, he averaged 11.1 points, 4.7 rebounds, 2.3 assists, and 1.5 steals per game. This basketball team is good and should see positive results this season.
10. California
In Mark Fox's first season as head coach, the Golden Bears did better than expected. They recorded a Pac-12 mark of 7-11 and an overall record of 14-18. Although they lose guards Paris Austin and Kareem South, who together averaged 18.3 PPG, they see guards Matt Bradley and Joel Brown and their 19.9 PPG return. Bradley is this team's leader who, along with 17.4 PPG, was good for 4.9 rebounds and 1.5 assists per game shooting 38.4% from the arc. This team hit just 33.5% of their threes. The addition of grad transfers Makale Foreman (Stony Brook) and Ryan Betley (Penn) should bring that percentage up.
11. Oregon State
The OSU Beavers start the season with some keen loses as all-time scorer Tres Tinkle and master of the paint Kylor Kelle are gone. However, there's some talent on-board, as guard Ethan Thompson returns for his senior year. Thompson is solid on offense and defense, and he led the team with 4.5 APG. Five of Oregon State's top seven scorers from 2019-2020 are back. Head coach Wayne Tinkle is looking to ensure, at the very least, that his team does not finish last.
12. Washington State
In his first season with WSU, head coach Kyle Smith guided this team to the most wins they've had since the 2011-2012 season. The Cougars were 16-16. Unfortunately, star forward CJ Elleby and two other premium players have departed. Elleby averaged 18.4 PPG, 7.8 RPG, and 1.8 SPG. All of those represented the best of the best stats for this team last year. Senior guard Isaac Bonton, who averaged 15.3 PPG and 4.0 APG, will need to step up. The Cougars shot 39.7% (335th Nationally, 12th Pac-12), which was one of the worst success rates in the country.
Pac-12 Basketball Preview 2020 – 2021 – Final Word</h2)
This Pac-12 basketball preview 2020 – 2021 likes the Oregon Ducks and the UCLA Bruins. We find that either has the potential to take down the conference. However, we prefer the Bruins when it comes to going deep the tournament. We surmise that they will go further than the Ducks or Sun Devils and any other team from the Pac-12 that may get an invite to the Big Dance. Watch out for the Stanford Cardinal as they could be a spoiler. Follow this link back to our NCAAM homepage.