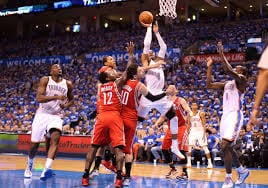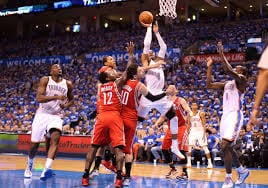 This Western Conference battle, and it should be a battle, features the sixth-seed Oklahoma City Thunder (47-35) and the third-seed Houston Rockets (55-27). This season, Houston won three of four games against the Thunder. OKC has gone 6-4 in its last 10 while the Rockets are 5-5. Of course, the Thunder have perhaps the best individual player in the NBA on their roster Russell Westbrook. But can one player make a championship team? Our Oklahoma City plays Houston 2017 NBA playoff free pick answers that question.
Oklahoma City Thunder Keys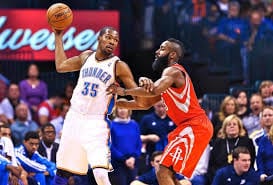 The Thunder have been good for an average of 106.6 PPG and have allowed 105.8 PPG for a PF/PA differential of +0.8. The Thunder with a 37.0% field goal completion rate are 15th in that category. They are ranked 12th in the league in three-pointers, hitting 31% of their tries. With a 78.3% grade on frees, Oklahoma City is ninth in that area. This team is averaging 34.4 RPG and 7 RPG on the offensive boards. This team surpasses the Rockets in steals and blocks, and they are ranked fourth and fifth in the league respectively.
It is the Russell Westbrook show as he's averaging 31.6 PPG, 10.7 RPG and 10.5 APG. He's a 43% shooter from the field and 34% from the three-point mark. SG Victor Oladipo is second in points with 15.2 per game and centers Enes Kantor and Steven Adams are scoring 14.3 and 11.3 PPG respectively while grabbing 6.7 and 7.7 RPG. They are both shooting 55% of better while Taj Gibson at power forward is hitting 47% of his shots.
Houston Rockets Keys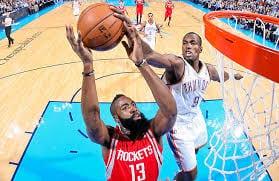 The Rockets are scoring on average 115.3 PPG and allowing 109.6 for a PF/PA success marhin of +5.8. Houston is 9.5 percentage points more accurate than the Thunder when shooting from the field. Their 49.5% success rate is fourth in the NBA. The team is just a notch below the Thunder as they are completing 30.5% of their shots from the arc and beyond. The Rockets are a weak free throw club, hitting just 69.2% for 14th in that category. The team is first in rebounds, averaging 44.4 per game. There's a huge difference between Houston's rebounding and the Thunder's as the Rockets are pulling down 10 more per game. Plus, the Rockets grab double the number of offensive rebounds than Oklahoma City.
SG James Harden may not quite have that stats that Westbrook has, but he is a great player on a deep team. Harden leads the Rockets with 29.1 PPG and 11.2 APG and he's tied for the top mark in rebounds with 8.1 per game. The other master of the boards is Clint Capela with 8.1 RPG. Capela is averaging 12.6 PPG. Six players are double-digit scores on this team and when rounding up stats eight are considered to be so.
Oklahoma City Plays Houston 2017 NBA Playoff Free Pick
We see Houston continuing their domination of this team. Westbrook will have an effect, but he will not win the series for the Thunder. Our Oklahoma City plays Houston 2017 NBA playoff free pick like the Rockets in five games.
Oklahoma City Plays Houston 2017 NBA Playoff Free Pick: Rockets in five