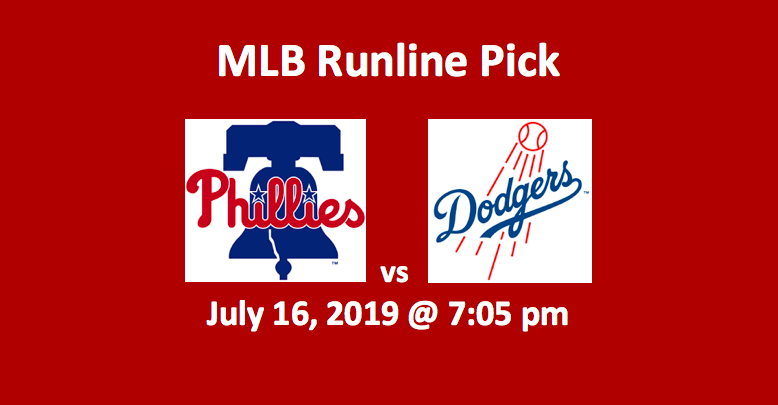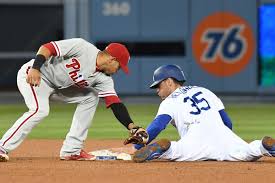 Our Philadelphia Phillies vs LA Dodgers runline pick odds offer the Dodgers at -119 (-1.5). This Philadelphia Phillies vs LA Dodgers runline betting preview is for Game Two of their four-game series. The contest will be played Tuesday, July 16, 2019 with a 7:05 pm ET start time. The home team Phillies have runline odds of +109 (+1.5).
Last night, the Dodgers shelled the Phillies last night, beating them 16-2. That was the fourth of seven meetings this season between these two teams. Philadelphia has lost every game thus far. The first-place Los Angeles Dodgers (63-33 Overall, 26-21 Away) have a very comfortable 15-game lead in the NL West over the second-place Arizona Diamondbacks. They've won three-straight games, and over their last 10, LA is 6-4.
In the NL East, the Philadelphia Phillies (48-46 Overall, 28-20 Home), who are 4-6 for their last 10 games, are in third place. They sit 9.5 games behind the division-leading Atlanta Braves. In what is a very tight wild-card race, the Phillies are tied with the St. Louis Cardinals for the second playoff spot.
Philadelphia Phillies vs LA Dodgers Runline Pick – Pitching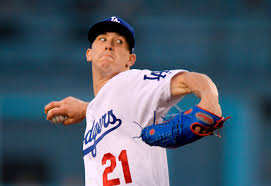 Righty Walker Buehler (8-1 W/L, 3.46 ERA, 0.99 WHIP) has seen his control get better and better throughout the season. In his first eight games this season, the Dodger starter walked eight. In his last nine starts, he's allowed just four walks. Buehler is presently 15th in the NL in strikeouts with 113. In June, he had a 16-strikeout game and an 11-strikeout game. He did not give up a walk in either.
Buehler has an arsenal of six pitches, five of which he normally utilizes. Three are thrown with blazing speed and include his high-velocity 97mph four-seam fastball and his unusually fast 97mph sinker. Neither of which are easy to catchup with. His 81mph curve comes with exceptional bite, while Buehler's 87mph sinker sweeps across the strike zone was it hangs low. If he's on, the second-year MLB starter is tough to hit.
Four-year major leaguer Vince Velasquez (2-5 W/L, 4.63 ERA, 1.40 WHIP), a righty, gets the nod tonight for the Phillies. Velasquez, who has been in-and-out of the bullpen this season, last won when he came in as a reliever against Milwaukee on May 24. In that game, he pitched two innings allowing one hit and no runs while striking out four and walking one. From May 24 through June 14, Velasquez was a reliever.
Since coming out of the pen and into the rotation, he is 0-2-2 and the Phillies are 1-3. His last start was against the New York Mets on July 5 where he went five solid innings allowing two runs on five hits. He fanned three and gave up no walks. Velasquez has four pitches, three of which he usually calls upon. His 95mph four-seam fastball, which has slightly higher velocity than your average fastball, is tough for batters to hit. He also has an effective 84mph hard curve with 12-to-6 movement and an 87mph slider, which is extremely hard.
Phillies Host Dodgers – Stats and Offense
A glaring stat for these two teams comes in the form of homeruns. Philadelphia pitchers have allowed 158 round trippers, while Los Angeles hurlers have given up just 116. At the same time, the Phillies have tallied merely 119 four baggers. The Dodgers have smacked 156 balls over the fence. In addition to the homer stats, is the fact that the Dodgers are batting .264, while the Phillies are at .245. Opponents are hitting .267 against Philadelphia pitchers, while the Dodger pitchers are being hit at a rate of .225.
We see the LA Dodgers offense as being overwhelming, and if they start pounding the ball, this will be another blowout. The Phillies are a team that usually grinds out wins. If Phillies Bryce Harper and Rhys Hoskins, who have 16 and 20 dingers respectively, can power some balls out this will be a game. At the same time, Philadelphia pitchers have to shut down Cody Bellinger, Max Muncy, and Joc Pederson, who together have 77 homers and 183 RBI. Bellinger leads the team in batting average (.341), homeruns (33), RBI (75), OBP (.436), and hits (114).
Our Philadelphia Phillies vs LA Dodgers Runline Pick
Our Philadelphia Phillies vs LA Dodgers runline pick notes that the hometown team has health issues related to everyday players and relievers. Philly shortstop Jean Segura and third baseman Maikel Franco are day-to-day. The Dodgers are much healthier and they possess both a deep bench and bullpen. Their relievers are well-rested. Our Philadelphia Phillies vs LA Dodgers runline pick will be the visiting Dodgers at -119 (-1.5). We think there's real value here, as the moneyline for Los Angeles is at anywhere from -182 to -225.
Summary Runline Prediction – Philadelphia Phillies vs LA Dodgers
Los Angeles Dodgers Runline -119 (-1.5)