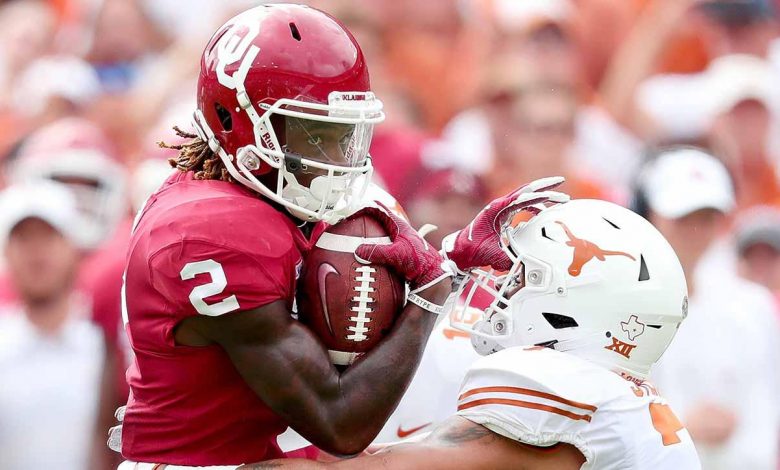 A Big 12 showdown will be played in Dallas for the 91st straight year Saturday when the No. 6 Oklahoma Sooners take on the No. 11 Texas Longhorns. Texas is the only BIg 12 program with a winning record against Oklahoma, leading the all-time series 62-47-5, though the Sooners have won seven of the last 10 meetings.
Oklahoma comes into this game with a perfect 5-0 mark, winning each game by at least 18 points and surrendering more than 20 points just once this season. Texas has just one blemish on its record this season, a 45-38 shootout loss to LSU in the second week of the season. The Longhorns have gone 3-0 since that game and have yet to score fewer than 36 points this season.
The moneyline for this contest has the Oklahoma Sooners -380 and the Texas Longhorns +310. The Sooners are favored by 10.5 points, while the over/under has been set at 76.5.
Cruising Along
Jalen Hurts probably figured he could put up some good numbers when he transferred to Oklahoma from Alabama, but even he might not have anticipated the stats he currently has. Through five games, Hurts has thrown for 1,523 yards and 14 touchdowns, while also leading the team with 499 rushing yards and seven more scores. The Sooners' receiving duo of CeeDee Lamb and Charleston Rambo has been outstanding, combining for eight catches of at least 45 yards this season.
Defensively, the Sooners have been very good, especially in the first half, allowing an average of only 6.8 points before halftime. Oklahoma has recorded 13 sacks this season, with Ronnie Perkins, Brian Asamoah and Jalen Redmond tying for the team lead with two apiece. The Sooners will need to tighten up against the Longhorns after giving up 75 points in the two teams' meetings last season.
Must-Win?
If Texas is hopeful of making it to the College Football Playoff, it can't afford a second loss, even if it would be to another Top 10 team. Quarterback Sam Ehlinger will be a key, and he has a good history against the Sooners, totaling 391, 386 and 384 yards of offense in his three meetings with Oklahoma, the three highest outputs by a Longhorns quarterback in school history in the rivalry. Ehlinger has been putting those kind of numbers this season as well, throwing for 1,448 yards and 17 touchdowns already while also rushing for 236 yards and three more scores.
The unit under the most pressure, though, is the Longhorns' defense. In Texas' only loss of the season, LSU quarterback Joe Burrow threw for 471 yards and four touchdowns, so Hurts may be licking his chops for this game. The Longhorns have 10 sacks and 31 tackles for loss this season, and they must get into the backfield and not allow Hurts to get comfortable. That means getting more strong play from linebackers Joseph Ossai (two sacks, five tackles for loss, two interceptions) and Juwan Mitchell (two sacks), and defensive end Ta'Quon Graham (one sack, five tackles for loss).
Sooners Win Shootout
The Red River Rivalry has been a high-scoring affair in recent meetings, and this one should be no different. The over/under of 76.5 shows the expectation of another shootout. While both teams have been great offensively this season, Oklahoma has shown the better results on defense. That will be the difference in this one, as the Sooners win but don't cover the 10.5-point spread. I'm taking Texas +10.5 to lose a close one.