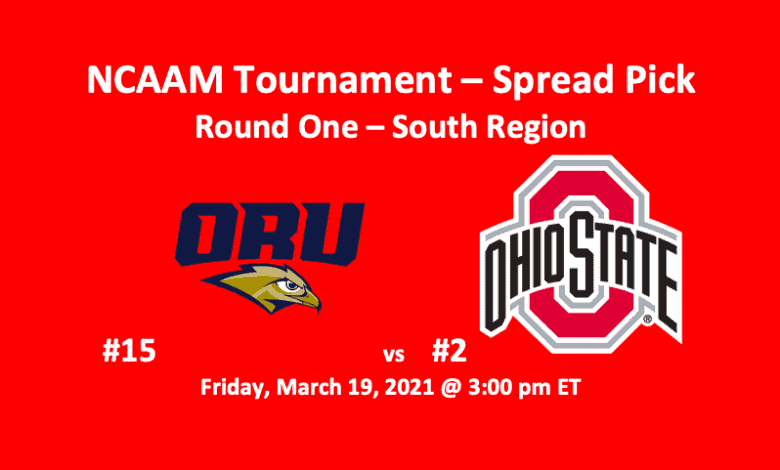 Our Oral Roberts vs Ohio State pick has the Buckeyes favored at -16.5 (-115). On the other hand, the Golden Eagles are at +16.5 (-102). This game, which is one of 32 games being played in the Round of 64 of the 2021 NCAA Men's Tournament, has the potential to be a major blowout. In the Summit League, Oral Roberts finished fourth and beat the North Dakota State Bison 75-72 in the finals of the conference tourney. Over their last five games, the Golden Eagles have gone 5-0. This year, the Ohio State Buckeyes, who've won three of their last five matchups, finished fifth in the Big Ten. In the Big Ten Championship Finals, the Buckeyes lost to the Illinois Fighting Illini 91-88. The Golden Eagles and Buckeyes will meet on Friday, March 19 at 3:00 pm ET. The game will be held at Mackey Arena in West Lafayette, IN. Here's our Utah State vs Texas Tech pick.
Oral Roberts vs Ohio State Pick – Stats
The Golden Eagles are averaging 81.8 PPG, while the Buckeyes have recorded 77.3 PPG. Oral Roberts field goal rate is 45.4%, while OSU's is 46.0%. On the other hand, the Eagles are connecting on 39.0% of their three-point attempts and 82.4% of their frees. In those categories, the Buckeyes are completing 36.5% and 76.3%. Ohio State edges out Oral Roberts in rebounding (36.2-35.2), assists (13.0-12.5), and turnovers (10.4-11.5). The Golden Eagles are averaging one more steal and about one more block per game than OSU.
Key Players
The Golden Eagles rely on three primary players, forward Kevin Obanor and guard Max Abmas and RJ Glasper. Around the rim, Obanor has double-double potential. This season, he averaged 18.2 PPG and 9.5 RPG. Along with completing 50.3% of his field goals, Obanor is good on 46.9% of his three-pointers. At the guard spot, Abmas leads the team with 24.3 PPG and 3.2 APG. Glasper is putting 11.0 PPG on the scoreboard.
For OSU, guard Duane Washington Jr. and forward E.J. Liddell come ready to play. Washington tops the team in points with 16.3 per game, while Liddell is right on his heels with 15.9 per game. Liddell's 6.4 RPG is an Ohio State best. Also, upfront, Kyle Young, a 54.3% shooter, is averaging 6.6 PPG and 5.5 RPG. He's hitting over 40% from downtown. Forward Justice Sueing, with 10.9 PPG and 5.6 APG, is a 50% shooter.
Oral Roberts vs Ohio State Pick – Final Thoughts
Our Oral Roberts vs Ohio State pick observes that the Golden Eagles have some quality players, but compared to OSU's roster of players, the Oral Roberts' roster is thin. The Buckeyes possess a lot of power in front. We do project a blowout here. Take Ohio State at -16.5 (-115)
#15 Oral Roberts Golden Eagles vs #2 Ohio State Buckeyes
Ohio State Buckeyes at -16.5 (-115)