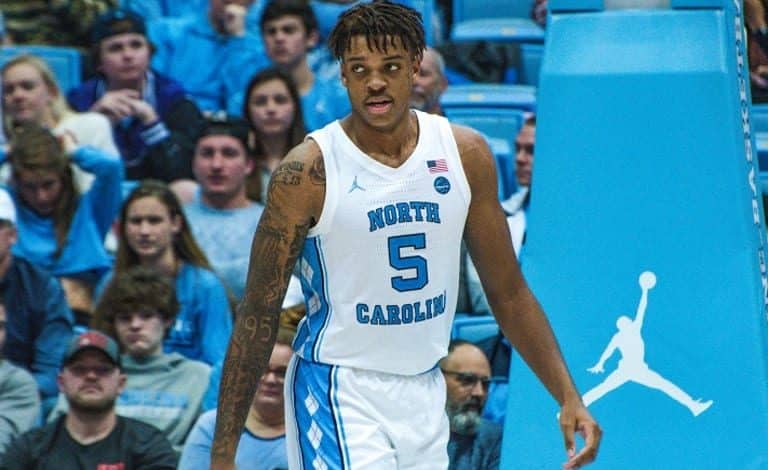 One of the more intriguing matchups in Friday's slate is the NCAA tournament Wisconsin vs North Carolina matchup. These are two teams that are tested from playing in great conferences, and each with past postseason successes.
The Badgers maybe have a slight travel advantage, playing in Indianapolis last weekend for the Big 10 tournament and being familiar with Mackey Arena after visiting Purdue during the regular season. North Carolina is huge and deep though, and they've played much better than UW down the stretch. There's a lot going on, which is why UNC is favored by just -1.5 here.
Wisconsin a Victim of Their Competition?
It looks like the Badgers are in a slump heading into Friday's NCAA tournament Wisconsin vs North Carolina game with losses in 4 of their last 5. Those defeats have come against #2 Illinois, #20 Purdue, and #8 Iowa (twice). Wisconsin isn't one of the Big Ten elites this season, but that doesn't mean they're a bad team either.
The big problem is that UW doesn't have a lot of signature wins on the year. 60-54 at Rutgers in mid-January? 85-76 at Michigan State on Christmas when the Spartans were really struggling? The Badgers did look good the last time they met up with an ACC team, throttling Louisville 84-48 back in December as part of the ACC/Big 10 Challenge.
North Carolina has height, but Wisconsin has some size to match up with them in 6'10" Micah Potter and 6'11" Nate Reuvers. The Tar Heels are a very young team as well, but the Badgers have a couple 4+ year starters in D'Mitrik Trice and Brad Davison. The Badgers are no easy out here.
UNC Playing Well
A February 24th, 70-83 loss at home to Marquette as -9.5 favorites is a hiccup on this North Carolina resume, but it was also a wake-up call. UNC has gone 4-2 since then, their two losses have come by 2 at Syracuse and by 3 to Florida State in the ACC tournament. The Tar Heels also scored a 101-59 victory over Notre Dame in the conference tourney opener and beat Virginia Tech 81-73 before falling to the Seminoles.
UNC uses a lot of players, something that could be very beneficial to a long tournament run. Six Tar Heels players score at least 8.0 points per game, but they are also young too. Four of those six players with an 8+ scoring average are freshman. Is youth naïve in their first tournament game (too young to care) or is it experience that is more valuable?
Roy Williams isn't completely in a youth movement however. The two leading scorers are Armando Bacot (11.7 ppg) a sophomore and Garrison Brooks (10.6) a senior. Those two players are also 6'10", and the Tar Heels also bring 7'1″ Walker Kessler for minutes off the bench at times.
Free Wisconsin vs North Carolina Pick
The Badgers ran a gauntlet through the Big Ten this season, but the ACC wasn't exactly a walk in the park for North Carolina. The Tar Heels did lose 80-93 to Iowa this year, the only Big Ten team they faced. Overall though, this is just a really tough first round matchup for the Badgers.
North Carolina 82 – Wisconsin 72
Pick: Tar Heels -1.5