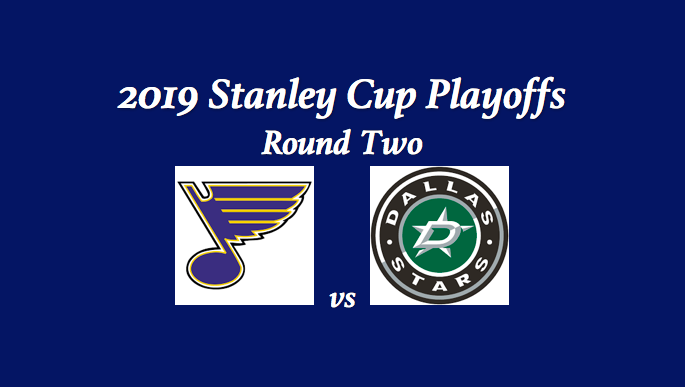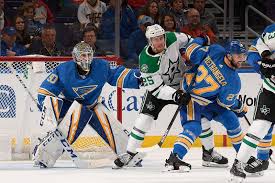 Our St Louis Blues vs Dallas Stars series preview breaks down a matchup between two teams who advanced to the second round of the Stanley Cup Playoffs in six games. Dallas upset the top seed from the Central Division, The Nashville Predators. The Blues defeated the Winnipeg Jets. We expect a close series. We also see this as likely being a low scoring due to goaltending. This 2019 NHL Round Two best of seven game series starts on Thursday, April 25 at 9:30 pm ET in St Louis at the Enterprise Center.
St Louis Blues vs Dallas Stars Series Preview – Goaltending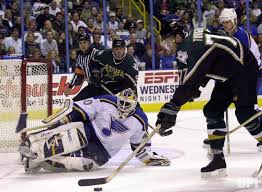 The Blues' Jordan Binnington had a terrific year. He was the catalyst for St. Louis rising into a playoff spot. There were questions about how his play would hold up in his first-ever playoff series. Binnington answered those questions by compiling a .908 save percentage and a 2.63 GAA in six games against the Winnipeg Jets. He played three games against the Dallas Stars this season. He won one game and lost two while allowing eight goals on 66 total shots. While he has not been stellar against Dallas, Binnington should help keep the scoring low in this series and will give the Blues a chance to win every night.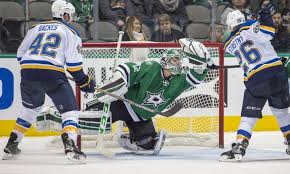 Ben Bishop played tremendously in round one against Nashville. Our St Louis Blues vs Dallas Stars series preview notes that through round one, he allowed three or less goals in all six games he played enroute to a 1.90 GAA and a .945 save percentage. He has been the primary reason Dallas made it past the Predators, stopping 40 or more shots twice last round. Bishop has made three good starts against the Blues this year. He has stopped a combined .941 of St. Louis' shots. If Dallas is going to pull off another upset, Bishop will need to be stellar.
Dallas' Top-Heavy Offense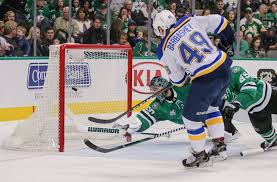 The Stars biggest problem during the regular season was their lack of secondary scoring. This didn't hinder them from defeating Nashville though. While only six skaters on their roster have three or more playoff points thus far, their top players have been able to get the job done. Tyler Seguin (2-4-6), Jamie Benn (1-5-6), and Alexander Radulov (4-2-6) were all factors in the first round. Mats Zuccarello has also looked good thus far.
On the Backend John Klingberg played amazing against Nashville. He scored a point per game including netting the series clinching goal in overtime. Esa Lindell and Miro Heiskanen have been very solid as well. Both have played over 26 minutes a night. Lindell has also been a beast defensively finishing the series with a +5 plus-minus rating.
Blues Keeping Games Close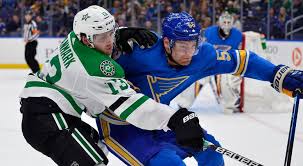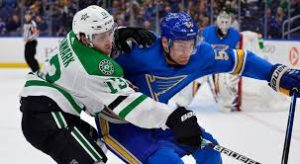 St Louis didn't drastically outplay Winnipeg in the first round although they were solid. They found a way to keep all games close, with five out of the six contests being decided by a single goal. They got scoring contributions from most of their top six forwards while the D-corps were able to keep the Jets' shots to a minimum. Jaden Schwartz recorded a hat trick in game six and leads the team with four goals. David Perron (2-2-4), Ryan O'Reilly (2-2-4), and Vladimir Tarasenko (2-0-2) have all scored two goals thus far. Overall, all forwards playing top six minutes have recorded at least one point. On the blueline, Alex Pietrangelo has been a stud. He has logged almost 25 minutes a game and leads the team with six points. St. Louis will look to get more out of Vince Dunn in this series. Dunn had 12 goals and 35 points during the regular season but recorded just two assists and a -5 plus-minus rating in the last series.
St Louis Blues vs Dallas Stars Series Preview
We expect his series to be a goaltending battle. Both Binnington and Bishop were phenomenal during the regular season and very solid during the first round. We also expect all games to be close. Our St. Louis Blues vs Dallas Stars series preview thinks that St Louis will come out on top due to their depth up front, but the Stars will surely put up a good fight.
St Louis Blues vs Dallas Stars Preview: Prediction
St Louis Blues over Dallas Stars in 7 games