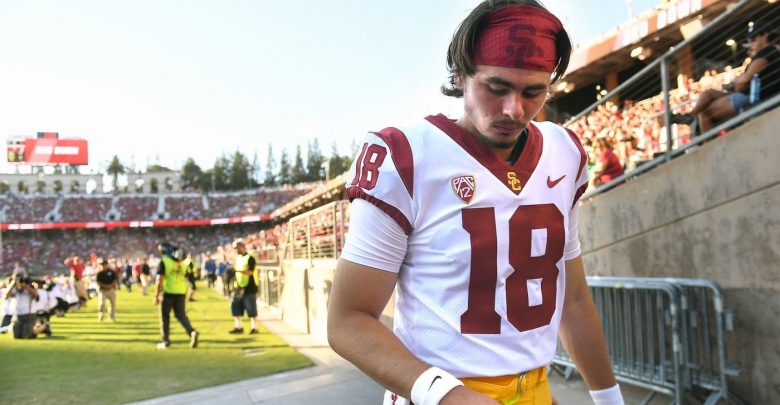 It's not exactly Matt Leinart and Reggie Bush vs. Vince Young but today's NCAAF week 3 Big 12 free pick is still loaded with talent. Schedule makers aren't doing the Trojans any favors by scheduling games at Stanford and at Texas in back-to-back weeks but oddsmakers have made USC just +3.5 underdogs nonetheless. For the Longhorns, tonight's game presents an opportunity to put the season opening loss to Maryland behind them and to gain some momentum heading into conference play.
S.C Looks to Find Some Offensive Consistency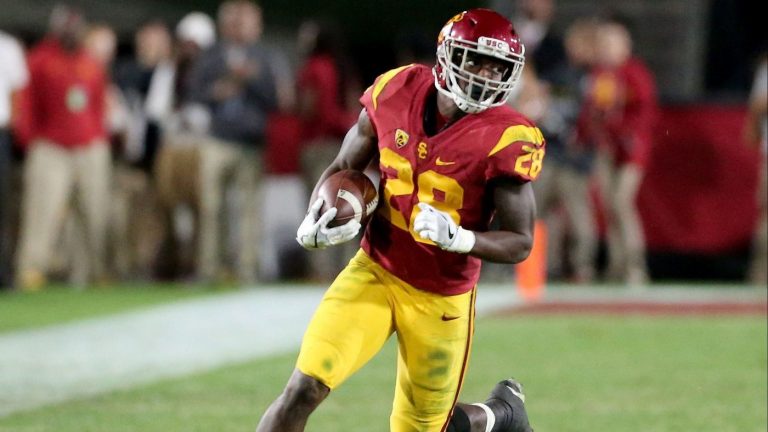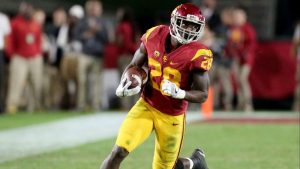 Clay Helton and USC fans alike had to expect some growing pains when they named true freshman J.T Daniels their starting QB for the 2018 season. Then again, Helton thought he lucked out and skipped the maturing stage altogether as Daniels threw for 282 yards and a TD guiding USC to a 43-21 win over UNLV. Last week was a reality check though as Stanford limited the Trojans to 332 yards and forced 3 TO's in a 17-3 Cardinal win. Daniels completed less than 50% of his passes and threw 2 picks. Aca'Cedric Ware went from averaging 10.0 ypc in the opener to 3.3 last week and another freshman Amon'Ra St. Brown had just 2 catches last week after hauling in 7 vs. UNLV.
While there are suddenly some questions surrounding the USC offense heading into another road game in the NCAAF week 3 Big 12 free pick, it's the Trojan defense that has the talent to win this game. It's true that UNLV put up 21 points in the opener, but they passed for just 97 in that game. Stanford threw for just 183 last week as USC has put together a top 20 passing defense through 2 weeks which is good since Texas has attempted 66 passes in 2 weeks. Then again, USC is allowing 6.5 yards per rushing attempt so maybe the Longhorns won't have to pass much at all to win tonight's game.
Texas Has Also Been Shaky Through Two Weeks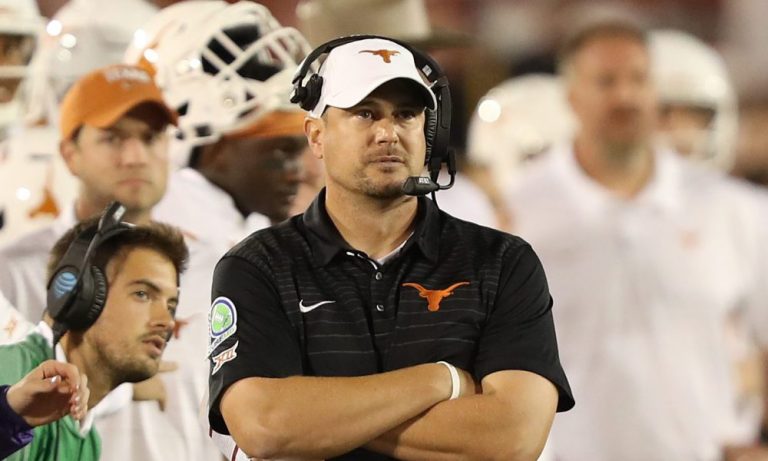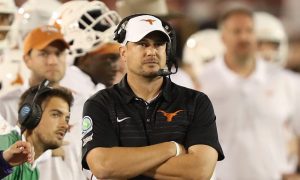 A 29-34 loss to Maryland (as -12 favorites) to begin year 2 of the Tom Herman era in Austin is just about the worst case scenario you could imagine. Yes the Longhorns bounced back last week with a 28-21 win over Tulsa, but that game raised some questions too considering Texas was favored by -22.5 in the game. QB Sam Ehlinger was sharp last week, going 21/27 for 237 and 2 scores. Ehlinger also had 263 yards through the air in the loss to Maryland with 2 scores – but his 2 INTs were devastating. Tre Watson has been serviceable on the ground (30-126) but those numbers should improve against SC's porous rush defense. Even so, Texas would be wise to get the ball into 6'4″ Lil'Jordan Humphrey's hands as he has hauled in 13 catches for 191 yards through 2 games.
Did Stanford give Texas the blueprint for shutting down the SC offense in last week's win? The Longhorns will take any help they can get after allowing 380 ypg through the first two weeks of the '18 season. That includes 214 through the air and a whopping 166 on the ground so the Trojans do have some holes they can attack. Oddsmakers have set the total for the NCAAF week 3 Big 12 free pick at 47 and last year's game was a 27-24 SC win in LA.
NCAAF Week 3 Big 12 Free Pick Betting
Will Daniels settle down in his 2nd career road start or will the raucous Saturday night crowd in Austin give him even more fits? The line has held firm in the TEX -3 to -3.5 range and bettors are split nearly down the middle with a slight majority liking the points in what could be a very close contest. The thing that sticks out in this game is the failure of Texas to absolutely whoop Tulsa last week after dropping their opener. Yes, USC lost but it was a 17-3 contest at a very tough Stanford team which proves they are battle tested and ready for a road win.
Big 12 Free Pick: USC Trojans +3.5