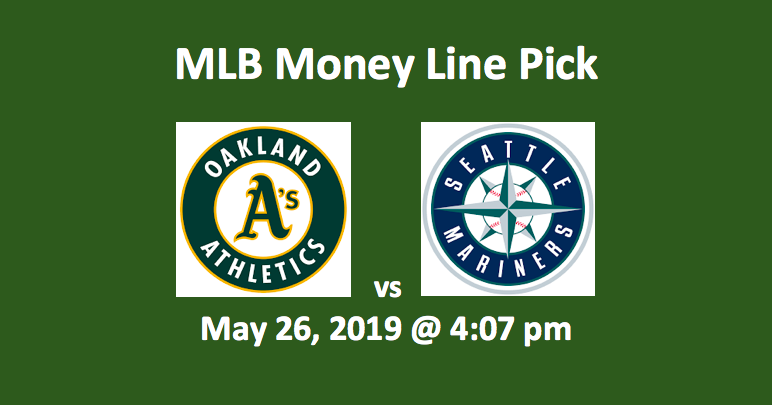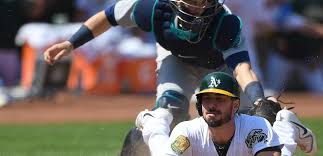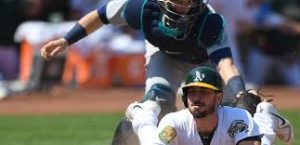 Our Oakland A's vs Seattle Mariners moneyline pick has the A's odds at -123. The moneyline favorite Oakland A's (26-25 Overall, 15-10 Home) are third in the AL West and 7.5 games away from the first-place Houston Astros. The Seattle Mariners (23-30 Overall, 13-16 Away), who are the underdogs at +113, are last in the West. They are 11.5 games out of first.
The Oakland A's have won seven games straight and are 7-3 for their last 10 contests. Meanwhile, over their last 10 games, the Mariners have won just three. They are presently on a four-game losing streak. It's interesting to note that in the 2019 MLB season, the Mariners have won four-of-five meetings. This game, which will be play on Saturday, May 25, 2019, at Oakland Coliseum in Oakland, CA, starts at 4:07 pm ET.
Oakland A's vs Seattle Mariners Moneyline Pick – Starting Pitchers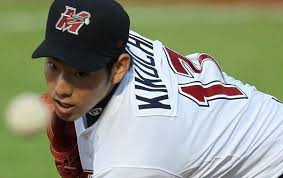 Seattle will start lefty Yusei Kikuchi (3-1 W/L, 3.43 ERA, 1.08 WHIP). Kikuchi has not lost a game since April 15 and over his last six starts, he is 3-0-3 and the Mariners are 5-1 in that time. In his last start, which was against Minnesota on May 19, Kikuchi allowed one earned run on five hits as he struck out six and walked two over six innings. He uses three primary pitches. Kikuchi's 94mph four-seam fastball offers better-than-average velocity and is very effective. His 76mph curve is noted for its tough bite, while his 87mph slider is exceptionally hard.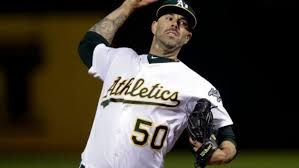 The A's will put righty Mike Fiers (3-3 W/L, 5.05 ERA, 1.21 WHIP) on the mound today. After a solid two-win start to the season, Fiers has struggled. Since April 7, he's gone 1-2-5. Over those eight starts, Seattle is 3-5. In his last start, in which he got a no-decision and that Seattle won 5-3, the righty allowed three runs on four hits over six innings. Fiers struck out three and walked three. His four-seam fastball, which comes in at 91mph, offers below average velocity. Fiers' curve, which is slow at 73mph, possesses exceptional bite. He also utilizes an 86mph cutter, 84mph change, and 90mph sinker.
A's vs Mariners Offense and Stats
The Mariners come to this game hitting .243 as a team. One issue for them is the fact that opponents are smacking Seattle pitchers around at a .271 clip. Dee Gordon tops the team with a .281 BA. He also has a dozen stolen bases. Domingo Santana, who's at .274, is a major RBI threat. Thus far, he's driven in 39 runs while hitting eight homers and 13 doubles. DH Edwin Encarnacion has 13 homers and 34 RBI. He's hitting .249. Although Mitch Haniger is batting just .228, he does have 26 RBI, 12 homeruns, and a baker's dozen-worth of doubles.
The A's will be without slugger Khris Davis. Davis, who is batting .248, leads the team in homeruns (12) and RBI (29). As a team, Oakland is batting .245, while opponents are hitting .237 against them. Third baseman Matt Chapman has belted 11 homers, hit 12 doubles and drive in 28 runs. He's hitting .257. Marcus Semien and Stephen Piscotty have been solid contributors. Semien is hitting .270 with 22 RBI, five round trippers, and a dozen doubles. Piscotty, who's batting .268, has smacked a half-dozen homers and 10 doubles while driving in 22 runs.
Our Oakland A's vs Seattle Mariners Moneyline Pick
Our Oakland A's vs Seattle Mariners moneyline pick likes the Mariners when it comes to starting pitching. Since the middle of April, Kikuchi has been consistent, while Fiers has been up and down. Plus, Seattle's Khris Davis, who leads the team in homers and RBI, was placed on the 10-day IL yesterday. This could be the game where the Mariners finally stop their skid and the A's finally lose a game. We like the Seattle Mariners with the moneyline at +113.
Summary Moneyline Pick – Oakland A's vs Seattle Mariners
Seattle Mariners at +113