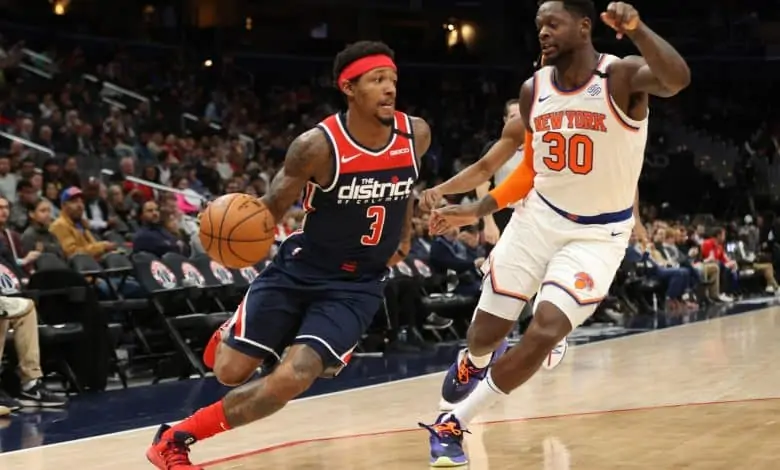 It's a 2-8 stretch over their last 10 for Washington as they head into the March 23rd Wizards at Knicks matchup. New York doesn't exude much confidence as -2.5 favorites though, considering they've lost 3 of their last 4, with each of those games being decided by five points or less.
Does Washington have value here getting +2.5 points? Not really, as the Wizards have dropped 6 of their last 7 while playing atrocious defense. The thing about the Knicks recent losses is that they have been close, and New York has still done a good job of defending the opposition. Washington did randomly beat the top team in the West, Utah, 131-122 last Wednesday so they can't be counted out that easy.
How Did Washington Beat Utah?
Public bettors took a beating last Thursday when the Wizards upended the Jazz 131-122 despite playing on the back to back, and being +10.5 underdogs. Utah had a game with Toronto on Friday that they may have been looking to, but Washington was a little bit burned out from a 121-119 win over Sacramento the night before.
Both Bradley Beal and Russell Westbrook played on 0 days rest vs. Utah, combining for 78 points. That gives you an example what they can do vs. the Knicks, who are missing Derrick Rose, Austin Rivers, and Elfrid Payton in the backcourt and have Immanuel Quickley playing through an ankle injury.
While the win over Utah was impressive, what about the other six over the stretch of the last seven games? Washington has allowed 120+ in five of those defeats, and boast the league's 4th worst defense overall. Another thing to note is that this recent string of losses has also come against some good teams including Philadelphia, Milwaukee (2), and Brooklyn.
Can Knicks Survive In Another Close One?
New York's 101-100 loss in OT to Philadelphia on Sunday was a bit controversial, as Julius Randle didn't think he deserved a late foul that put the Sixers on the FT line for the win. It was still a defeat though, and the second one to East leading Philly in the last five days – by a combined 4 points. The 76ers did play both games without Joel Embiid though.
The Knicks will be riding with Randle in the March 23rd Wizards at Knicks matchup. Washington's defense ranks 24th defensively vs. the PF position, and Randle has two triple doubles, a 24 point, and a 33 point outing over the last five. The Knicks can also get a contribution from the likes of Alec Burks (19+ in three straight) but will it be enough to offset potential big games from Beal and Westbrook?
Free March 23rd Wizards at Knicks Pick
This is the 2nd matchup of the year between these two teams, with New York's #3 defense getting the edge in a 109-91 road win as -3 point favorites. Beal was out for rest that game, but Randle was dominant with 24 points and 18 rebounds. The Knicks have a big advantage on the interior, but expect big games from the Washington backcourt playing at MSG.
Wizards 119 – Knicks 112
Pick: Over 223.5