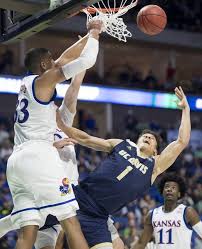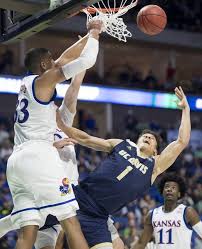 We have our first two Sunday 2017 March Madness Second Round Midwest free picks right here. Another will follow along with three South Region and two East Region free picks. That will conclude second round play for March Madness 2017. The big surprises yesterday were #8 Wisconsin's 65-62 victory over top-seed Villanova and #11 Xavier's 91-66 trouncing of #3 Florida State.
Today's first game has #7 Michigan playing #2 Louisville at 12:10 p.m. ET. The second Midwest Region contest features #9 Michigan State at #1 Kansas. That game tips off at 5:15 p.m. ET. The other game in the Midwest Region, which we will pick in another article, has #11 Rhode Island playing #3 Oregon.
#7 Michigan at #2 Louisville
12:10 PM CBS
Bankers Life Fieldhouse, Indianapolis, Indiana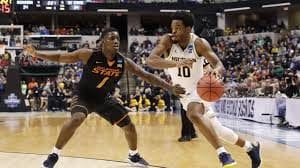 This is one of those games that could go either way. We saw two big upsets yesterday and the same could happen today. The Michigan Wolverines barely got by Oklahoma State 92-91 on Friday. Michigan's Derrick Walton Jr. tossed in 26 points and notched 11 assists in the game. The Wolverines set a school record by hitting 16 3-pointers in an NCAA Tournament game. In their first game, Louisville easily beat Jacksonville State 78-63. The top scorers for the Cardinals were Mangok Mathiang with 18 points and Deng Adel who added 16.
Michigan
The Wolverines will look to Derrick Walton Jr. to lead the way. He's averaging 15.5 PPG while making 4.9 APG and 4.7 RPG. Moritz Wagner, a 57% shooter, is contributing 11.8 PPG while grabbing 4.2 RPG. He and Walton are both 40-plus-percent three-point shooters. D,J, Wilson is a tough defender in the paint and an able shot and rebounder averaging 10.8 PPG and 5.4 RPG. Zak Irvin is a solid playmaker and scorer.
Louisville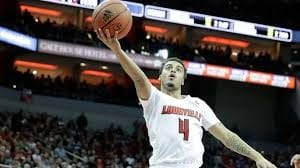 Cardinal guard Donovan Mitchell has fine defensive and offensive chops. He's quick on the steal and is good for 15.5 PPG and 4.8 RPG. Quentin Snider is averaging 4.1 APG while tossing in 12.9 PPG. There are four more fine rebounders on the club, including Mangok Mathiang. He's tops in grabs with 6.1 per game and is also the team's best shot blocker. Jaylen Johnson, a 59% shooter, is second with 5.8 RPG.
Michigan plays yet another team with a tough D. They were able to penetrate Oklahoma State's fine defense. They'll have to do the same in this game. The Wolverines are a better shooting team but the Cardinals are outrebounding then 40-29. We are taking the over at 141.0 and we like the Wolverines at +4.0.
2017 March Madness Second Round Midwest Free Pick: Michigan at +4.0 and over 141.0
#9 Michigan State at #1 Kansas
5:15 PM CBS
Bank of Oklahoma Center, Tulsa, Oklahoma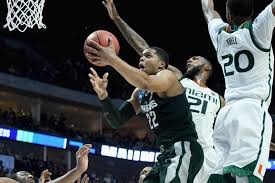 Although Michigan State started slowly in their round one game, they eventually took down Miami 78-58. Nick Ward scored 19 points in that contest to help the Spartans. Kansas made quick work of UC Davis as they scored 50 points in each half. The final score was 100-62 as Frank Mason III scored 22 points for the Jayhawks.
Michigan State
The Spartans should offer Kansas a real challenge. Miles Bridges and Nick Ward are the team's major offensive and defensive weapons. Bridges is good for 16.7 PPG and Ward for 13.9. Both are averaging 1.9 BPG. Together they're grabbing 15 RPG. Ward's a 50% shooter. Eron Harris is averaging 10.4 PPG. Cassius Winston is good for 5.1 APG and 6.7 PPG.
Kansas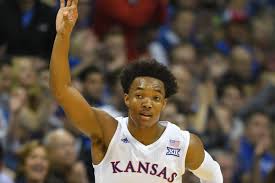 For the Jayhawks, Mason is it. He's the top scorer, averaging 20.8 PPG, and can hot from anywhere, putting in shots from the field and threes at the rate of 49%. He's also averaging 5.2 APG. Mason, Josh Jackson, and Devonte' Graham are each averaging about 1.5 SPG. Jackson is also a solid shot blocker who's good for 7.2 RPG and 16.4 PPG. He's good on 52% of his shots. Graham, who's averaging 13.2 PPG, is also a fine playmaker.
How tight will this game be? We think it will be close. For that reason, we're taking Michigan State at +8.0. We also expect plenty of points to be scored. We like the over at 148.0.
2017 March Madness Second Round Midwest Free Pick: Spartans at +8.0 and over 148.0
2017 March Madness Second Round Midwest Free Picks
Those are two of our three 2017 March Madness Second Round Midwest free picks for Sunday. We'll be posting all of our free picks by 2 p.m. ET, giving you plenty of time to make your bets. We expect these first two games to be good ones.