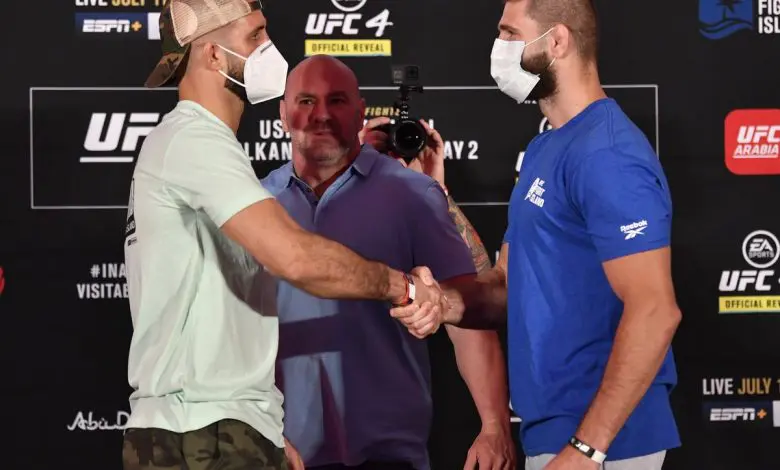 It's a jam-packed card for UFC 251 prelims betting that includes 8 fights on the undercard alone. Let's not delay any longer and get right to the match-by-match breakdown:
Martin Day (-165) vs. Davey Grant (+135)
Bantamweight
Martin Day (8-3) seems like a somewhat strange favorite in the night's opening bout considering it's been since November of 2018 since he's entered the octagon. Injuries kept Day out all of 2019 and the pandemic forced his March 28th match to be cancelled. The 31-year-old lost a DEC to Liu Pingyuan in his only UFC fight.
Davey Grant (11-4) hasn't exactly been a busy fighter either, taking just 4 UFC matches since losing TUF Finals to Chris Holdsworth in 2013. Grant was submitted twice since then but does come into UFC 251 prelims betting off a DEC win in November. This fight is -165 to go the distance (NO +135) but that's just too long of a layoff to lay that price on Day.
Pick: Grant +135
Karol Rosa (-275) vs. Vanessa Melo (+215)
Women Bantamweight
Vanessa Melo (10-7) may be starting to press a bit as she has dropped her first two UFC fights following a 5-match win streak. That doesn't bode well vs. Karol Rosa (12-3) who won her debut via decision last August.
Both women can throw blows as Rosa threw an amazing 11.40 strikes per minute in the win over Lara Procopio. Melo has averaged 3.6 SPM in her two UFC fights but neither seems to have the 'big one' in them. This fight is -285 to go the distance (NO +225) but with the high prices and the aggressive nature of Rosa the flier is on an early ending.
Pick: NO, fight does not go the distance +225
Raulian Paiva (-170) vs. Zhalgas Zhumagulov (+140)
Flyweight
The Raulian Paiva (19-3) vs. Zhalgas Zhumagulov (13-3) is another one likely to be a  3-round (Yes to go the distance -250). Who gets the edge in UFC 251 prelims betting then? It will be the UFC debut for the 5'4″ Zhumagulov but his last three fights have been against fighters who have battled in the promotion.
Paiva has a very thin frame but he has the quickness to get the somewhat unathletic Zhumagulov in trouble, especially early. Paiva has also shown the ability to end it early in his 2nd round TKO of Mark De La Rosa in February. That being said, Paiva also didn't make it out of the 1st round vs. Rogerio Bontorin in August though. Zhumagulov is a rookie, but has faced – and beat – quality competition.
Pick: Zhumagulov +140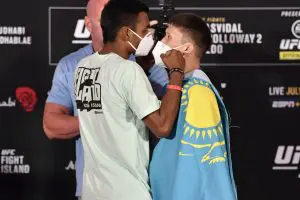 Marcin Tybura (-120) vs. Maxim Grishin (-110)
Heavyweight
Even though it's a heavyweight matchup, the Marcin Tybura (18-6) vs. Maxim Grishin (30-7-2) is still a -115 split to go the distance. The biggest thing to notice in this one is Grishin's experience as Saturday is his 40th MMA fight but first with the UFC. Tybura has 10 fights with the company but is an even 5-5 over that span.
The win breakdown between the 48 victories combined by these two is 22 KO's, 12 submissions, and 14 DEC's. Tybura's career looked to be on a downhill slide in back to back KO's in 2019 (including 0:59 vs. Augusto Sakai) but he was able to grind out a DEC win in February. Grishin moves up from light heavyweight and took the fight on a week's notice. Even so, he's a very experienced fighter and has posted a 9-bout win streak.
Pick: Grishin-110
Leonardo Santos (-185) vs. Roman Bogatov (+150)
Lightweight
We will see if the year-plus off will ruin the hot streak of Leonardo Santos (17-4-1) who is on a 5 fight win streak heading into UFC 251 prelims betting. Two of the last three victories have come via 1st round KO's so Roman Bogatov (10-0) needs to be alert in his UFC debut.
Oddsmakers have this bout as a -115 split to go the distance. Five of Bogatov's 10 career wins have come via submission and despite his recent KO success 9 of Santos' 17 wins have still come via SUB. That's a lot of ending potential between the two, but Santos is just too pricey at 40 years old and with just one fight since October of 2016.
Pick: Fight does not go the distance -115
Makwan Amirkhani (-190) vs. Danny Henry (+155)
Featherweight
There would seem to be nice value on Danny Henry (12-3) in this matchup in a bounce back match after falling prey to a 1st round Dan Ige rear naked choke in his last fight in March 2019. Henry has only fought in one fight a year in the UFC since 2017 though. His debut was a DEC win but that was followed up with a 0:39 submission win in 2018.
Makwan Amirkhani (15-4) also comes into UFC 251 prelims betting off a loss via 3rd round KO in November. 10 of Amirkhani's 15 career wins have come via submission which doesn't bode well for Henry coming off a defeat in 77 seconds his last time out. The uniqueness of this fight and Henry not getting in the octagon for almost 20 months does him no favors either.
Pick: Amirkhani inside distance +115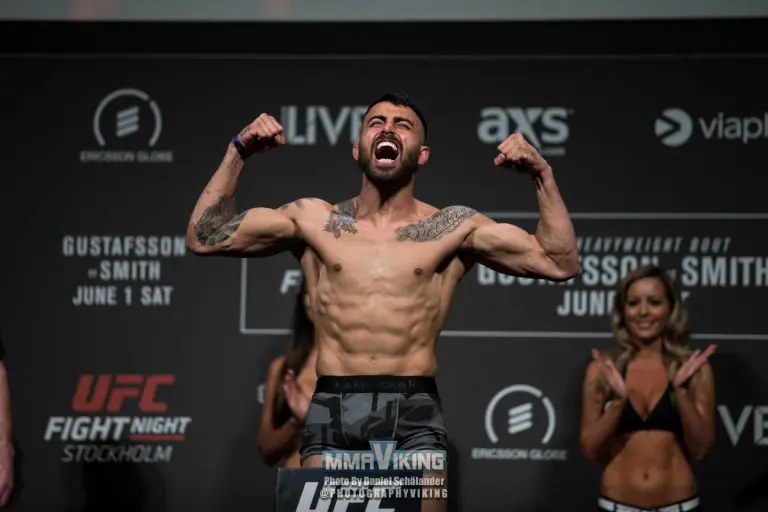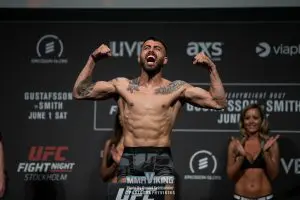 Muslim Salikhov (-140) vs. Elizeu Zaleski Dos Santos (+110)
Welterweight
The battle between Muslim Salikhov (16-2) and Elizeu Zaleski dos Santos (22-6) would be looked at as one of the fights of the night if not for the impressiveness of the 1st card from fight island. Salikhov has bounced back from a loss in his UFC debut to win three straight, two by KO. dos Santos knows that path as he too dropped his first fight in the Octagon before capturing 7 straight wins from 2016 to 2019.
dos Santos has split his last two fights since that impressive run, but did score a decision win in March. Salikhov meanwhile hasn't fought since last October. This fight should be on the feet though as dos Santos has just a 20% takedown accuracy. dos Santos does land 4.17 strikes per minute but also absorbs 3.13. You can do that against the power of Salikhov.
Pick: Salikhov by KO +155
Volkan Oezdemir (-175) vs. Jiri Prochazka (+145)
Light Heavyweight
Oddsmakers are expecting Volkan Oezdemir (17-4) to continue to get his stride back following two straight wins (KO, SUB). Prior to that, "No Time" had lost three straight kicked off by a title fight knockout loss to Daniel Cormier in 2018.
This puts Jiri Prochazka (26-3-1) in a tough spot in his UFC debut. Prochazka doesn't see it that way though as he has 30 fights under his belt and 26 wins – 23 of which have come via the KO. The 27-year-old Czech always seems to be 'one punch away' and could be a legitimate contender with a strong showing on Saturday. There's enough value on Prochazka who is riding a 10-fight win streak, the last 3 by KO.
Pick: Prochazka +145