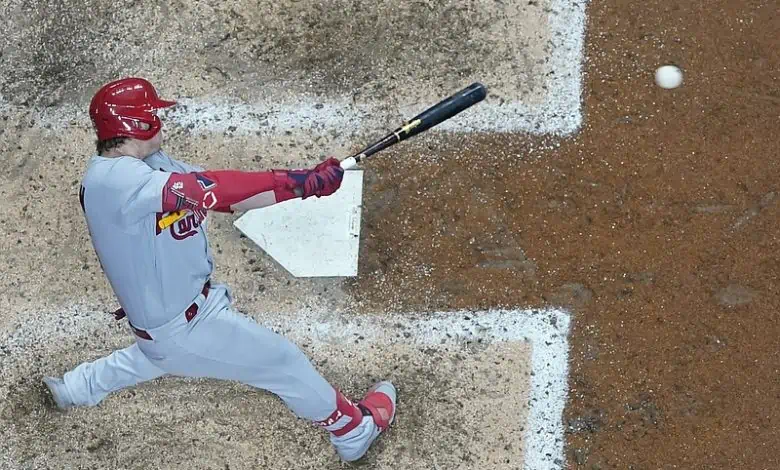 The top two teams in the NL Central continue their four game series in the June 22nd Cardinals at Brewers betting contest. The teams have split the first two contests so far, with Milwaukee picking up a 2-0 victory behind Corbin Burnes in the series opener at -164 while the Redbirds came back for a 6-2 win on Tuesday at -123.
This is a very even matchup, 1-1 so far this week at American Family Field, 5-5 for the season series, and both tied atop the NL Central at 39-31. Wednesday's betting line reflects how tight these two squads are, with Milwaukee at -115 and the Cardinals -105.  Is this coin flip time?
Cardinals Needed That
St. Louis was able to tie things up in the NL Central thanks to their 6-2 win on Tuesday. Nolan Gorman had a couple of HRs and drove in four runs while the Cards' were able to get the victory even with Paul Goldschmidt sitting with back tightness. Goldschmidt is questionable for the June 22nd Cardinals at Brewers betting matchup.
The Redbirds needed Tuesday's win coming off losing two of three in Boston last weekend and managing just three hits in the series opening defeat in Milwaukee. Now St. Louis will try to make it two in a row as they've drawn to an even 18-18 in road games this season. A lot of those away wins came earlier in the season though, as St. Louis was just 3-5 over recent trips to Wrigley Field and at Tampa Bay.
Jack Flaherty made his second start of the season on Tuesday as he returns from injury, and he could only go 3.0 IP. The Cardinals bullpen allowed just 1 hit the rest of the game but Adam Wainwright (5-5, 3.06 ERA) would still prefer to not have to burn up relievers too much on Wednesday. The right-hander has pitched into the 7th in four straight games and St. Louis has won 7 of Wainwright's last 9 starts.
Milwaukee Offense Did the Disappearing Act
It's been a tale of two offenses through the first two games of this series. The Cardinals had just 3 hits on Monday and Milwaukee returned the favor with only four hits on Tuesday. The Brewers have beaten Wainwright in two starts this season, and they hope to make it a third to regain first place by themselves on Wednesday night.
The Brewers managed 10 hits over 5.0 IP against Wainwright in a 4-3 win on May 26th at Busch Stadium and had 4 runs and 8 hits in a 5-1 victory on April 14th at home. Andrew McCutchen has hit over .300 in his career vs. the Cardinals starter in a big sample size of 70 ABs. Luis Urias is also 5-11 with 2 HR vs. Wainwright.
Eric Lauer (6-2, 3.57 ERA) is the Brewers starter trying to snap out of a funk where he's allowed 12ER the last two games. Lauer has a 1.04 ERA in four home starts this season.
Free June 22nd Cardinals at Brewers Betting Pick
These two teams have traded blows the past two games, and it's Milwaukee's turn to land the counterpunch. Lauer has been nearly unhittable at home in 2022 and the Brewers have hit Wainwright well this year. Great price tag on Milwaukee.
Free Pick: Brewers -115