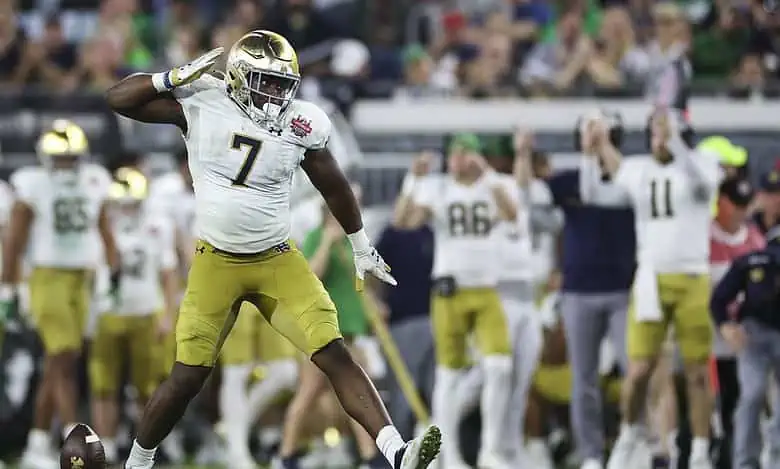 Week 6 of the college football season is full of great games, and that is going to continue into the night on Saturday. The Notre Dame Fighting Irish are set to visit the Louisville Cardinals, and this game will impact the rankings.
Notre Dame is coming into this game with a record of 5-1, and they are back in the Top 10 after falling out for a bit. The Fighting Irish just picked up a huge road win at Duke, and they have some momentum for this matchup.
Louisville has gone a perfect 5-0 through the first five weeks of the year, and they are climbing up the rankings. The Cardinals are still looking for a signature win, and that would come on Saturday night against Notre Dame.
The Notre Dame Fighting Irish are 6.5 point betting favorites over Louisville in this matchup on Saturday night.
Notre Dame Can Defend
The Notre Dame Fighting Irish are allowing just 271 yards per game this season, and they want to be tough on the defensive side of the football. Notre Dame has been especially tough in the secondary, as they are giving up less than 150 yards per game.
This team is going to have to play well in the secondary in this game, as Louisville loves to throw the football. The Notre Dame defense will be looking to give quarterback Sam Hartman and the offense some good starting position.
Hartman has thrown for 1,458 yards and 14 touchdowns this season, and he has been terrific. Running back Audric Estime is also a huge weapon, as he has scored seven touchdowns on the year.
Louisville Looking to Throw
The Louisville Cardinals are a team that wants to win games on the offensive side of the ball, and they tend to do most of their work through the air. Louisville is averaging 301 passing yards per game as quarterback Jack Plummer has been terrific.
Plummer has thrown for 1,406 yards and 11 touchdowns this season, but he has also tossed six interceptions. The Cardinals are facing a great defense in this game, and he has to find a way to take care of the football.
Louisville just got a huge performance from the defense in a win over NC State last weekend. The Cardinals are going to have to defend the run in this game, but that's not one of the biggest strengths of the team.
Fighting Irish Get the Job Done
Louisville was supposed to be a great college football team this season, and they have lived up to those expectations in a big way. The Cardinals have been able to win games with their offense, but that is going to be a challenge on Saturday night.
Notre Dame has been able to do everything well this season, but it has been the defense that has been the most impressive unit. The Fighting Irish are going to come up with some big stops in this game, and the offense will continue to do their job.
Bet the Notre Dame Fighting Irish -6.5 as they are going to pick up another road win and cover the spread on Saturday night.