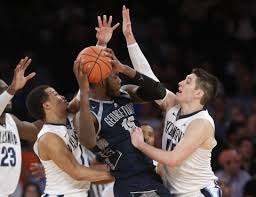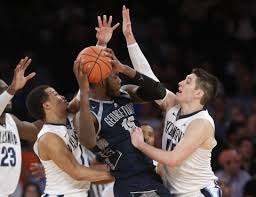 The #2 Villanova Wildcats (27-3 Overall, 14-3 Big East) visit the Georgetown Hoyas (14-16 Overall, 5-12 Big East) today for a noon tipoff. Nova continues to be the second ranked team in the nation. In terms of the Big East, the Wildcats will finish first in the conference for the fourth straight season. The Georgetown Hoyas, who have not won the regular season Big East championship since 2012-2013, when they tied with two other teams, are next to last in the Big East. Our Villanova plays Georgetown free college basketball pick has the Wildcats at -7.5 and the totals at 139.5.
Villanova is 8-2 for their last 10. Losses were on Jan. 24 to unranked Marquette 74-72 and on Feb. 22 to #22 Butler 74-66. Big wins include #12 Virginia 61-59 on Jan. 29, #24 Xavier 73-57 on Feb. 11 and #23 Creighton 79-63 on Feb. 79-63. During that timespan, they also beat the Hoyas 75-64 on Feb. 7.
The Georgetown Hoyas are 4-6 for their last 10 games. They're on a four-game losing streak and are 1-6 for their last seven. At the start of the 10-game span, they ran off three straight wins in late January beating #16 Creighton, #11 Butler and DePaul. They started on their skid when they lost to Seton Hall 68-66 in OT. Their last four losses were to #20 Creighton, DePaul, St. John's, and Seton Hall.
#2 Villanova Wildcats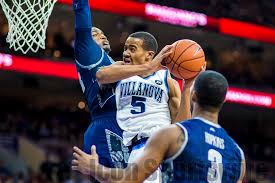 Six players are major contributors for Nova. Top point scorer Josh Hart (18.6 PPG, 6.5 RPG, 3.1 APG) is a 51% shooter from the field and hits 40% from downtown. Guard Jalen Brunson (14.7 PPG, 2.6 RPG, 4.3 APG), the top playmaker, is hitting 54% of his shots from the field and 39% of his threes. Also in the backcourt is sharpshooter Mikal Bridges (10.5 PPG, 4.7 RPG, 2.1 APG). He's been good on 41% of his three-point shots and 57% from the field. Forwards Kris Jenkins (13.2 PPG, 4.3 RPG, 40 FG%) and Eric Paschall (7.1 PPG, 3.8 RPG, 50 FG%) take care of the paint. This is an excellent shooting team with some devastating three-point shooters.
Georgetown Hoyas
The top point scorers for the Hoyas are guards Rodney Pryor (18.0 PPG, 4.9 RPG, 1.3 APG) and L.J. Peak (16.5 PPG, 4.0 RPG, 3.5 APG). Pryor is good on 49% of his shots and 42% if his threes and Peak on 48% of his field goals and 34 of his shots from downtown. The Hoyas play with three guys upfront, including center Jessie Govan (10.3 PPG, 4.3 RPG, 51 FG%) who tops the team in shooting percentage. Also upfront are Marcus Derrickson (8.3 PPG, 4.1 RPG, 44 FG%) and Akoy Agau (4.6 PPG, 4.5 APG, 50 FG%). Overall, the Hoya squad is thin at the guard posts and weak on defense. They do have a decent presence in the paint.
Villanova Plays Georgetown Free College Basketball Pick
The cats are three-percentage points better from the field and six-percentage points better on frees than are the Hoyas. Nova is +11.1 PF/PA while the Hoyas are +2.9 PF/PA. In our Villanova plays Georgetown free college basketball pick, we like the Wildcats at -7.5 and the under at 139.5.
Villanova Plays Georgetown Free College Basketball Pick: Nova at -7.5 and under 139.5