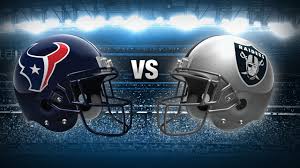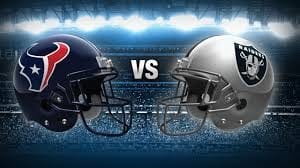 The first 2017 NFL wild card game will be played on Jan. 7 at 4:35 p.m. ET in Houston. In our Oakland plays Houston NFL wild card pick, the Texans are favored by 3.5 points. The Oakland Raiders (12-4) are the wild card team in the mix, while the Houston Texans (9-7) come in as the winner of the AFC South.
Both teams are coming to this game with big quarterback questions. The Raiders lost starter Derek Carr a few weeks ago and then saw veteran backup Matt McGloin go down. That means the Raiders will start rookie Conner Cook. Cook has very little NFL playing experience, but he's ready to go.
The Texans struggled to win a division where every team played subpar football. Brock Osweiler, who came over from Denver and signed a big deal with Houston to be their starter, played poorly and was replaced in the game against Jacksonville when he threw two interceptions. When he left the game, the Texans were trailing one of the worst team's in the league badly. Tom Savage replaced him, won the game, and started the last few games of the season. He played well but was injured in the final regular season game. Osweiler will start the wild card contest.
Oakland Offense vs. Texans Defense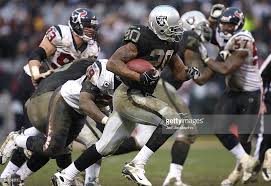 QB Connor Cook (66.7 COMP%, 1 TD, 1 INT, 2 Sacks) has tossed a total of 21 passes this season. The rookie comes to the game with close to no pro experience. We expect Latavius Murray (195 ATT, 788 YDs, 4.0 AVG, 12 TDs) and other healthy running back to get quite a few carries. Also, look for Cook to throw short passes. Two of the Raiders' three top receivers are listed as questionable, but we expect them to play. WR Michael Crabtree has eight touchdown catches, while Amari Cooper and Seth Roberts each have five. The good news is that the Oakland offensive line is fairly solid. That will certainly help. The Raiders averaged 26.0 PPG this year with much of that coming through the air.
The Texans limited teams to 20.5 PPG. The strongest aspect of their defense is their pass rush. The Texans have 31 sacks. They've also notched 54 TFL. Their secondary is good. It brings 11 INTs and 68 PD. The Texans also have eight forced fumbles with six recoveries. They're -10 in that category as opponents have forced 18 Texan fumbles. LBs Whitney Mercilus (7.5 Sacks, 8 TFL) and Benardrick McKinney (129 TKLs, 5.0 Sacks, 4 TFL) bring a lot of heat whole safety Quintin Demps is tops in pick with six. LB Jadeveon Clowney is an awesome force with six sacks, 12 tackles for a loss, and two passes defended. Both Demps and Clowney are questionable but they're expected to play.
Houston Offense vs. Raiders Defense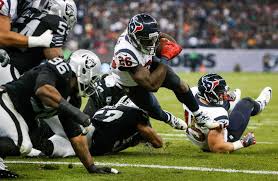 The Houston Texans have had a tough time scoring this season, and that fact may help Oakland a whole lot. The Texans averaged 17.4 PPG. QB Brock Osweiler (59 COMP%, 15 TDs, 16 INTs, 27 Sacks) has had a rocky first season with Houston. He's back in the saddle due to Savage getting hurt. Although nursing an ankle injury, RB Lamar Miller (268 ATT, 1,073 YDs, 4.0 AVG, 5 TDs) is expected to play. He needs to contribute for Houston to win. Osweiler will be looking to connect with Oakland's top pass catcher DeAndre Hopkins (78 REC, 954 YDs, 12.2 AVG, 4 TDs)
The Raiders don't bring much of a pass rush, but they are adept at breaking up and intercepting passes and forcing fumbles. They come to the playoffs with 70 PD, 16 INT, and 21 forced fumbles with 14 recovered. Top performers include DE Khalil Mack (11 Sacks, 9 TFL, 5 FF, 3 RECF), safety Reggie Nelson (12 PD, 5 INTs), and CB David Amerson (16 PD, 2 INTs). LB Bruce Irvin (7 Sacks, 5 TFL) leads the team in forced fumbles with six. The team allowed opponents 24.1 PPG.
Oakland Plays Houston NFL Wild Card Pick
Many expect this to be the closest game of the weekend and the toughest to call. If the Raiders can protect Cook from the Houston pass rush and the Oakland defense does it's thing, the Raiders will win. The fact is Osweiler throws picks as much as he throws touchdowns, and Oakland has an excellent secondary.
Our Oakland plays Houston NFL wild card pick is going with the Raiders at +4.0.
Oakland Plays Houston NFL Wild Card Pick: Oakland at +4.0