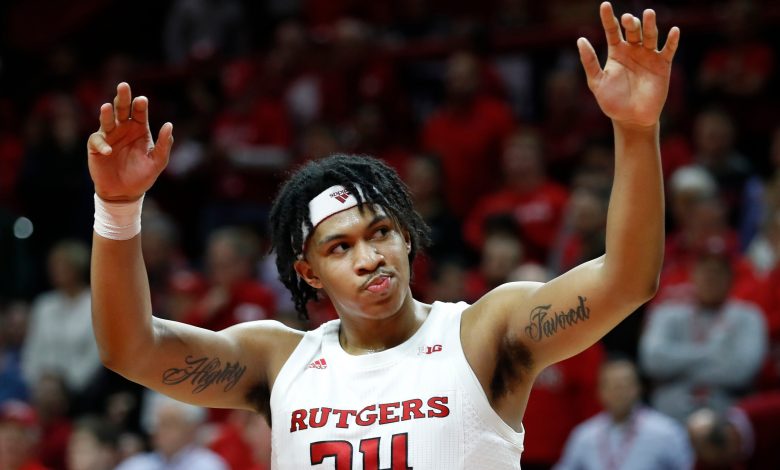 It's a Big Ten battle in Piscataway, NJ, Sunday night as the Rutgers Scarlet Knights (16-7, 7-5) host the Northwestern Wildcats (6-15, 1-10). This game comes almost one year after the Knights won a thrilling 59-56 contest against the Wildcats in Evanston.
Here is a preview of Sunday night's matchup, along with odds and a free pick.
By The Numbers
We'll start with Northwestern, which enters Sunday night on a six-game losing streak, with the latest loss a three-point home defeat at the hands of Purdue. The Wildcats average 65.1 points per game, the lowest in the Big Ten, on 41.9 percent shooting.
They also average the fewest rebounds of any team in the conference at 33.8. Defensively, Northwestern allows 67.8 points per game. In addition, the Wildcats are only averaging 4.4 steals and 2.7 blocks a night.
Meanwhile, Rutgers has fallen close to the middle of the pack in the conference thanks to back-to-back losses against Michigan and Maryland. Up to this point, the Scarlet Knights rank 11th in the Big Ten with 70.3 points per game on 44.6 percent shooting.
However, they shoot just 30 percent from beyond the arc as a team, the worst in the Big Ten and among the worst in the nation. They are, however, second in rebounding with 40.8 per game. On defense, Rutgers allows just 60.9 points, while also earning 7.0 steals and 4.7 blocks per game.
Who To Watch
With a rotation built primarily from freshmen and sophomores, forward Miller Kopp leads the charge for the Wildcats. The sophomore Kopp paces the team with 13.4 points per game on 42.1 percent shooting, including just under 40 percent from three.
He has reached double figures in all but five games this year and will need to do so again for Northwestern to beat one of the best defensive teams in the nation.
Joining Kopp is senior guard Pat Spencer and freshman center Ryan Young. Spencer, one of just two seniors who play a steady role in Northwestern's rotation, is second behind Kopp with 11.0 points per game with a team-leading 3.8 assists.
Meanwhile, Young is averaging 9.5 points and 6.2 rebounds in his first season with the purple and white.
Rutgers only has two players averaging in double figures in scoring, the first of which is Ron Harper Jr. The sophomore guard is leading the Scarlet Knights with 11.4 points on 42.3 percent shooting.
Ever since he dropped 29 points against Iowa, though, he has been cold, scoring less than 10 points in three of the last four games. Sunday night may be a good chance for Harper to bounce back.
Akwasi Yeboah, Geo Baker, and Myles Johnson will all play roles Sunday night as well. The senior Yeboah joins Harper as the other Knights player averaging in double figures with 10.0 points per game.
Baker, the junior point guard, is the team leader with 3.5 assists and 1.5 steals, while sophomore big man Johnson is the main presence down low with 8.0 rebounds and 1.5 blocks per game.
Keys To Victory
While Northwestern has struggled offensively, it holds an advantage over Rutgers in three-point shooting. This is where the Wildcats will have to win, as Rutgers' defense will not allow anything easy inside.
Look for Kopp, as well as other good three-point shooters Boo Buie (34.4 percent) and Robbie Beran (41.2 percent), to take plenty of shots from deep and see if they catch fire.
Rutgers is a physical team that prides itself in defense and rebounding. Those will once again be the staples for Sunday night's game, as Northwestern doesn't do either of those well.
Expect Johnson to have a big game as a rebounder and as someone to take advantage of second-chance opportunities, as well as Yeboah and a guy like sophomore forward Caleb McConnell.
Odds and Pick
As expected, Rutgers is a big favorite at home against the conference's worst team. The Scarlet Knights are currently listed at -10.5 by oddsmakers.
This is, in theory, a game that Rutgers should win easily. The Scarlet Knights are better all around and have the advantage of being at home. Northwestern does, however, have a couple of things in its favor, including a full week of rest leading into this one and a couple of close road losses in recent weeks to Illinois and Indiana.
Look for Northwestern to hang for a little bit, perhaps if shots fall in the first half, but for Rutgers -10.5 to prevail when it's all said and done.