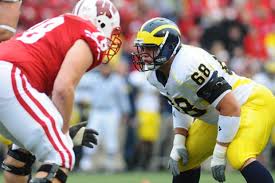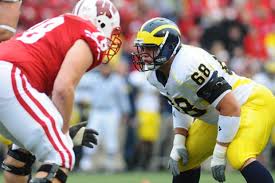 This game where Big 10 Wisconsin visits Michigan has been forecast for a long time to be a major matchup. Here we are, Wisconsin is number eight and Michigan is four. Everyone knows those numbers may as well be 5,1 and 5.2. This is going to be a slugfest. The game is scheduled to start at 3:30 p.m. and it will be played at Michigan Stadium in Ann Arbor. Both teams are 4-0 this season.
Yet, the Wolverines are heavily favored. At least prognosticators are looking at a pure score where Michigan wins. But then we add the spread where Michigan is favored by 10.5. This is a big game and we've got to find an edge to bet it.
Wisconsin Offense vs. Wolverines D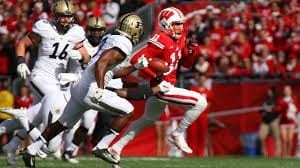 The Badgers last game was against #6 Michigan State Spartans. MSU lost to Wisconsin 30-6. The Badgers also beat #5 LSU in their first game 16-14. Can this be a major upset in the making? This team has two solid QBs. Whoever plays should be uo to this game. The Badgers have a good passing game with junior WR Jazz Peavy (16 REC, 274 YDs, 2 TDs) being the go-to receiver. Senior Corey Clement (65 ATT, 251 YDs, 5 TDs) is the primary running back. There's also solid backup .
The Wolverines have allowed a total of 55 points in four games. They are +153. Can they hold the badgers to under 20 points? The team is tough against the pass but not as effective against the run, which is the Badgers' strong point. They will have to try to contain them.
Michigan Offense vs. Badgers Defense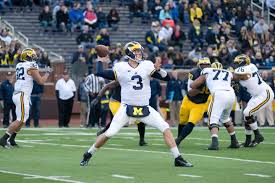 Michigan offers a balanced attack that can obliterate defenses. What will be very important for the Wolverines is their air attack. Their receivers are fast and tall. They are much taller than the Badger defenders. Junior QB Wilton Speight (875 YDs, 9 TDs, 1 INT) has a great arm and some fantastic receivers to toss to. WR Amara Darboh (17 REC, 248 YDs, 14.6 AVG, 4 TDs) and TE Jake Butt (19 REC, 234 YDs, 12.3 AVG, 3 TDs) are both premium receivers. They also have an able stable of runners with senior De'Veon Smith leading the way. Smith is averaging 6.6 yards per carry. He and the rest of the squad can eat up yards.
The Badgers have lost a major player, LB Vince Biegel. Biegel, who is Wisconsin's most experienced player, underwent foot surgery and will be out for weeks. He's started 46 games and is the anchor of the defense. This is a real setback for Wisconsin.
Big 10 Wisconsin visits Michigan Free Pick
Big 10 Wisconsin visits Michigan this Saturday. We like the Wolverines in this game for many reasons, including the fact that Michigan has a much bigger squad than the Badgers. Take the Wolverines at -10.5.
Big 10 Wisconsin visits Michigan Free Pick: Michigan wins at -10.5