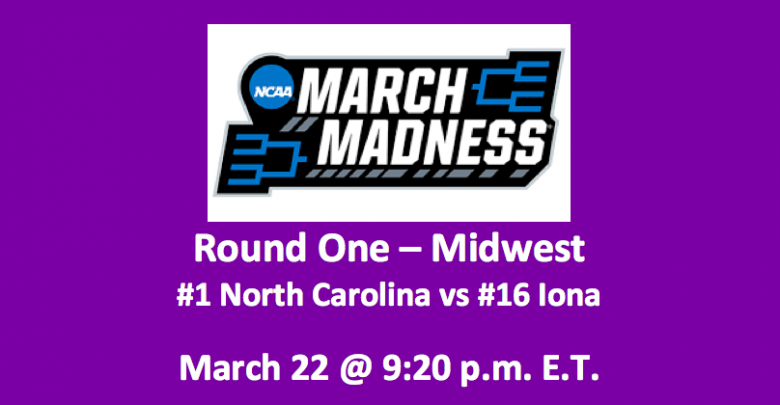 Our North Carolina vs Iona preview and pick for this Midwest region contest has the Tar Heels at -23.0. This 2019 NCAA Tournament Round One game will be played on Friday, March 22 at 9:20 pm ET. The first-seed North Carolina Tar Heels (27-6) finished tied for first with Virginia in the ACC. In the semifinal round of the ACC Tournament, Duke beat the Tar Heels 74-73. The 16th-seed Iona Gaels (17-15) were the top team in the MAAC this year, finishing one game ahead of Quinnipiac. In the MAAC Tournament Final, the Gaels beat Monmouth 81-60 to secure the title and earn a ticket to the Big Dance.
North Carolina
Forward Luke Maye (14.7 PPG, 10.5 RPG, 43.3 FG%) anchors and commands the frontcourt. Two guards, Cameron Johnson and Coby White, each of whom are good for about 17 PPG, command the backcourt. Johnson is averaging 5.8 RPG and White leads the Tar Heels with 4.2 APG. Our North Carolina vs Iona preview sees this team as overwhelming Iona. North Carolina is averaging 86.1 PPG, grabbing 43.5 RPG, and making 19.0 APG. They're also good for 7.2 SPG and 3.5 BPG.
Iona
Three of the four Gaels who averaged double digits in scoring this season are guards, including point-leader E.J. Crawford (17.9 PPG, 5.1 RPG, 50.9 FG%). Guard Rickey McGill (15.5 PPG, 4.6 RPG, 5.0 APG) is the playmaker on the team. He's shooting 46.6% and averaging 2.3 SPG. Forward Tajuan Agee (13.3 PPG, 8.1 RPG, 45.8 FG%) leads Iona in rebounding. The Gaels are a 45.3% shooting team. Iona is averaging 76.8 PPG, 34.4 RPG, and 13.2 APG.
The Gaels are good, but they've struggled with consistency, and they were especially challenged when playing opponents outside of the MAAC. Their three-point success rate is 35.1%, which is not bad, and free throws are at 74.1%, which is solid. But we doubt they will make a difference in this game. Our North Carolina vs Iona preview notes that the team gelled as the season progressed, and that's a positive.
NCAA Tournament Round One – North Carolina vs Iona Preview Pick
Our North Carolina vs Iona preview sees the Tar Heels as reeling off a major win. We think they will take the court, establish their game, and take off. We're going with North Carolina in this game at -23.0.
Summary Midwest Region, Round One – North Carolina vs Iona Preview & Pick: North Carolina Tar Heels at -23.0