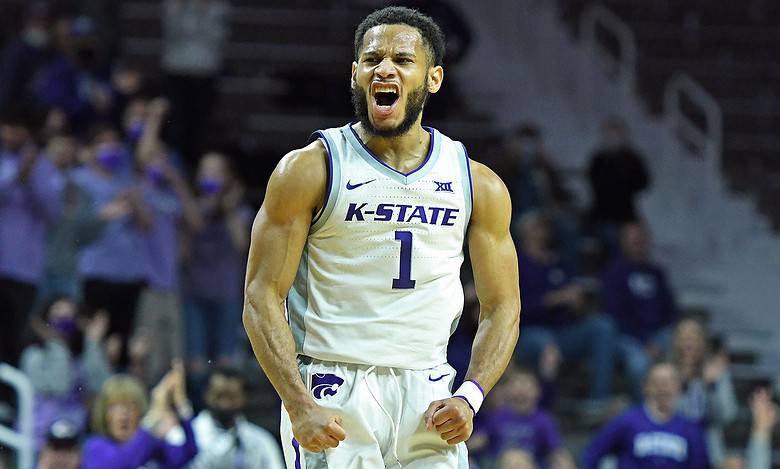 KSU is the higher seed in Sunday's NCAA Tournament Kentucky vs Kansas State matchup, but are still +2.5 point underdogs in this clash of Wildcats. Both teams lost the first game in their respective conference tournaments and covered the number in the first round, so this meeting should be an interesting one.
Not that it makes much of a difference relating to one individual game, but Kentucky has gotten the better of K-State in the past going 9-1. Kentucky (24-9) and Kansas State (22-11) played the #22 and #25 hardest schedules in the country this season so this is a very even matchup. Do you automatically take the points in that situation – not necessarily as 59% of the public is on UK.
Why Kentucky Can Cover -2.5
The #1 reason UK can cover Sunday's NCAA Tournament Kentucky vs Kansas State matchup – as well as possibly the National Championship even – is because they have the reigning Player of the Year in big man Oscar Tshiebwe.
Tschiebwe was part of the Wildcats team that lost 85-79 in OT last year in the 1st round against #15 St. Peter's as -18 point favorites, but made sure Kentucky got to the round of 32 this year with 25 rebounds in the 61-53 win over Providence on Friday. Tschiebwe did have just 8 points in the victory over the Friars, but showed nice depth with Antonio Reeves scoring 22 and Jacob Toppin adding 18.
One very significant advantage the Wildcats have on Sunday is on the sidelines as John Calipari, who has taken Kentucky to the Final Four 4X (and UMass and Memphis once each). By comparison, K-State coach Jerome Tang is in his first year as a head coach so will he fold in such a high pressure situation?
Why Kansas State Can Cover +2.5 Points
Tschiebwe puts up some great numbers – that's unarguable – but when he does it doesn't always lead to a Kentucky win. For example, Tschiebwe went for 30 points and added 16 rebounds in last year's opening round loss for then #2 seed Kentucky and had 19/15 in this year's SEC Tournament loss to Vanderbilt.
Tschiebwe has star power, but so does Kansas State with Keyontae Johnson and Markquis Nowell both averaging over 17 points during the regular season. Johnson had 18 points and 8 rebounds in the opening round win over Montana State (77-65) while Nowell had 17 points to go along with 14 assists. Both are 5th year players who provide valuable experience against a surprisingly season Kentucky squad.
Not that the SEC was bad this season – they have the #1 overall seed in the tournament in Alabama – but the Big 12 was an absolute gauntlet night in and night out. Big 12 teams posted 7 of the 10 hardest schedules in the country this season which gives K-State an edge just because they are used to these types of wars of attrition from conference play.
Free NCAA Tournament Kentucky vs Kansas State Betting Pick
Go ahead and flip a coin in this matchup of very experienced and talented teams. Tschiebwe will get his but that doesn't always necessarily mean a Kentucky win. It looks like the real edge here might come in coaching, as Calipari has just been to way too many of these tournaments compared to Tang who is in his 1st year as the head of a program.
Free Pick: Kentucky -2.5