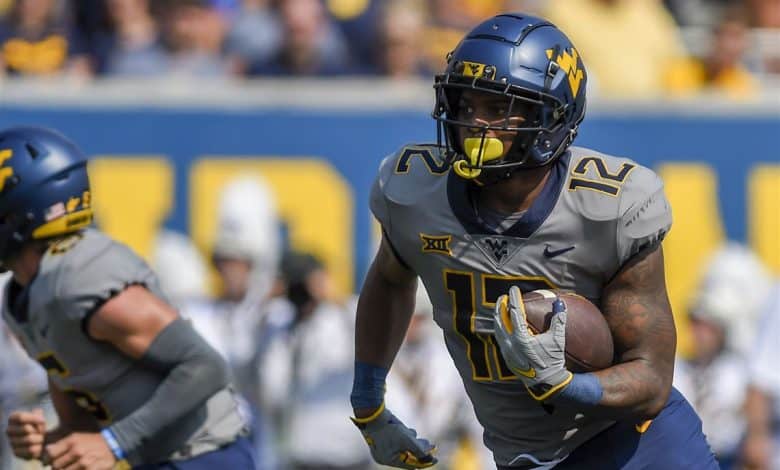 It should be a wild night at Lane Stadium as the week 4 college football slate gets underway with the West Virginia at Virginia Tech matchup on Thursday night. The hometown Hokies have won back-to-back games after their shocking 20-17 loss at Old Dominion in the season opener even though VT was just a -6 point favorite.
WVU had a couple tough games to start the season, losing 38-31 to Pittsburgh in the 'Backyard Brawl' in week one and then falling 55-42 at home to Kansas in week two as -14 point favorites. Even though the Mountaineers are 1-2 and Virginia Tech is 2-1, it's West Virginia that's the -2.5 road favorite on Thursday night. Just a slight 54% of the public bettors like WVU on the road.
WVU Finding Their Momentum
Taking quality of competition into account, West Virginia looked really good last week in a 65-7 victory over Towson to even cover the -41 point spread. The Mountaineers scored on all 10 of their possessions last Saturday (9 TDs, 1 FG) fueled by CJ Donaldson and Tony Mathis, Jr. both rushing for over 100 yards.
The running game will be WVU's focal point in the West Virginia at Virginia Tech pick as Donaldson and Mathis have already run for a combined 8 TDs this season. Unfortunately for the Mountaineers that's a strength for the Hokies defense, whose 40.7 yards per game allowed rushing is the third best in the country. Even in Old Dominion's season opening win they ran for just 80 yards on 33 attempts vs. VT and Boston College had 26 carries for a mere 4 yards in week two vs. the Hokies.
If the Mountaineers can't get their ground game going on Thursday night it's going to have to be a breakout game for West Virginia QB JT Daniels. The former USC, former Georgia, former 5-star recruit has 6 TDs and 2 INTs on the season, but the Virginia Tech defense is also 15th in the nation vs. the pass (159.0 ypg).
Hokies Get the Edge at Home?
Virginia Tech's defense has looked good through the first three games of the season, even allowing just 245 yards in the season opening loss against Old Dominion. The Hokies beat up on Boston College 27-10 in week two as just -2.5 favorites and last week took down Wofford 27-7 although they failed to cover the -38 point spread.
The reason Virginia Tech is a home underdog on Thursday night isn't because of their defense – it's due to major concerns surrounding the Hokies offense. VT's 23.7 ppg average this season is 102nd in the country, and their 367.7 ypg is 92nd. Virginia Tech doesn't rank higher than 85th in either passing or rushing yards per game even while their quality of competition hasn't been that great.
Free Week 4 West Virginia at Virginia Tech Betting Pick
VT has a definite home field advantage playing in Blacksburg on Thursday night, but is West Virginia's talent discrepancy too much to overcome? Donaldson and Mathis are horses running the ball for the Mountaineers and Daniels has potential at QB as one of the more decorated recruits in recent memory. The Hokies defense has put up great numbers, but is that more on them or their quality of opponent?
Free Pick: West Virginia -2.5