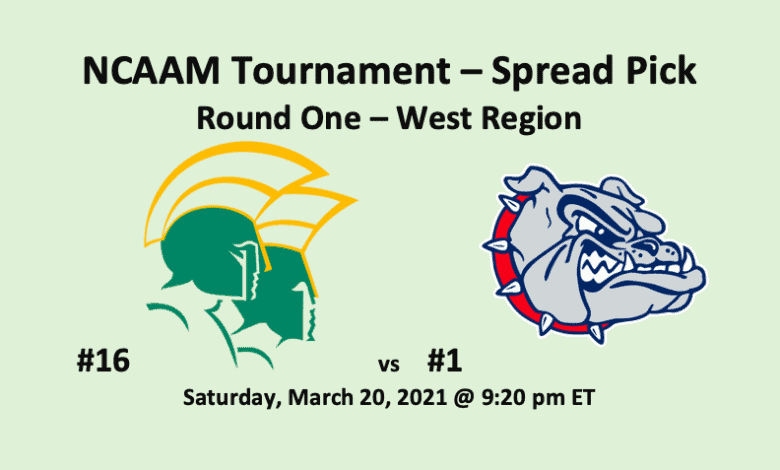 This Norfolk State vs Gonzaga pick has the Spartans as a huge underdog. The best spread for Norfolk State +33.0 (-111). If betting the Bulldogs, you can find them at -32.5 (-110). The Spartans got here by beating Appalachian State in one of four play-in games that were held on Thursday. It was a nail-biter with the final score 54-53. In the regular season, Norfolk State, which comes to this game with a seven-game winning streak, topped the MEAC in the regular season, and then beat Morgan State 71-63 in the final tournament game. This season, the Gonzaga Bulldogs have basically beaten everyone. The Zags are perfect at 26-0. In the regular season, they took the West Coast Conference by four games.
The Spartans and Bulldogs will meet on Saturday, March 20 at 9:20 pm ET. The game will take place at Bankers Life Fieldhouse in Indianapolis, IN. Along with this pick, make sure you check out all of our March Madness picks, as we've got every game covered including Missouri vs Oklahoma.
Norfolk State vs Gonzaga Pick – Stats
The Spartans look dominant team on paper. NSU is averaging 75.2 PPG, as they are completing 43.6% of their shots from the field, 36.8% of their threes, and 70.6% of their frees. The Spartans are dishing off 12.3 APG, bringing down 37.0 RPG, and making 6.3 SPG and 3.3 BPG. Then there is Gonzaga. The Bulldogs are averaging 92.1 PPG, 37.9 RPG, and 18.3 APG. They are hitting 55.1% of their shots and 36.5% of their threes. Frees come in at 72.7%. Gonzaga is averaging 8.3 SPG and 2,8 BPG.
Key Players
The fact is Norfolk State guard Devante Carter is a player. He can win games. Carter tops the Spartans in scoring (15.5 PPG), assists (4.0 APG), and rebounding (5.3 RPG). Also, in the backcourt, Jalen Hawkins is completing threes at the rate of 41.1%, while Joe Bryant Jr. is this team's only other double-digit scorer (11.6 PPG). Around the rim, J.J. Matthews is averaging 8.4 PPG and 4.8 RPG. He's good on 52.4% of his shots.
The Zags have a top-notch team. In the frontcourt, Corey Kispert and Drew Timme offer double-digit scoring stats, as do guards Jalen Suggs and Joel Ayayi. Kispert is scoring 19.2 PPG while hitting 54.4% of his shots. Timme, a 65.5% field-goal shooter, is averaging 18.7 PPG. He's taking down 7.1 RPG. Suggs is an amazing all-around player. He's recording 4.5 APG, 5.5 RPG, and 14.3 PPG. Also, in the backcourt, Ayayi is good for 11.8 PPG, 7.0 RPG, and 3.0 APG. He's shooting 58.3%
Norfolk State vs Gonzaga Pick – Final Thoughts
Our Norfolk State vs Gonzaga pick is a tough one. After all, the spread is huge. Can the Zags cover at -32.5? They have an arsenal of shooters, and top-notch two-way players. We are taking Gonzaga at -32.5 (-110).
#16 Norfolk State Spartans vs #1 Gonzaga Bulldogs
Gonzaga Bulldogs at -32.5 (-110)