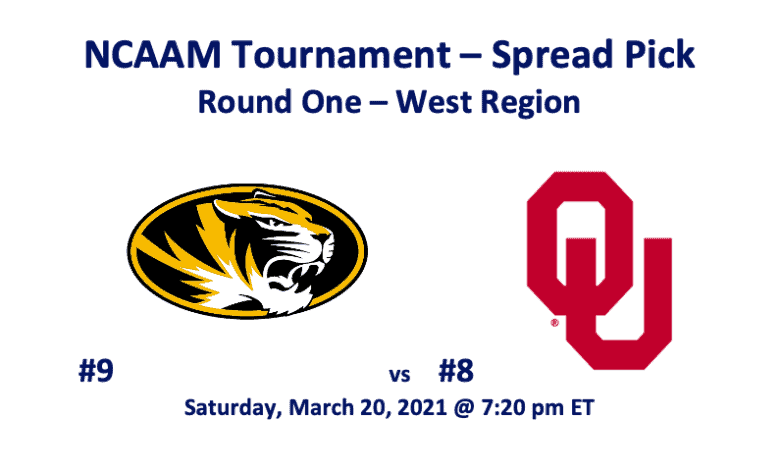 This Missouri vs Oklahoma pick has the Tigers and Sooners close to even. Missouri is at -1.0 (-105), while Oklahoma is at +1.0 (-107). This 2021 NCAA Tournament Round One West Region game looks to have the potential to be a nail biter. The Missouri Tigers finished seventh in the Southeastern Conference and lost in the conference tournament to Arkansas 70-64 in the quarterfinals. Over their last five games, they've gone 3-2. The Oklahoma Sooners, who've won just one of their last five games, finished tied for sixth place in the Big 12 Conference. In the tournament quarterfinals, the Sooners lost to Kansas 62-69. The Tigers and Sooners will meet on Saturday, March 20 at 7:25 pm ET. The game will take place at Lucas Oil Stadium in Indianapolis, IN. Make sure you check out all of our March Madness picks, as we've got every game covered including Ohio vs Virginia.
Missouri vs Oklahoma Pick – Stats
Statistically, these two teams match up in just about every category. In terms of points er game, Missouri is scoring 73.6 PPG, while Oklahoma is putting up 74.8 PPG. In other areas, the Tigers are averaging 35.7 RPG, 13.2 APG, 6.7 SPG, and 3.5BPG. The Sooners come in at 36.3 RPG/13.4APG/7.4SPG/3.4 BPG. Both teams are shooting 44% and change from the floor, while Oklahoma is better on threes (33.8% to 32.0%) and frees (74.4% to 69.8%).
Key Players
In the backcourt, both Dru Smith and Xavier Pinson are averaging 14.1 PPG. Together, they're combining for 6.7 APG and 6.3 RPG. Forward Jeremiah Tilmon is scoring 12.3 PPG while grabbing 7.0 RPG. He's shooting 61.8% from the floor. Also, in the paint, Kobe Brown is averaging 8.0 PPG and 6.3 RPG.
For the Sooners, guards Austin Reaves and De'Vion Harmon are averaging 17.7 and 12.9 PPG respectively. Reaves us good for 4.7 APG and 5.7 RPG. Also, in the backcourt, Umoja Gibson and Elijah Harkless are combining for 17.3 PPG and 8.2 RPG. Forward Brady Manek is a fine inside-out player. He averaging 10.8 PPG and 5.1 RPG.
Missouri vs Oklahoma Pick – Final Thoughts
In developing our Missouri vs Oklahoma pick, it's obvious these two teams are very close in terms of stats and talent. However, Oklahoma has an edge when it comes to frees. Plus, their backcourt is a bit deeper. We're going with the Sooners at +1.0 (-107).
#9 Missouri Tigers vs #8 Oklahoma Sooners
Oklahoma Sooners at +1.0 (-107)