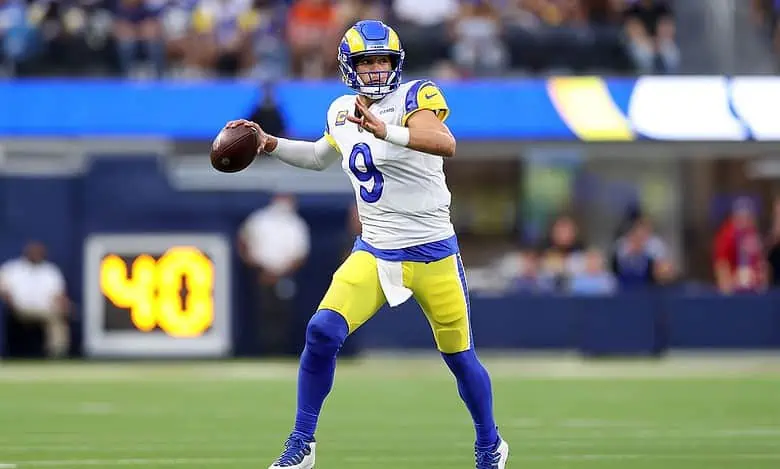 The NFL has scheduled a pair of Monday Night Football games to wrap up Week 3, including a huge matchup in Cincinnati. The Los Angeles Rams are set to visit the Cincinnati Bengals, and this is a rematch of a recent Super Bowl.
Los Angeles comes into this game with a record of 1-1, and they have actually played better than the preseason expectations that were out there. The Rams did suffer a 30-23 loss to the San Francisco 49ers in Week 2, and they are looking to bounce back in a hurry.
Cincinnati comes into this game looking for their first win of the year, as they have lost two straight games. The Bengals entered the year as one of the betting favorites to win the AFC, but they have to get back on track in a hurry.
The Bengals are slim two-point betting favorites over the Rams on Monday Night Football.
Rams Playing Some "D"
The Los Angeles Rams have put up a ton of points through the first two weeks of the season, but the defense has been the biggest story of the season. Los Angeles is allowing just 281 yards per game, and that unit has been extremely aggressive through two weeks.
Quarterback Matthew Stafford looks like he is playing at an MVP level this season, as he has thrown for 641 yards and one touchdown this season. Los Angeles has been doing all of their work on offense despite not having Cooper Kupp on offense.
The Rams are averaging just 90.5 rushing yards per game through two weeks, and that number is going to have to improve. Los Angeles needs to use the rushing attack as a way to give the defense a chance to rest in this one.
Bengals Have to Score
The Cincinnati Bengals are averaging just 222.5 yards per game this season, and that offense has been a complete disaster. Cincinnati has scored just 27 total points, and at some point, this offense is going to have to take over.
Quarterback Joe Burrow is questionable for this game with a calf injury, and he has clearly been playing hurt this season. Burrow has thrown for just 304 total yards this season, and the Bengals need him to be at the top of his game.
Cincinnati has actually been getting good play from this defense, and that is going to be a big key moving forward. If this offense finds a way to break through, then the Bengals will have more success on offense.
Bengals Barely Survive on MNF
The Rams are coming into this game with plenty of optimism, and they could also be catching a huge break with a potential Burrow injury. Los Angeles has some issues of their own, though, and winning this game on the road just isn't going to be easy.
Cincinnati has been in this situation before, and this is a team that knows how to bounce back and get the job done. Look for the offense for the Bengals to have a big game in this one, as they are going to do what it takes to pick up their first win.
Bet the Cincinnati Bengals -2.0 as they use a late field goal to pick up their first win of the season on Monday Night Football.