NHL Picks
Florida Panthers Preview 2019 – 2020
With Bobrovsky in Goal Panthers Could Go Far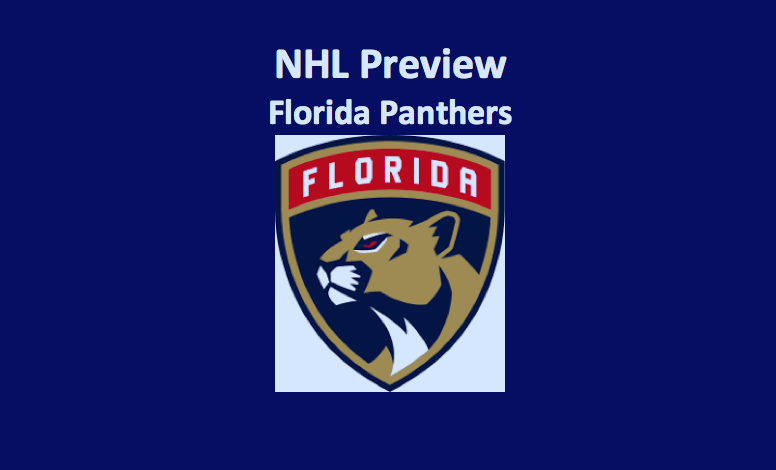 Our Florida Panthers Preview 2019 – 2020 finds that this team had a disappointing season. As this Florida Panthers Preview 2019 – 2020 notes, in a year where many projected a playoff appearance, the Panthers missed the postseason by 12 points. Their 36-32-14 record was fifth in the Atlantic Division. This year looks more promising, as they addressed their biggest issues from last season. Our 2019-2020 Florida Panthers season preview looks at how the club's offseason moves affect their standing in the Atlantic Division. And we will determine if this Panthers team will get back to the postseason. One thing we know for sure, a lot is riding on this team's decision to drop a load of cash on one goaltender.
Florida Panthers Preview 2019 – 2020: Goaltending
The Panthers' largest acquisition this offseason solidified their crease for the foreseeable future. It also looks to have addressed their biggest issue from last season. Florida signed Sergei Bobrovsky to a seven-year 70-million-dollar deal. Bobrvosky spent the last six seasons with Columbus and is among the best goaltenders in the league. He had an up and down year in 2019, finishing the season with a 2.58 GAA and a .913 save percentage. However, the netminder was almost unbeatable in the postseason. He led his club to a sweep of the President's Trophy-winning Lightning and was by far the club's best player against the Boston Bruins. In his 10 playoff starts, Bobrovsky stopped .925 percent of his shots. Our Florida Panthers Preview 2019 – 2020 finds that the addition of Bobrovsky instantly makes the Florida Panthers a threat in the Atlantic Division.
Florida Forwards
Florida didn't have much problem scoring last season. They scored the ninth-most goals in the league, averaging 3.22 per game. Out of all non-playoff teams, they scored the second most and finished just behind Chicago. The Panthers also had the second most effective powerplay, capitalizing on 26.8 percent of their opportunities. Over the offseason, Florida has kept the majority of their forward group intact. Our Florida Panthers Preview 2019 – 2020 observes that their top line of Aleksander Barkov, Jonthan Huberdeau, and Evgenii Dadonov all return. Barkov led the club in points enroute to winning his first Lady Byng Trophy. The Finnish center potted 35 goals and added 61 assists on the year. He has developed solid chemistry with his wingers, Huberdeau (30-62-92) and Dadonov (28-42-70). The trio will be a tough matchup for many clubs.
The biggest question for the Panthers will be who slots in as the team's second-line right winger. Vincent Trocheck is a very solid second line centerman and was effective while healthy last season. He had 34 points in 55 games. Mike Hoffman was a great pick up last offseason and is a very credible scoring threat on the left side. He led the club in goals with 36. Frank Vatrano seems to be a potential fit. In 2018- 2019, the 25-year old put up the best season of his young career. The left-shot winger finished the season with 24 goals and 15 assists in 81 games. If Florida can find the right player to complete their top-six forward group, they should have little problem scoring in 2020. Overall, the Panthers look like they should be among the top scoring teams once again this season.
Panthers Preview – Defensemen
The Panthers also solidified their blueline this offseason. While their core group of defensemen was already sound, they added Anton Stralman to improve it. Stralman is a very fine puck-moving, veteran defenseman. As a member of the Tampa Bay Lightning, he complied 17 points in 47 games last season. Our Florida Panthers Preview 2019 – 2020 notes that he joins Keith Yandle, Aaron Ekblad, and Mike Matheson to complete the Panthers' top-four defensemen. Yandle had 62 points last season which was the fifth most among all NHL defensemen. Ekblad led the team in time on ice averaging 23:39 per game. Matheson played 22:19 a night and added 27 points. This group of defensemen has the ability to drive offensive production from the blueline and should provide solid play in front of the newly added Bobrovsky.
Florida Panthers Preview 2019 – 2020: Outlook
The Panthers look to have solved their only real problem from last season. Bobrovsky is a top-three NHL goaltender, and he instantly makes Florida a major contender in the East. They return a very solid forward core and should have no problems scoring. Our Florida Panthers Preview 2019 – 2020 finds that they also improved their blueline with the addition of Anton Stralman. While Florida looks like a top team in the East, the upper half of the Atlantic Division is very strong. They should be a playoff team for sure, and could be among the best teams in hockey.
Florida Panthers Preview 2019 – 2020: Projection
Record:47-24-11, 105 points
Finish: 3rd in the Atlantic Division
NHL LINKS
Division Link
NHL 2019 Preview Link