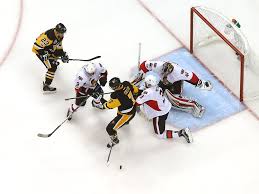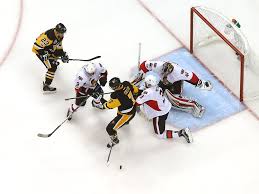 The Pittsburgh Penguins visit the Ottawa Senators tonight for game three of their Stanley Cup Eastern Conference Finals series. The teams are tied at one game apiece. Every game inn this series is pivotal, and we expect this one, like the other two, to be a very tough contest. Home ice may serve to benefit the Senators who have no easy task in taking on the current Stanley Cup Champions. The Penguins are favored and at -115 while the underdog Senators are listed at +105. The over/under of 5.0 goals is being offered at -125 over and +113 under. Here's our Penguins play Senators NHL Game Three East Finals pick for tonight, May 17, 2017.
Pittsburgh Penguins and Ottawa Senators Series Thus Far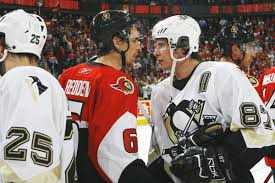 This has been a tight series. Over the course of two games a total of four goals have been score by both teams. In the first game, Ottawa earned the win in overtime 2-1. Then in game two, it was Pittsburgh that earned to victory 1-0. The Senators have played their trap defense, which has led to 27 shots on goal in game one and 28 SOG in game two by the Penguins. One thing that helped Pittsburgh in game two was their ability to reduce scoring chances from the first game by the Senators. In the initial game of the series, the Senators had 33 chances but in the second game, they had just 23.
Pittsburgh at Ottawa Game Three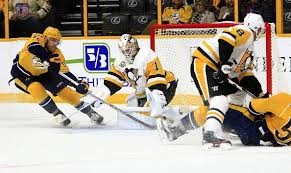 You can expect the Senators to try to reduce Pittsburgh's scoring chances by about five SOG. That will help as the Penguins led the league in scoring during the regular season, averaging 3.4 GPG. Reducing their chances will be important.
At the same time, Ottawa will want to create more opportunities for their shooters. They had 33 in the first game, and that abundance helped them notch that win. An opportunistic club like the Senators who like to grind it out can penetrate the Penguin defense, which is statistically a tad below average.
Penguin Players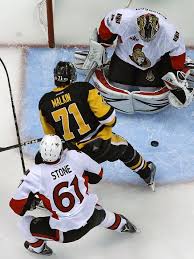 Look for Pittsburgh winger Phil Kessel and centers Evgeni Malkin, Sidney Crosby, and Jake Guentzel to use their playmaking chops as they play a primary role in attacking Ottawa goalie Craig Anderson. Anderson has been tough in this series, allowing just two goals on 55 shots. By the way, Penguin D-man Justin Schultz as well as Malkin and Kessel are very dangerous on the power play.
Senator Players
During the regular season, the Senators were 10th in goals against average at 2.6. Thus far in this series they have allowed just 1.0 goals per game. In the regular season, they average 2.5 GPG. They'd like to mirror that output in this series. Thus far, they are off by 1.5 goals. In the regular season, Pittsburgh allowed opponents a 2.8 GAA (17th). The Senators need to exploit that figure. Thus far Pittsburgh goalie Marc-Andre Fleury has not allowed that to happen. The Senators can really use some help from center Derick Brassard in setting up power play goals and contributions from Bobby Ryan, Clarke MacArthur, and Jean-Gabriel Pageau are needed on the scoring end. D-man Erik Karlsson, who leads the team with 11 assists and 13 points, also needs to create opportunities.
Penguins Play Senators NHL Game Three East Finals Pick
Our Penguins play Senators NHL Game Three East Finals pick sees Ottawa as cashing-in on being home and making the most of their opportunities. We like the Senators at +105 and the under at +113. The game will be played at 8 p.m. E.T.
Penguins Play Senators NHL Game Three East Finals Pick: Ottawa at +105 and under 5 goals at +113