NHL Picks
NHL Pick: Florida Panthers at Boston Bruins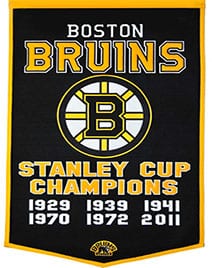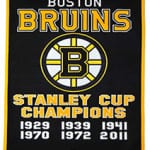 Overview
The Florida Panthers visit the TD Garden in Boston tonight where they take on division rivals the Boston Bruins. The Bruins have owned the Panthers over the past 5 or so seasons winning 21 of the last 26 meetings including the last 9 in a row played in Boston.
Head to Head Trends
Panthers are 5-21 in the last 26 meetings.
Panthers are 0-9 in the last 9 meetings in Boston.
Boston Bruins (+100)
The Boston Bruins are 3rd in the Atlantic Division with 86 points 3 points back of the Tampa Bay Lightning and Florida Panthers both of who are tied for 1st place with 89 points. This is a huge game for Boston it wasn't that long ago that the Bruins were in 1st place but after losing 4 in a row the Bruins are just 3 points up on the Detroit Red Wings for the final playoff spot in the East and the Bruins have an extra game played so they really need a win here.
The Bruins have lost their last 4 games in a row but to be fair the Bruins last 4 games were probably the toughest 4 game road trip by any team in the NHL this season. The Bruins played the Sharks, Ducks, Kings, and Rangers all of who are really good teams and all on the road so you can't really blame them for losing.
Boston Bruins Trends
Bruins are 0-4 in their last 4 overall.
Bruins are 6-2 in their last 8 home games following a road trip of 7 or more days.
Florida Panthers (-110)
The Florida Panthers are tied for 1st place in the Atlantic Division with 89 points. I'm surprised the Panthers have managed to stay in 1st place this long because they haven't exactly been playing great hockey for a while now losing 13 of their last 22 games but it seems like whenever the Bruins or Lightning get close they can't win and move ahead.
The Panthers had probably the best defense in the Eastern Conference for the first half of the season I think they were allowing around 2 goals per game largely because goaltender Roberto Luongo was absolutely on fire but he has since cooled off and so has the Panthers defense allowing 3.30 goals per game over their last 10 games.
Florida Panthers Trends
Panthers are 0-7 in their last 7 vs. a team with a winning record.
Panthers are 11-4 in their last 15 vs. Atlantic.
Conclusion
I'm going with the Boston Bruins over the Panthers in this one. I think the Bruins losing their last 4 games in a row looks a lot worse then it actually is so people shouldn't start to panic just yet and I think the Bruins get the win tonight.
Free Pick: Boston Bruins at +100 from WagerWeb