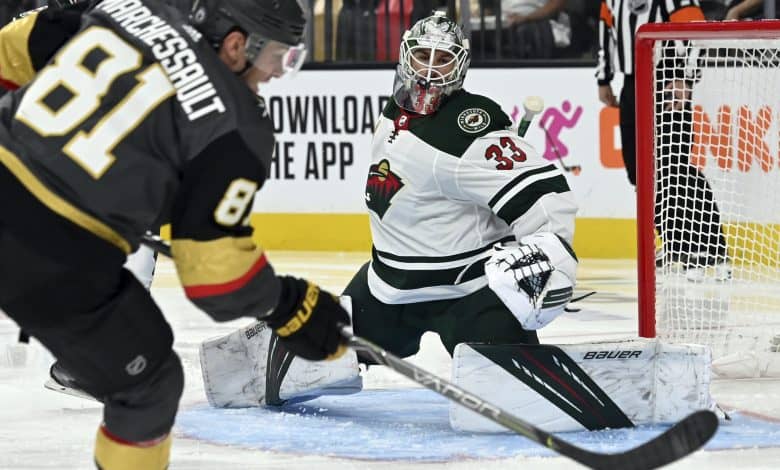 The Tuesday May 18th Wild at Golden Knights game 2 betting matchup is a must win for Vegas. The Golden Knights dropped the series opener 1-0 on Sunday, and don't want to go back to St. Paul down 2-0. Minnesota has a 21-5-2 record at xCel Energy Center on the season.
Minnesota won as +132 underdogs on Sunday, but are up to +139 in game two. There's some value there for the Wild who have taken 6 of the last 7 vs. Vegas this season. The Golden Knights are -167, a steep price to pay for a team that has struggled to score in the playoffs the last couple years. Vegas got stonewalled on all 42 shots in game one.
Talbot the Difference Maker?
Cam Talbot was a standout in game one, stopping an amazing 42 Vegas shots. The big question heading into the May 18th Wild at Golden Knights game 2 matchup is if that performance was the standard or an anomaly? Talbot had seen his share of struggles to close out the regular season, allowing 24 goals in his last six starts of the year.
Minnesota had put together a five game win streak vs. Vegas this season before falling 3-2 in OT at home on May 5th. The Wild tallied points in 7 of 8 games vs. the Golden Knights this year, going 5-1-2 head to head in the regular season. Joel Erikkson Ek was the game one hero, slipping in a goal 3:20 into OT to put the Wild up 1-0 in the game and the series.
The fact that Minnesota gave up 42 shots in game one is still concerning, especially with Vegas tallying a 19-5 edge in the 1st period. It's hard to ask Talbot to be that spectacular again on Tuesday night however.
Vegas Played Well Despite Loss
Peter DeBoer has to wonder what more his team has to do to tally the win in game two? The Golden Knights peppered Talbot 42 times and only allowed one goal but still came away trailing the series 1-0.
Vegas has to be wondering if the same offensive woes they suffered in the postseason last year have come back to haunt them in 2021. Vancouver's Thatcher Demko held the Golden Knights scoreless for a 138:40 stretch in last year's second round series, and the Stars held Vegas to 8 goals in 5 games, eliminating the Golden Knights 4-1 in the Western Conference Finals.
It's hard to see Vegas having a huge offensive night as they continue to play without 2nd leading scorer Max Pacioretty (51 points) who has been out since May 1st with an undisclosed injury. That loss doesn't instantly doom the Golden Knights, especially since they can keep games low scoring whether it's Marc-Andre Fleury or Robin Lehner that takes the net Tuesday. Fleury stopped 29 of 30 shots on Sunday, and Lehner has allowed 2 goals or less in 6 of his last 8 appearances.
Free Wild at Golden Knights Game 2 Pick
It's hard not to like Minnesota here, as they have great ROI at +139 after taking 6 of the last 7 vs. Vegas this season. That being said, there's questions on if Talbot can repeat his game 1 performance, giving up at least 3 goals in six straight starts down the stretch. Ultimately, Vegas can have a strong outing in net, and combined with their postseason offensive struggles this looks to be a series that you attack the under.
Golden Knights 3 – Wild 1
Free Pick: Under 5.5